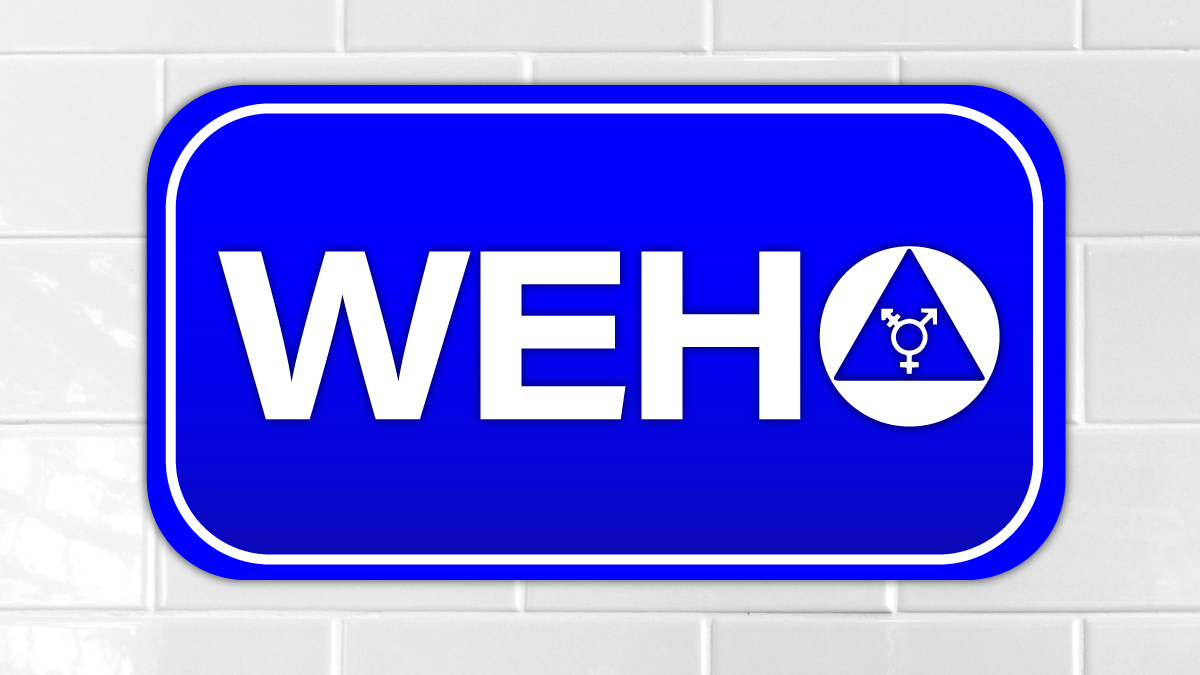 The Public Safety Commission will be knee deep in citywide gender-neutral restrooms at their meeting tonight, where city staff will present updated design guidelines for the controversial facilities.
In October, a slew of public commenters took to the podium to express their dismay about gender-neutral restrooms, and the Commission motioned to agendize the item onto tonight's schedule.
The push for gender-neutral restrooms began last year with the creation of a draft ordinance requiring all multi-stall restroom facilities in businesses and public places to be gender-neutral. The ordinance, which applies to new developments as well as significant remodels and new commercial leases, will go before City Council on Dec. 5. 
West Hollywood has also sponsored legislation that will allow local governments to require new or renovated public toilet facilities to be designed, constructed, and identified for use by all genders instead of the design standards for separate facilities for men and women currently found in the California Plumbing Code.
The new guidelines appear to address the No. 1 public concern of the last meeting — that the main entrance to the restrooms would not have a door that would obstruct views or threaten safety. The main entrance leads to a room with sinks used by all genders, and that room contains individual toilet stalls with floor to ceiling doors.
Every toilet stall in a gender-neutral restroom will have a lock on the inside, according to the guidelines, which also mentions that any urinals present might have their own private stalls as well.
The staff report lists four reasons for the implementation of gender-neutral restrooms:
Public safety and public health, particulary for trans people, for whom gendered restrooms present a multitude of unique problems.
To accommodate special needs situations, such as a father taking his daughter to use the restroom, or assisting an elderly parent.
It's a more efficient use of space compared with individual toilet stalls with sinks (i.e. single user restrooms).
Decreasing wait times, ostensibly.
Gender-neutral restrooms have generated jitters since City Council first approved a plan to start integrating them in 2021. Former City Councilmember Steve Martin memorably warned that gender-neutral restrooms at Plummer Park would a "bordello for our prostitutes."
HOW TO PARTICIPATE IN THE MEETING

BY TELEPHONE:
You are strongly encouraged to email Jessica Anukam at janukam@weho.org no later than 3:00 P.M. on the meeting day (November 14, 2022) to be added to the Public Speaker List for the meeting. To speak during public comment, please email your name, the phone number from which you will be calling if applicable, and which item you would like to speak on. Your comments and information will become part of the official public record. Please call in and remember to place your phone on mute (*6). Dial-in 10 minutes prior to the start of the meeting. You will be placed on HOLD in the Virtual Meeting Room until it is your turn to speak.
• Dial-in phone number: (669) 900-6833
• Meeting ID: 878 7025 0946; then press #
• Dial in Code: *6 = unmute

BY E-COMMENT
You are strongly encouraged to email Jessica Anukam at janukam@weho.org no later than 3:00 P.M. on the meeting day (November 14, 2022). Written correspondence will not be read during the meeting; however, correspondence received by 3:00 P.M. will be forwarded to the Public Safety Commission and posted on the City's website as part of the official meeting record. If you do not want your personal information included in the official record, please do not include your address and/or phone number.