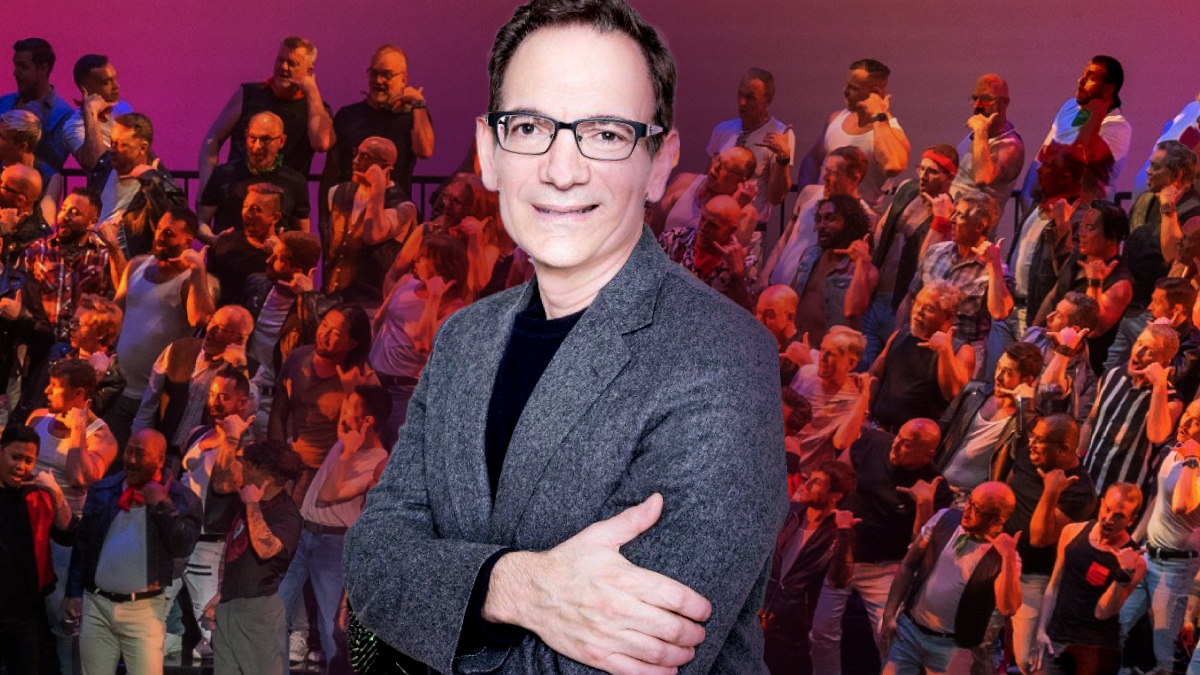 Larry Block interviews Lou Spisto, above right, the executive director of the Gay Men's Chorus of Los Angeles.
Hi Lou, welcome to WEHOville! First, let's talk about you — you're a West Hollywood resident, correct? What is your role at the Gay Men's Chorus of Los Angeles?
Yes, I live in the Norma Triangle neighborhood. I've been the Executive Director and Producer for GMCLA since Spring of 2019 and, as such, am responsible for running the organization and producing the concerts and events.
How many Gay Men's Choruses are there nationwide?
There are several hundred, from very small organizations to the top five, which GMCLA is a part of, as you would imagine. It's really amazing to know there are so many, what we call, GALA choruses. GMCLA was one of the first in the country, with our first rehearsal in Plummer Park in July 1979. This Chorus and the entire movement has grown tremendously over the decades.
GMCLA is a non-profit. Can you tell us about your funding and the needs?
Our annual budget is about $1.6 million which is covered through concert ticket sales, other income generating events, grants from government and foundations, and donations from individuals and businesses. Ticket sales, as in all non-profit arts, cover about 30 percent of our budget. We must fundraise to support the additional 70 percent. We do so much free performing and service in the schools and community that is central to our mission and values, and this, most especially, requires contributions from the community.
Tell us about your members — how many? Are they volunteers?
We currently have about 180 members/singers of every age and background – they are the lifeblood of GMCLA. They are volunteers who attend rehearsals every Monday night and three main concert weekends. A number of them are also active in our school and community programs, and the community building activities of the Chorus itself. It's quite a family of dedicated people who love to sing, love to be a part of this family, and love to serve the greater LA region.
Do you offer memberships for those who cannot afford the dues?
Absolutely!
Is this year's Christmas Gala the first one since the COVID-19 pandemic began?
We performed our Holiday concerts last December and a full season that ran December through the summer.
This is GMCLA's 44th Season, and we begin it with A Motown Holiday on Dec. 17 and 18 at Alex Theatre in Glendale – and this show is going to be particularly exciting! We'll perform the original Motown arrangements of holiday classics from some of the Motown greats and there'll be may other surprises including dance, costume, and a touch of drag. We'll have the amazing Shanice join us and a special Motown Quartet as well. No performing group does the holidays quite like GMCLA!
Following A Motown Holiday, the season continues in March with I'm With Her—a celebration of the best of women's music from new choral works to pop icons; and in June we head to Walt Disney Concert Hall with Disney Pride in Concert— a multimedia extravaganza with the Chorus, great Disney films on screen, and a 25-piece orchestra!
Anything else you would like to share?
The Chorus has given so much to the West Hollywood community and the entire region over these 44 years – we have sung for our rights, for lives lost, for the tragedies and the triumphs and for many other civil rights movements as well. We will never stop. I hope people view GMCLA as a true treasure that is worthy of their continued support and attend one of our concerts and consider making a donation as well. We need their help!
Thank you so much, see you at the Gay Men's Chorus Christmas Finale! Dec.18th at the Alex Theatre In Glendale! Buy tickets here!