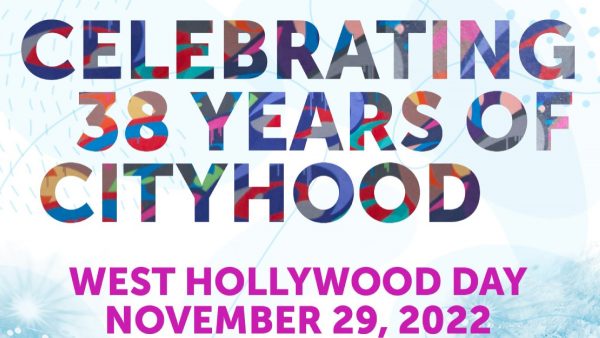 The City of West Hollywood invites the community to celebrate 38 years of Cityhood on West Hollywood Day, Tuesday, November 29, 2022, at two events highlighting West Hollywood's community spirit and civic pride.
West Hollywood Day will kick off bright-and-early with a community meet and greet from 8 a.m. to 10 a.m. at the West Hollywood City Hall Community Plaza, located 8300 Santa Monica Boulevard. Members of the West Hollywood City Council along with City staff will gather in the plaza, which is located between the automated parking garage and the City Hall entrance on N. Sweetzer Avenue, to connect with community members over coffee and snacks. RSVP is not required; community members are encouraged to drop in.
In the evening, the City of West Hollywood will host its annual State of the Community event with a reception and mixer from 6 p.m. to 8 p.m. at the City's West Hollywood Park Aquatic and Recreation Center, located at 8750 El Tovar Place (next to West Hollywood Library). Join the City's executive management team, staff, and officials to celebrate Cityhood and engage in a conversation about new initiatives, upcoming workplans, and major projects in West Hollywood. The festive event will include light appetizers, beverages, live entertainment, and a formal program. RSVPs are required at: Celebrate-WeHo.eventbrite.com.
Nearly forty years ago, West Hollywood's Cityhood was proposed by an unlikely coalition of LGBTQ activists, seniors, and renters — these groups came together to form a City like no other with progressive policies and strong tenants' rights protections. Through tireless determination, the City of West Hollywood was officially incorporated as an independent municipality on November 29, 1984. Previously, West Hollywood had been an unincorporated area of Los Angeles County.