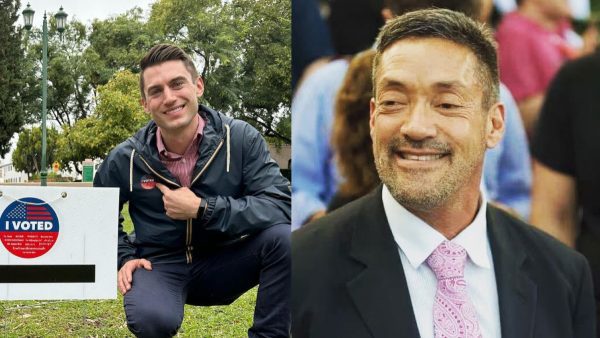 Former Councilmember John Duran and Public Safety Commissioner Robert Oliver have both ended their campaigns for West Hollywood City Council this week.
The two looked well positioned to take one of the three open council seats as the first vote counts were released last Tuesday, but since then they've fallen into fourth and fifth place as Zekiah Wright and Chelsea Byers have risen in the rankings.
Oliver was the most well-funded candidate in the race, and one of three candidates supported and heavily promoted by the UNITE HERE Local 11 labor union. A seminal figure on WeHo City Council for many years, Duran lost his a bid for re-election in 2020.
As of Wednesday, Oliver had received 3,754 votes or 10.2 percent of the total cast, while Duran received 3,689 or 10.3 percent.
Oliver issued the following statement on his campaign's social media accounts:
"I am so proud of the hard work we poured into this people-powered campaign. I'd like to thank every single person who contributed their time, money, and passion into our campaign. We reached every single voter in this city—countless doors knocked, calls, texts, emails. Rain or shine. Every. Single. Day. Our message has always been about people who live, work, and visit our city. The people.
I believe the future of our city is bright, and tonight I'm excited to celebrate the next chapter in our West Hollywood story.
I also want to thank everyone who voted today in West Hollywood—whether for me or another candidate, as well as our friends and family around the state and country. Thank you for exercising your fundamental right to choose your government. At this moment in our history, it matters.
With utmost gratitude,
Robert
Duran's statement is below:
"The Day Before Thanksgiving Day…..
Hi all. I have resurfaced. I needed a Saturnical moment of reflection.
I did not get re elected to Weho Council again. Votes are still being counted but not gonna happen. I do want to congratulate my former colleagues Lauren Meister and John Heilman on getting back on council. (Although John Heilman is just holding on by a mere 20 votes. It has to hold! For the sake of the City!). And I want to congratulate newcomer Chelsea Byers.
Here's the deal. Every time there has been a major shift in my life – I am always fearful of the unknown. But I have learned to walk forward with Faith and fear – and it always turns out that there are new adventures waiting ahead. Who knows what? Who knows where? Who knows with whom?
All I know is that I have 6 decades of cherished family and friends which makes me the RICHEST man in the world by far. God will nudge me in the right direction with whatever is next. Suit Up. Show Up. Into Action.
Will save my gratitude list for tomorrow's holiday. But for now – THANK YOU to everyone who supported my campaign for WeHo council in 2022.
COVID is still here. Get your shots. Democracy is still alive. Give thanks. Love is still all around us. Be Joyful.
Safe travels today everyone. Thanksgiving Weekend is upon us…."