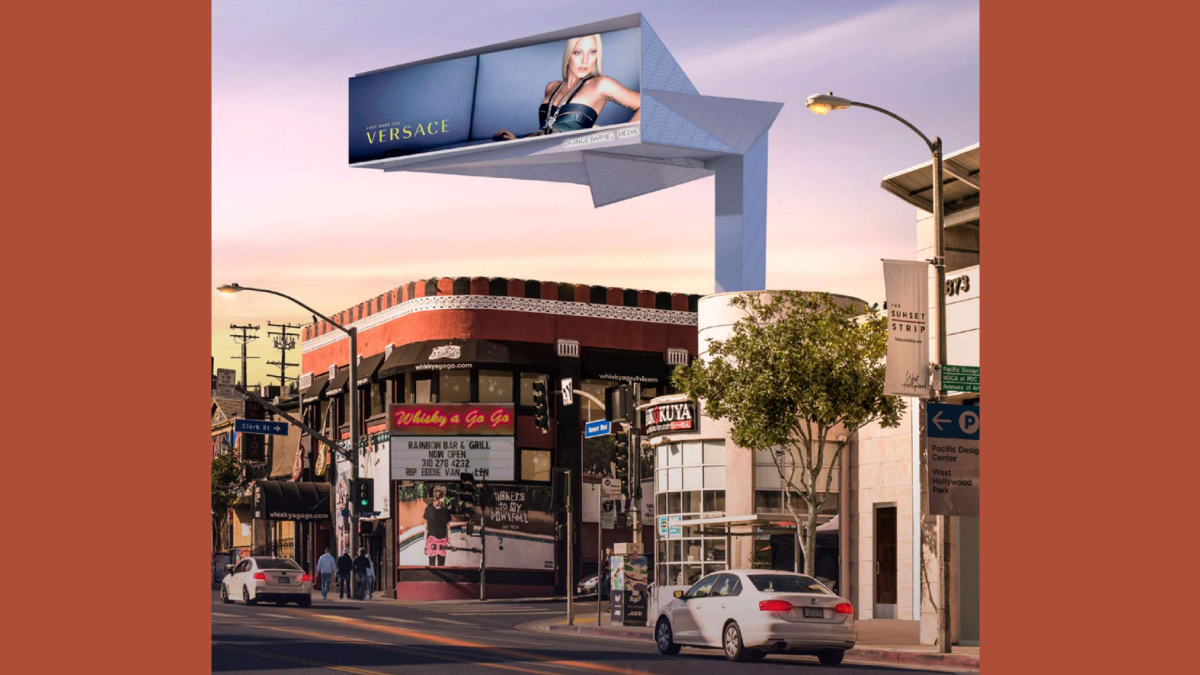 The billboard above the Whiskey A Go Go in West Hollywood is headed for a 21st Century makeover.
City Council this week approved the conversion of the static billboard that currently stands above the legendary club at 8901 Sunset Blvd. into a double-sided billboard with a 1,000-square-foot digital side and a 500-square-foot internally lit side.
The latest version of the billboard is slimmer and more streamlined than the original design, as requested by the Sunset Arts & Advertising Subcommittee, who were were concerned that the massing and bulk of the proposed structure was too large, that the building was dwarfed by the billboard structure, and that it loomed too closely over the building.
According to the staff report, the sign enclosure combines "the lightness of an illuminated lantern with the elegant folds of Japanese origami. The origami-inspired form evolves as motorists and pedestrians move around the site. Most
of the sign structure is clad with backlit perforated metal panels. The sign faces are angled east and west on Sunset Blvd and this orientation reduces impacts to the northern residential properties.
The 30-year development agreement guarantees more than $60 million in revenue for the city generated by the billboard, an average of more than $2 million per year. The contract also gives the city $330,000 to plan and build a commemorative walk honoring the music legacy of the Sunset Strip.
Monday's meeting brought out many public commenters to speak in support of the billboard renovation, many of whom shared fond memories of the world-famous concert venue.
"I have worked in the community of WeHo for many years," Katie Harvey told Council. "I actually bartended at the Whiskey years ago, and I have also been privileged to play and sing there several times. And obviously, we all know how special and historical it is in our community. And I think the income generated from the new board will help preserve the Whiskey for years. And the new design looks fantastic to boot. Definitely a major improvement from what is there now."