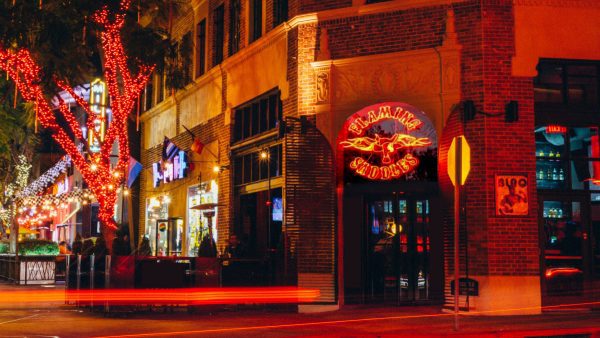 Updated: November 30th. Flaming Saddles owners have ceased negotiations over the purchase of Revolver. Owners Jacqui Squatriglia and Chris Barnes had reached terms of the purchase with Revolver owner Chris Miller. But the final negotiations would require landlord approval.
Golden West Properties is the owner of the building located at 801 Larrabee Street, which houses Revolver, BlockParty and the Surgeon's Guild along with a number of offices on the second floor. Sources close to the matter told WEHOville that Flaming Saddles was interested in a new lease and the landlord was acceptable to the transfer. But the deal fell through when Flaming Saddles owners were not willing to provide a personal guarantee on the lease.
Commercial leases often require tenants to provide a 'personal guarantee' in exchange for a long term lease to the building premises. A personal guarantee on the lease is often collateralized against assets of the owners.
Miller who lives in New York recently became the executive producer of the Jimmy Fallon show.
---
April 3, 2022
Revolver, located at 8851 Santa Monica Blvd., is moving toward a sale. In a staff meeting last week, owner Chris Miller shared the confidential news to select staff members.
Flaming Saddles, owned by Jacqui Squatriglia and Chris Barnes, would not confirm or deny the rumors (wink, wink) but multiple sources have confirmed the deal is moving forward.
Larrabee Ventures Inc. is the owner of the property. Greg Dixson, the building manager, stated he has no knowledge of any pending sale. Dixson noted that any sale would require landlord approval for the transfer of lease terms and said guarantees on the lease.
Chris Miller, owner of Revolver, would not confirm or deny the pending sale. Miller lives in New York City and was the executive producer of the Drew Barrymore show. Barrymore was rumored to be a minority partner in Revolver. Recently Miller left his position with Barrymore to join the Jimmy Fallon Show as its showrunner. The Jimmy Fallon Show is filmed in New York City.
The asking price is rumored to be close to $1 million net. Over the past 18 months, quiet negotiations have been going on between Miller's team and a number of potential buyers. Miller was said to have wanted to preserve the Revolver name and brand but it appears that will not be part of the final deal with Flaming Saddles.
Flaming Saddles abandoned its lease on the corner opposite Revolver in the summer of 2020 shortly after COVID hit. At that time Squariglia and Barnes confirmed their intention to return to West Hollywood and placed many of their items into storage.
Revolver's square footage is approximately 2,000 square feet, a much smaller footprint than the former location of Flaming Saddles at the southeast corner of Santa Monica Blvd. and Larrabee. Squaraligia explained that the smaller size was similar to their New York location. She was excited by the opportunity to be back in West Hollywood.