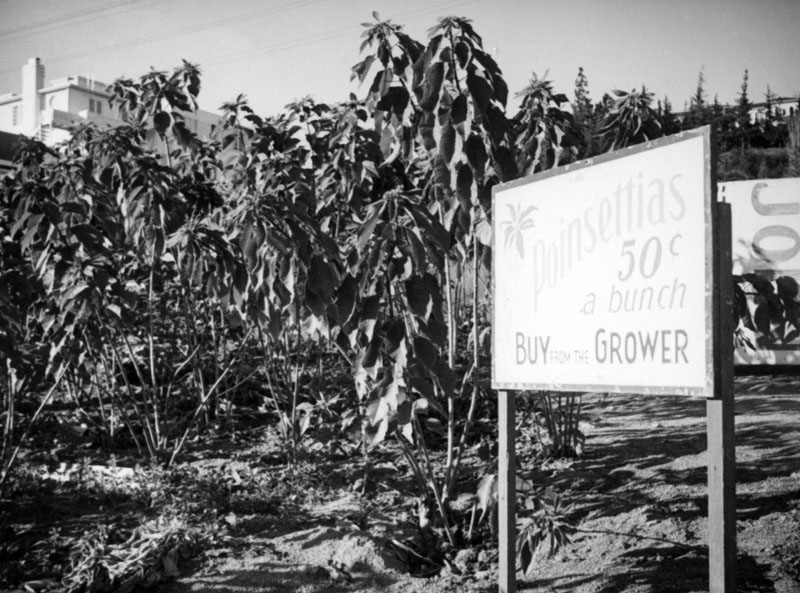 The enduring popularity of poinsettias in the U.S. is due largely to the gardening and marketing skills of a little-known West Hollywood family. Albert and Henrietta Ecke and their four children emigrated to the United States from Germany in 1902. They planned to stop briefly in Los Angeles before continuing their journey to Fiji.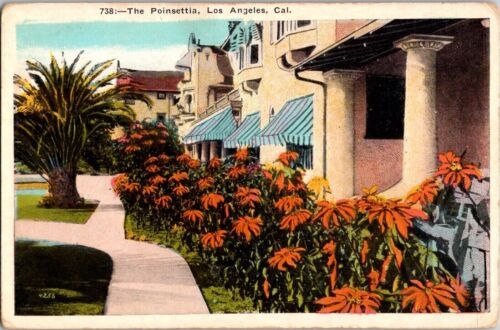 They landed first in Eagle Rock and then moved to the Sherman community, where they began growing fields of flowers on Hayworth Avenue just south of Sunset Boulevard in 1906.
The sight of the red poinsettia fields began drawing busloads of tourists to the area. A road through Ecke's field became the road Poinsettia Place. Today, it extends from West Hollywood south to Hollywood and Park La Brea.
Ecke also experimented with potted plants, shipping them east from his packing house on Sunset Boulevard. The packing house later became the Westside Market; today, it's the Roxy Theatre on the Sunset Strip. In a 2008 interview, his grandson claimed the old timbers from that packing house remain part of the building today.
After Ecke's death in 1919, his son Paul began cultivating in earnest, trying to perfect the first poinsettia that could be successfully grown as an indoor plant. He promoted it worldwide and helped found the American Florists' Exchange, across the street from the downtown Los Angeles flower mart.
DID YOU KNOW?
● Poinsettias are not toxic, as is widely believed. This misconception was spread by a 1919 urban legend of a two-year-old child dying after consuming a poinsettia leaf. In 1944, the plant was included in H. R. Arnold's book Poisonous Plants of Hawaii on this premise. Though Arnold later admitted that the story was hearsay and that poinsettias were not proven to be poisonous, the plant was thus thought deadly. In 1970 the US Food and Drug Administration published a newsletter stating erroneously that "one poinsettia leaf can kill a child", and in 1980 they were prohibited from nursing homes in a county in North Carolina due to this supposed toxicity. A survey of more than 20,000 calls to the American Association of Poison Control Centers from 1985–1992 related to poinsettia exposure showed no fatalities. In 92.4% of calls, there was no effect from exposure, and in 3.4% of calls there were minor effects, defined as "minimally bothersome."
● The poinsettia is named for Joel Roberts Poinsett, the first United States Minister to Mexico, who introduced the plant to the U.S. in the 1820s.
● Native to Mexico and Guatemala, poinsettias are weedy plants that normally grow tall, up to 13 feet. By grafting shoots from long cultivars in the color he preferred onto multi-branched seedlings or their clones, Ecke turned it into the familiar potted plant we know today, the most popular in the world.