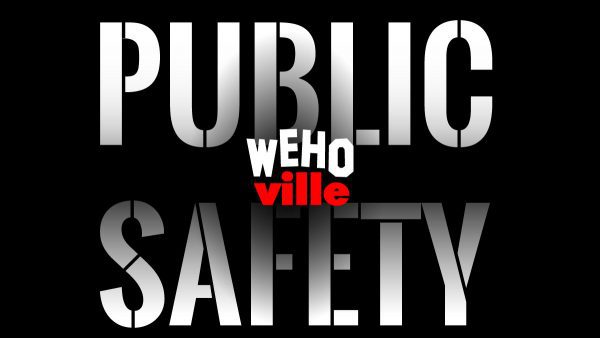 WeHo's West Side saw a staggering 92 percent increase in major crimes this year over last year according to the L.A. County Sheriff's Department, one of several troubling crime statistics City Council will hear at their meeting tonight.
The stats, covering January through November 2022, will be presented to Council as part of a semi-annual update prepared by Community Safety Director Danny Rivas and his department.
"The City continues to be a safe place to live, visit, and work," reads the first line in the report, but a deeper dive into the data suggests that may not always be the case.
BUILDING BLOCKS
There were 2,455 Part One crimes in WeHo reported this year. Last year, there were 1,556.
Yet City Council has spent much of the year looking to "re-imagine" the city's approach to public safety.
Despite a fierce backlash from residents and business owners this past summer, Council voted to reduce the number of sheriff's deputies patrolling the city in the coming years. Instead they enlarged the ranks of the Block by Block program, which staffs the unarmed blue-shirted security ambassadors, and ballooned the budgets of the myriad social services agencies under contract with the city.
Unable to detain suspects or investigate crimes, the security ambassadors are employed ostensibly as backup for the Sheriff's Department, helping them to deal with homeless people while providing the city with other services like visiting businesses and giving driving directions.  Nevertheless, they receive a full gamut of law enforcement-style training (e.g. active shooter management, narcan administration).
But Block by Block's own reports don't exactly show that the more robust program is yielding results.
BLOCK OR BUST?
Security ambassadors actually made fewer contacts with "unhoused residents" in 2022 than they did in 2021, and contacts with "businesses/managers" plummeted from almost 40,000 to just over 32,000 over the same period of time. While there were about 1,000 more instances of "hospitality assistance" this year, Block by Block only received 1,848 total calls for service, up just slightly from 1,677 in 2021.
Compare that with the 19,686 calls for service logged by L.A.S.D.
And Block by Block reported a mere 17 instances in 2022 where security ambassadors provided assistance to sheriff's deputies, firefighters or emergency medical responders — even fewer than the 30 times they lent a hand in 2021, raising real concerns as to whether the program is doing what it's supposed to be doing.
The full set of statistics from the Sheriff's Department, Block by Block and the social service agencies can be found in the staff report for tonight's meeting.