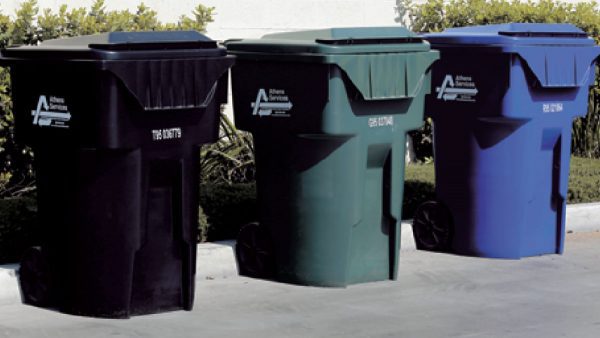 West Hollywood's garbage collection is getting greener.
New statewide rules require cities to provide separate collection services for organic waste in order to keep it out of traditional landfills. Senate Bill 1383 aims to reduce the disposal of organic waste by 75 percent over the next three years. 
Organic waste includes food such as fruits, vegetables, meat, seafood, bones and eggshells, as well as paper products like used pizza boxes, grass clippings, tree limbs and untreated, unpainted lumber.
West Hollywood residents and businesses will be required to separate their food waste from other trash and dispose of it in their green bins, alongside their yard waste.
The change will likely come with an increased price tag for many cities.
Athens Services is the vendor West Hollywood currently contracts to handle waste collection and recycling for the city for both residential and commercial services.
Founded in 1957, Athens provides services to more than 250,000 customers in over 50 communities. The company was the first in L.A. County to develop mixed-waste processing, providing sustainable, closed loop solutions to organics management by diverting green waste and food scraps from landfills to composting facilities. Athens utilizes a fleet of near-zero emission natural gas vehicles that are 90 percent cleaner than the Environmental Protection Agency's strictest emissions standard.
"Most waste management companies pick up your trash and take it to a landfill because that's how they make their money," said Athens Vice President Gary Clifford. "They take their recycling to somebody who will recycle it and they take their grass to a landfill. Athens is different. We build processing plants. We bring all of our trash, all of our recycling, all of our green waste to a plant that actually processes it, because we're what we call a 'landfill avoidance company.' We wake up every day and we try to figure out how to avoid landfills. Our model is to create jobs and an industry locally to try to remove everything we can before it goes to a landfill and that's why our cities have higher diversion of waste from landfills. West Hollywood has one of the highest diversion rates in the region."
This fall, Athens was given the Legacy of Hope Award by the St. Francis Center for its aid in expanding food rescue opportunities in the Los Angeles metro area.
Athens supported the collection and distribution of 82,000 pounds of edible food to people in need, as well as funded new refrigerators and stoves at St. Francis Center, which provides relief to the homeless and extremely low-income families.