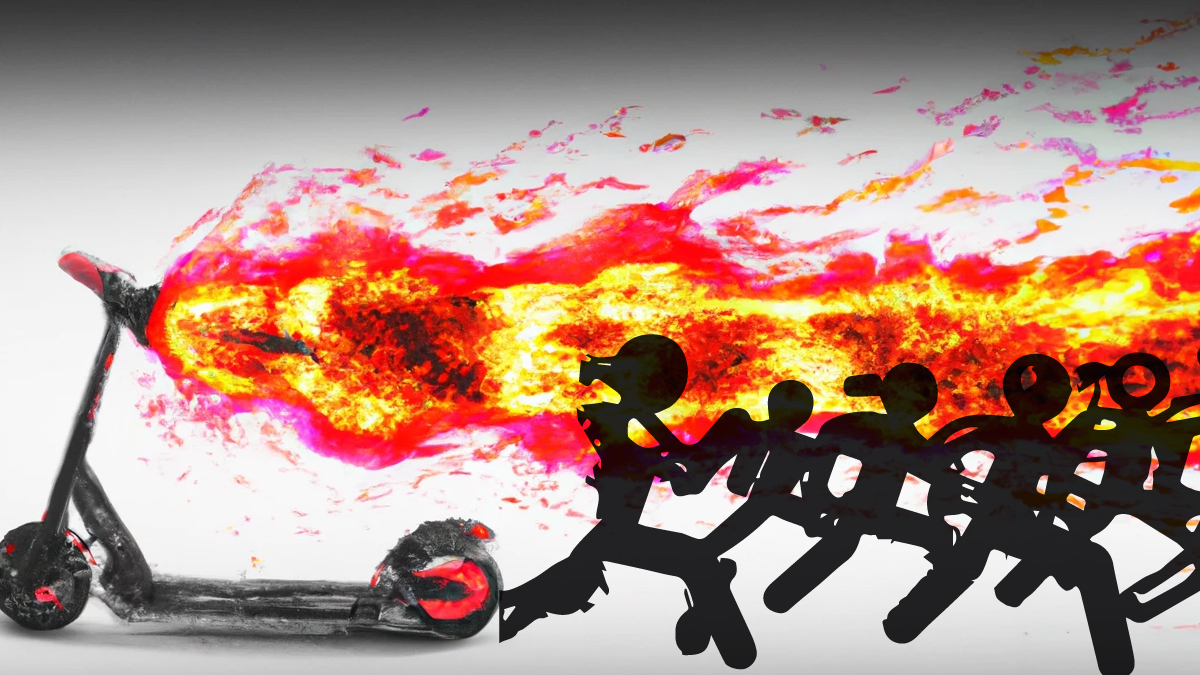 The electric scooters and other last-mile solutions are a polarizing issue in West Hollywood. They're great for residents to use to get to nearby businesses and restaurants without taking up parking spots, for employees to get to work, and visitors to just have fun. Plus, they're eco-friendly (I've heard rumors that they're recharged at night using diesel powered trucks. I don't know
if that's true or not, but if it is, we can tackle that issue next). We're trying to come up with ways to reduce traffic on the roads and cut down on our carbon footprint, and this is one way to do it. But the way they operate in our city right now isn't working up to its full potential, especially when it comes to our disAbled residents, as we just learned from the email exchange between Yola Dore', Myra Friedman, and Sepi Shyne.
As for most things, most scooter riders are respectful with them (especially since the app requires you take a photo to prove where you parked it), we just happen to notice to bad actors more than the good ones. They ride on the roads where they're supposed to***, and they park them in appropriate drop-off zones out of the way of pedestrian traffic. But once the ride is over, anything goes.
Anyone can pick up and move a scooter, and with the many homeless people in West Hollywood suffering from mental issues, I'm sure everyone reading this has seen an angry homeless person kick one over or throw one across a sidewalk. The issue that allows these situations to happen is that none of the final-mile vehicles are locked to anything. Why is that? I've been to multiple cities across the country that have scooters that operate the same way they do here, but with one extra step (technically two). They require you to unlock and then re-lock them to something when you start and end your ride.
The scooters aren't any different there than they are here, and it wouldn't be an astronomical, or even dramatically costly measure for Bird, Lyme, or others to update their scooters or bikes with these locks. They just have to add the attachment that contains the lock to the scooters and bikes that already exist. This successfully prevents the scooters from being in people's ways, on the sidewalks, in front of drive ways, or just strewn about. You can see what they look like in the picture below.
With these locks, riders are required to secure their scooter to a bike rack or other place where bikes are locked, where they won't be able to be tipped over or thrown in the way of someone who doesn't have the luxury of being able to step over them with ease.
The technology already exists. They're doing it in San Francisco, Washington D.C., and other states. Yola and Myra's plea for help from their elected official with an issue that makes their lives incredibly difficult, which was met with not only "what do you want me to do"?, but also with an amount of arrogance that I wouldn't even know how to muster if I tried, is where this stops. I am going to begin the process of asking the city to require Bird, Lyme, and other companies that operate these electric scooters and bikes to implement these locks, so we can protect our residents like other cities protect theirs.
***We know not everyone rides on the road and stays off the sidewalks, and I'm all for handing out tickets to those who ride scooters on sidewalks. But when the council keeps voting to cut deputies during times when crimes have never been higher, how can we expect them to waste time on people who ride scooters on the sidewalk? Can we "deputize" parking enforcement officers or BBB Ambassadors to issue citations for riding on the sidewalk? I'm not sure, but it's worth looking into.
Maybe people don't remember this from driver's ed, as someone with a motorcycle license I know this, because it applies to car and motorcycle drivers too, but you are safest on the road when you are the most visible. Riding on a sidewalk isn't safer, you're safer in one of the bicycle lanes, and if there isn't a designated bike lane, you're safer riding in the regular car lane. It's actually the law. The same rules apply to last-mile vehicles as they do to bicycles. A driver might honk their horn at you and flip you off because you're in front of them, but hey, it's better to have a stranger yell "fuck off"! and speed past you than to run you over because they didn't see you enter the road from the sidewalk ¯\_(ツ)_/¯