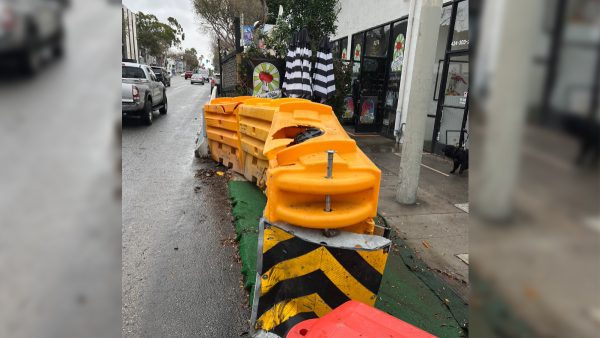 The OUTzone at 8278 1/2 Santa Monica Blvd. was struck by a moving vehicle for the third time since it was built, according to Anthony Vulin, whose real estate firm faces the crash site.
"This is the third time a car has hit this fake barricade in front of my office 'the collective,'" Vulin said. "After the first time, the red barricade ended up 20 feet away on the sidewalk. I discovered that none of the barricades had water in them to protect our sidewalks, and immediately let ths sheriff and city know. Not long after they were hit again, where an older man was able to get his car fully up onto the sidewalk stopping were tabes are usually set up at PURA VIDA. Luckily it was a Monday afternoon and they were closed. Now they are hit a third time! The city needs to replace these with cement ones or fill them with water before someone gets seriously hurt."
In December 2021, a vehicle burst through the barricade and into the outdoor dining area established by the city's OUTzone program to mitigate the economic hardships on restaurants caused by COVID pandemic restrictions.
That crash came exactly one week after City Council decided to make the OUTzone program a permanent fixture of WeHo streets.