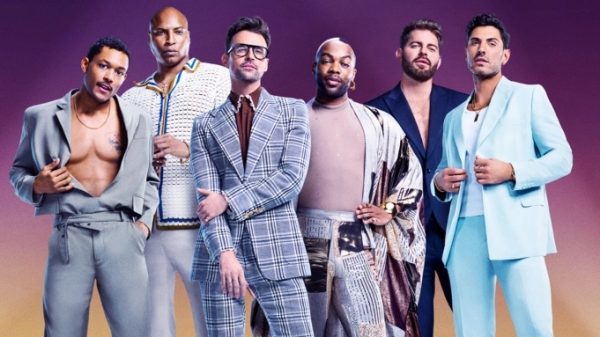 "If you like the wives, don't miss these new house guys," goes the trailer for MTV's new reality series "The Real Friends of WeHo," a deliberate pitch to the massive LGBTQ+ audience of Bravo's "Real Housewives" franchise.
"Real Friends" brings together six successful gay men as they live their best lives in West Hollywood while dealing with everyday problems and overcoming interpersonal drama, hopefully via wine throwing and table flipping.
The show stars Todrick Hall, a singer and choreographer known as much for his talent as for his trail of scandals, and Brad Goreski of "The Rachel Zoe Project" fame, along with actor Curtis Hamilton, entrepreneurs Dorión Renaud and Joey Zauzig, and TV host Jaymes Vaughan.
Vaughan's casting leaves the door open for a guest appearance by his husband, Jonathan Bennett, who played Lindsay Lohan's dreamy boyfriend in "Mean Girls," and perhaps a cameo by Lohan herself.
WEHOville hope to see one or more of the following storylines at some point during the show's first season:
ALLEY OOPS!
The boys have a photo op scheduled at the rainbow crosswalks, but they get lost and end up at Vaseline Alley instead. Hilarity and vehicular sex attempts ensue. Guest stars include the L.A. County Sheriff's Department.
HANGOVER THE RAINBOW
After a boozy night out in the Rainbow District, Brad Goreski wakes up in the alley behind Chi Chi La Rue with amnesia. A mysterious blonde comes to his aid and convinces him that he's been violated and the bars are to blame. As they retain Gloria Allred and prepare to file a multimillion-dollar lawsuit, Goreski's memory suddenly returns, the blonde melts into a puddle of yellow fluid and Allred flies off on her broom.
JAILS, FAIR, FLIPS, STEALS
As part of the show's Pride-themed episode, the entire cast of dancers from "Nails, Hair, Hips, Heels" chases Todrick Hall down Santa Monica Boulevard right in the middle of the parade, demanding to finally get paid. Hilarity and vehicular sex attempts ensue. Todrick, in stiletto heels, holding a bag marked "$," laughs maniacally as he escapes over the horizon, hundred dollar bills floating in the breeze behind him. Guest stars include Annie Jump Vicente in her role as Grand Marshal of the parade.
BITTER SUITES
It's only been open two weeks, but the brand-new Holloway Homeless Motel is already a cesspool of crime, drugs and vagrancy. Eager to avoid blame for this disastrous idea, City Council hands the keys over to superstar drag queen Trixie Mattel, who enlists the Real Friends to help with season two of her renovation reality show Trixie Motel. Trixie's hopes of rehabbing the Holloway fade quickly as her fabulous orderlies discover the robust benefits of WeHo's social services programs and decide they're in the wrong line of work. Guest stars include Lindsay Lohan, back in recovery, and County Supervisor Lindsey Horvath leading her team of sight-impaired volunteers in counting the area's unhoused population. With the addition of the Real Friends cast, the team calculates that WeHo now has five homeless people.
BELLES OF THE BALLOT
Dorión Renaud and Joey Zauzig, whoever they are, get appointed to the Rent Stabilization Commission and the Social Justice Task Force. Soon after, campaign mailers begin arriving in our mailboxes, touting the two City Council candidates as "for the people" and "proud progressives," and strangers come offering to fill out and send in our ballots for us. Those mail-in ballots FINALLY arrive a month after the election, and Renaud and Zauzig win in the season finale. The End. The show does not get renewed for a second season.
"The Real Friends of WeHo" premieres at 9 p.m. Jan. 20 on MTV.