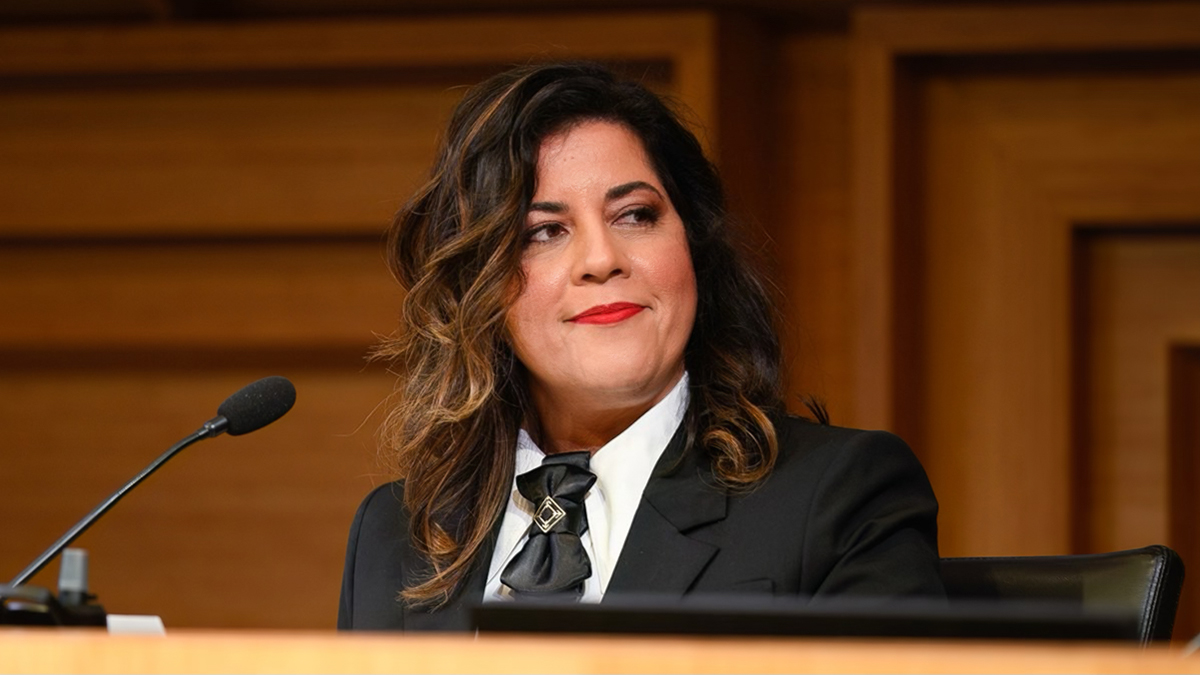 Cold rain ushered in a new dawn Monday night as Mayor Sepi Shyne was sworn in to office during West Hollywood City Council's first meeting of the year.
Shyne, whose full first name "Sepideh" translates to "dawn" or "first light," assumed the largely ceremonial role of mayor with full fanfare, including tributes from a string of local dignitaries and rapturous applause from her close-knit coalition of allies and supporters — queer activists, the Iranian community and special-interest unions. Dressed in a striking suit-and-tie ensemble, she asserted her new prominence and authority with skill on the dais, aware that it is now the stage of an extended screen test for the next role of her political career: a candidate for Congress.
"I discovered my own purpose while living here in West Hollywood," Shyne said, "and that is to illuminate, which means to bring light to the world by serving humanity, uplifting and elevating people, and eradicating the toxicity and darkness that has pervaded our social fabric, especially in politics."
Shyne was elected to City Council in 2020 alongside John Erickson, who was sworn in as Mayor Pro Tempore on Monday night. She is proud to highlight the "firsts" in her resume — first out Iranian queer woman elected to office in the world, first woman of color on the Council. She speaks with lofty idealism and often seems guided by a sense of destiny.
"I ran for office because West Hollywood had lost its purpose along the way and needed a new dream," she said. "A dream that represented and elevated more of us. A dream that included those that had been forgotten … those that didn't feel included those in our community, whose voices were not being heard anymore. A dream that included a brighter and more inclusive vision for West Hollywood … one where the sun would shine on all of us, not just some of us."
THE LIONESS ROARS
The nation of Iran dominated the evening and injected it with urgency. For months, Shyne has been one of the leading voices in the U.S. raising awareness of the "Women, Life, Freedom" movement, a nationwide uprising against the country's totalitarian regime, the Islamic Republic. Shyne drew hundreds out to a candlelight vigil this past fall in honor of Mahsa Amini, whose death at the hands of police sparked the massive protests.
"To my Iranian community," Shyne said, "I was born in the spiritual city of Mashad, 46 years ago. I was 2 when the revolution happened and my childhood and the childhood lives and freedoms of so many Iranians were stolen by this brutal regime that has brought nothing but darkness to Iranians and to the world. My commitment to you is to use every bit of power that I hold … to ensure that democracy is restored in Iran and the Iranian people are finally free of this darkness."
"It is women that will bring freedom to Iran," she said. "I will be one of those women taking this darkness down, and one day in our lifetime, each and every one of us who has been ostracized from being in our homeland, whether Jewish, Christian, Bahai, LGBTQ and women who referred refuse to be oppressed. We will once again be free in Iran. That is my promise to you. And I am a woman of my word."
PROGRESSIVES IN POWER
Many big names from the area's progressive political circles were on hand to celebrate Shyne's ascent, as well as their own rise in power and profile.
"I want to recognize the significance of this evening for the housekeepers, dishwashers and servers who make up the backbone of the city that I call home," said Danielle Wilson of UNITE HERE Local 11, the powerhouse labor union who campaigned heavily for Shyne. "And just two years on this council, the two people who are now at the helm of this body have co-authored legislation to raise the minimum wage to be the highest in the country. They are renters, they are fighters."
New Los Angeles City Councilmember Hugo Soto-Martinez, a former leader with UNITE HERE, congratulated Shyne while looking back on their campaign successes.
"West Hollywood is where we first started community power," Soto-Martinez said. "It's where we merge the power of the grassroots with what we can do in politics, and I'm so excited."
MEA CULPA
Shyne stirred controversy recently after a heated e-mail exchange with resident Myra Mykie Freedman over the city's electric scooter program led the longtime Disabilities Advisory Board member to resign her position. Shyne has exhibited a rigid approach to governing and is rarely willing to compromise on issues she feels passionate about.
Freedman, too, is known as a tough negotiator, and not one who easily backs down. Freedman's appearance at the podium brought some suspense to the night's proceedings.
Freedman took issue with Shyne's diplomatic stance on the scooters — "some people like them, some don't," she was reported to have said. To Freedman, that sounded like Donald Trump's infamous "good people on both sides" comment. She made the comparison directly to Shyne, who found it disrespectful and said it would not be tolerated.
Rather than hold her ground, Shyne took the opportunity to show humility and grace, offering a heartfelt apology to Freedman while not going as far as offering her spot on the board back.
"I wanted to let you know that your voice was important and I wanted to hear you out," Shyne told Freedman. "Regardless of how things transpired, it is my commitment to meet with you and I will be calling to schedule a meeting with you."