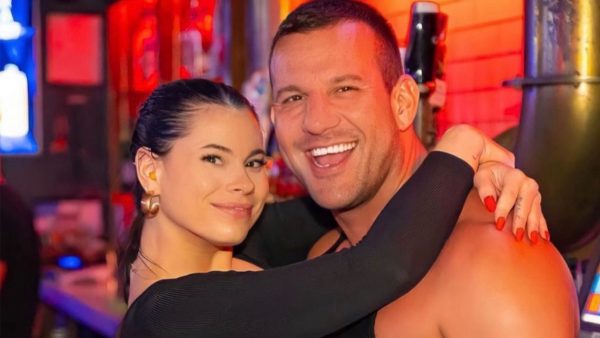 Hi Rob, you have been working on Santa Monica Blvd as l can remember…. You were a tot back then! Thanks for letting us do a little profile on your story. Where are you from originally?
I'm from Alta Loma in Southern California
How long have you been a resident in West Hollywood?
It's been 13 years and its been a wild ride!
Tell us more, you used to be the GM at Fiesta Cantina and now your part of the Rocco's family and very familiar with Boystown —-
I started at Here Lounge before moving to Fiesta Cantina, then to Basix and back to Fiesta and now part of the Rocco's family.
Is it still Boystown?
It's always been Boystown, it's just evolved and changed its colors many times throughout the years, I've seen alot of gay owned businesses and venues close, specifically some of my favorite hot spots like Eleven Nightclub, Magnum and Here Lounge which unfortunately took away some of the Boystown appeal. I vividly remember always walking by the Andrew Christian store and finding videos by Brad Hammer. They were clever and created so much allure to Boystown and gave the town character. But now with the current Boystown, a lot of WeHo charm has been brought back. For instance, GT opening Stache and Lance Bass investing his time in opening Heart/Rocco's are helping to revitalize the area and draw people back in who might've tuned out for a while. Still, its comforting to see businesses like BlockParty still holding strong and keeping Boystown in its gay roots. I also love Boystown taking care of its own, like Tristan Shukraft starting Mistr, a company that helps prevent/treat HIV. A location in WeHo will open soon and help save thousands of lives by helping people get PReP, treat HIV and also educating people on sexual health.
In terms of keeping gay nightlife alive promoters like Paul Nichols and Stefano Rosso have done an incredible job. NOt to mention the new generation of promoters like Stephen Clarke Jock night at Beaches keeping the 'old boys time' appeal.
Let's be honest, how is business and traffic around town?
To be quite honest it's been pretty slow traffic-wise. To drive customers and keep Rocco's an active hot spot we've been doing things like creating $5 Happy Hours. The pandemic's economic impact on people and businesses is still clearly present. so we want to be able to provide people with more affordable food and beverages in hard times. We want to bring back the pre-pandemic vibrant day-time feel.
Things that you would like to see changed?
I'd be thrilled to see the city bring in more public safety to report violent crimes and improve the safety of visitors and workers.
What are your thoughts about how the minimum wage ordinance has affected things? Is there a surcharge on Rocco's tab like many other establishments in town?
Rocco's does not have a surcharge. I know back in the day we did a minimum wage increase at another employer and there was a class action suit that we lost. But, the minimum wage ordinance has made us reduce our hours drastically.
It's funny because we're actually reducing our prices to try to bring people back. Rocco's charges a bottle service for parties but not an official surcharge. It's so Backwards.
Are you single and what is your local charity of choice?
Unfortunately for all the WeHo boys, I'm taken haha. I'd love for people to donate to the Trevor Project. The group focused on suicide prevention among the LGBTQ+ community by offering a toll-free number to call where people can talk confidentially to trained counselors.
Follow Rob on Instagram: @i_am_rob_