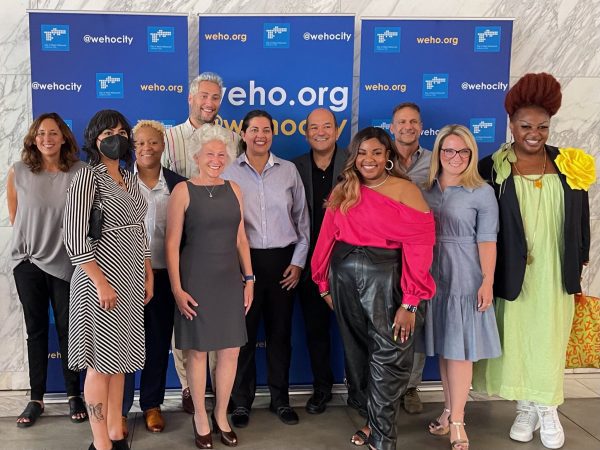 City of West Hollywood's annual Rainbow Key Awards accepting nominations through January 31.
Is there someone you admire — even from afar for their spirit and work that benefits the LGBTQ+ community?
Renee and I sure do, and last year two of our nominees/heroes were chosen to be amongst 5 honorees to receive the coveted Rainbow Key Award, Monica Trasandes and Greg Hernandez.
Joining them were: Jazzmun Crayton, Amita Swadhin, and Revry TV; Founders Damian Pelliccione, LaShawn McGhee, Alia Daniels, Chris Rodriguez.
It was a magical night for all and a real honor for Renee (LGBTQ+ Advisory Board Member) to introduce Monica and Greg. Not to distract, I slid down in my seat and secretly pressed video on my phone.
Here is a written version of Renee's introductions with a link to my video that includes Trasandes and Hernandez acceptance speeches 🌈 Enjoy.
WEST HOLLYWOOD RAINBOW KEY AWARD HONOREES: MONICA TRASANDES & GREG HERNANDEZ | LGBT Hollywood – YouTube<
https://www.youtube.com/watch?v=v7qWAX9wQ6w
Introducing Monica Trasandes:
While researching Monica, I came across this headline from LGBTQ Nation: "Monica Trasandes is on the front lines fighting back against LGBTQ invisibility"
When you see positive depictions of LGBTQ people in Spanish and Latin media, you might have this lesbian advocate to thank"
Monica Trasandes is on the front lines fighting back against LGBTQ invisibility – LGBTQ Nation
I met Monica in the 90's when she was Editor in Chief of Frontiers – California's largest Gay News Magazine at the time. Many assumed the popular, men's focused Frontiers was run by men – but for eleven years, it was Monica.
And in 2008 Monica joined forces with GLAAD – she is their Director of Spanish Language and Latinx Media & Representation – where she's been able to expand her activism to a global audience.
She is a frequent guest on national and international news programs: representing, speaking truth to power, commanding the screen with her soft spoken delivery.
When I was thinking about how to describe Monica tonight – what comes to mind of course is, smart, kind, authentic, a mover – and a shaker, and also uniquely – unassuming. I googled unassuming just to make sure – and this is what I found:
"The word unassuming means modest, lacking in arrogance, polite, pleasant. Some of the most unassuming people are actually the most interesting and powerful of all. They're just decent enough not to display it all the time."
I'm going to display or brag about another talent that you may not know of. Monica is a Playwright AND a Novelist – Author of – Broken Like This. Broken Like This was selected as one of 4 books to read over winter break by OPRAH's Book Club!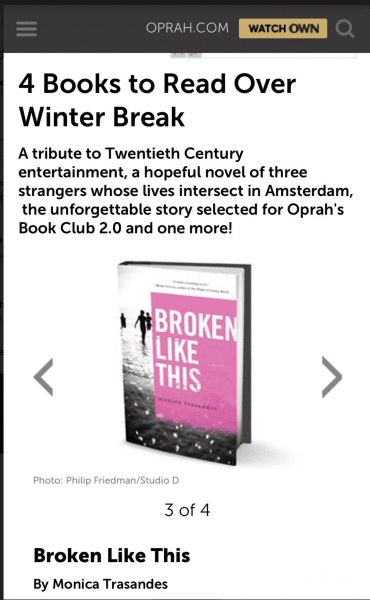 When Monica is not taking the media by storm – you may see her at Plummer Park – playing pickle-ball and riding bikes with her beautiful young daughter.
Congratulations Monica and thank you for all you do.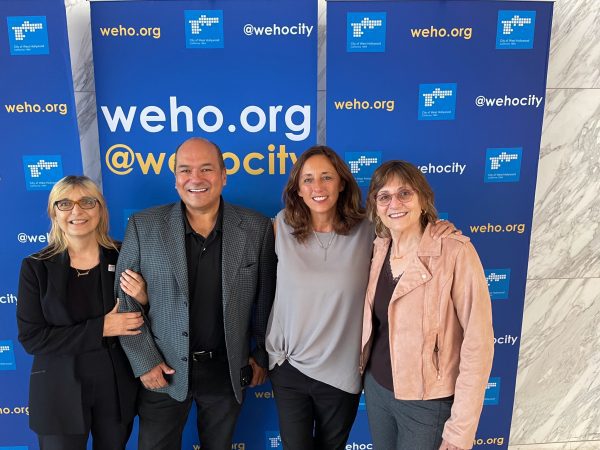 Introducing Greg Hernadez:
Our very own Greg Hernadez – a regular on red carpet press lines –
long before the Entertainment Tonight's or other media outlets even considered LGBTQ events newsworthy.
I want to share a couple Breaking News "Greg in Hollywood" headline stories.
In 2011, in this very room, Greg moderated a panel for the West Hollywood book fair — with quests Florence Henderson, Dyan Cannon and others we grew up watching.
It was a lively discussion and as the event was wrapping up – Greg semi-jokingly asks Mrs Brady to SING the Brady Bunch theme – without missing a beat – she stands up and belts out – Here's the story….
The audience joins in. I quickly pull out my trusty FLIP cam and start recording. Truly a special moment for everyone.
And that is so Greg, whatever he does – he creates a magical experience.
See Florence Henderson (and me!) sing "Brady Bunch" theme song at WeHo Book Fair!
http://greginhollywood.com/lunch-break-video-see-florence-henderson-and-me-sing-brady-bunch-theme-song-at-weho-book-fair-56184
No one else had recorded it. And that is how my wife, Mary jo and I became fast friends with Greg – and the beginning of many Traipsing Thru shenanigans.
One night the three of us were backstage at the Emmys waiting for the winners. I stood up for a second to adjust my video camera, when Rita Moreno walks into the small press room – makes a beeline towards us and sits down in MY chair.
I glance over at Greg, who's now sitting straight up with the look of sheer terror and excitement on his face – I motion "she's in my chair" Greg whispers "I know" and shushed me (finger to lips)
I realized what a BIG fan Greg was when he wrote about it:
When EGOT Rita Moreno sat next to Greg In Hollywood backstage at the Daytime Emmys
http://greginhollywood.com/when-egot-rita-moreno-sat-next-to-greg-in-hollywood-backstage-at-the-daytime-emmys-129887
Always professional, knowledgeable and kind– celebrities are drawn to Greg-and so are we.
They often walk up to HIM with arms open, ready to greet with a hug and kiss.
Greg – thanks for getting the scoops and keeping us in the news.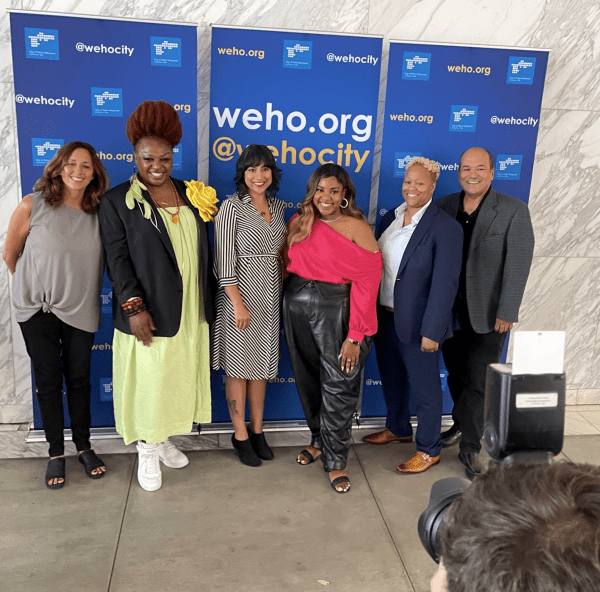 LINK TO SUBMIT:
Nominations may be submitted electronically through the application link here:
https://wehoforms.seamlessdocs.com/f/RainbowKeyAwardsNomination