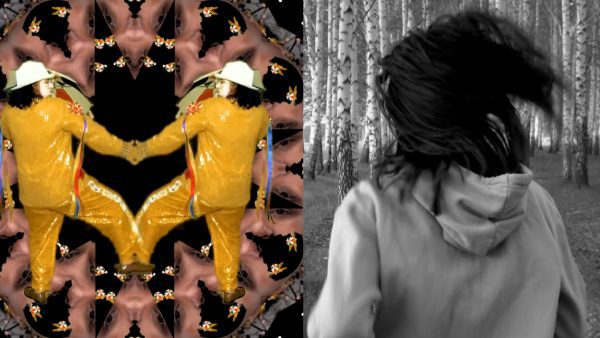 The City of West Hollywood announces the debuts of the next exhibitions in the Moving Image Media Art (MIMA) program. MIMA is an ongoing exhibition series of moving image media artworks on multiple digital billboards at various locations along Sunset Boulevard. The goals of the MIMA Program are to foster cultural equity, expand accessibility, inspire communication, create public space, and enhance the human experience of the Sunset Strip.
Kassaram (Adapted), a short film from artist Thania Petersen, will debut at the Streamlined Arbor billboard, located at 9157 Sunset Boulevard, and will air at the top of every hour for 10-and-a-half minutes. Reverse Women, a short film from artist Sarah Rara, will debut at the Invisible Frame billboard, located at 8743 Sunset Boulevard, and will air at the top of every hour and 30 minutes past each hour. Both works will be on exhibition from Wednesday, February 1, 2023 through Wednesday, May 31, 2023.
About Kassaram (Adapted) – The historically significant building that sits at the base of the Streamlined Arbor inspires artwork as an authentic reexamination of cultural identity, by amplifying the voices of those silenced and marginalized. Thania Petersen's vivid and layered work, Kassaram (Adapted) examines how embedded clichés devalue culture and provide the framework for the permission of subjugation. Across a timeline of slurs and stereotypes, nuanced imagery devolves into more familiar scenes of chaos. Petersen subverts the narrative by illustrating how structural racism serves to further isolate, diminish, and dehumanize.
Thania Petersen is a South African multidisciplinary artist who addresses the intricacies and complexities of identity. Petersen's work has been presented at such institutions as Zeitz Museum of Contemporary Art Africa (MOCAA), Whitechapel, Istanbul Modern, Ballroom Marfa, Alte Kelter Fellbach, and Jeffrey Deitch. Her work is collected by the Smithsonian National Museum of African Art, Washington, D.C.; Zeitz MOCAA, Cape Town; IZIKO South African Museum, Cape Town; Pérez Art Museum, Miami; and many others.
About Reverse Women – Images of running women advance backwards in slow motion, as if the ground is being pulled out from under them, evoking unsettling allegories of agency, power, and progress. In Reverse Women the gesture of running is pivotal and intentionally ambiguous, seen both as a sign of practiced liberation, wellness, resilience; yet infused with suspense by the discomfort of watching someone struggle to escape. Reverse Women ultimately illustrates the disorientation of our unreliable and faltering constitutional protections.
Sarah Rara's multi-disciplinary practice explores the position of witness within fragile systems. Rara is a contributing member of the ongoing project Lucky Dragons (with Luke Fischbeck). Their work, solo and in collaboration, has been presented at such institutions as the Hammer Museum, the Whitney Museum of American Art, the Centre Georges Pompidou, Walker Art Center, London's Institute for Contemporary Art, PS1 in New York, REDCAT, LACMA and MOCA in Los Angeles, among others. Rara is a 2018 recipient of the LACMA Art + Technology fellowship and holds an Assistant Professor of Moving Image at Williams College.
The Moving Image Media Art Program (MIMA) is a City of West Hollywood exhibition series administered by the City's Arts Division, as part of its Art on the Outside Program, and is presented with the Sunset Arts and Advertising Program. MIMA offers artists the opportunity, and the funding, to create immediate, remarkable, and ambitious works of art that engage with the unique visual landscape of the world-famous Sunset Strip, and experiment with the state-of-the-art technology of high-definition digital signage. 
MIMA enables artists to occupy, contest, and play with the boundaries and uses of public space and manifest moments of connection and awe. Artists exhibited in the program are selected from the MIMA Prequalified List, a rolling, open-call for moving image media artists, curators, and non-profit arts organizations, with applications reviewed bi-annually by the City of West Hollywood's Arts and Cultural Affairs Commission, in May and November. The MIMA Prequalified List includes a diverse list of artists of all career levels; from emerging to internationally recognized: www.weho.org/community/arts-and-culture/visual-arts/mima
The City of West Hollywood's Arts Division delivers a broad array of arts programs including Art on the Outside (temporary public art), Arts Grants, City Poet Laureate, Free Theatre in the Parks, Human Rights Speaker Series, Library Exhibits, WeHo Pride LGBTQ Arts Festival, Summer Sounds + Winter Sounds, Urban Art (permanent public art), and WeHo Reads. For more information about City of West Hollywood arts programming, please visit www.weho.org/arts. 
For more information about MIMA, please contact Rebecca Ehemann, City of West Hollywood Arts Manager at rehemann@weho.org or at (323) 848-6846. For people who are Deaf or hard of hearing, please call TTY (323) 848-6496.