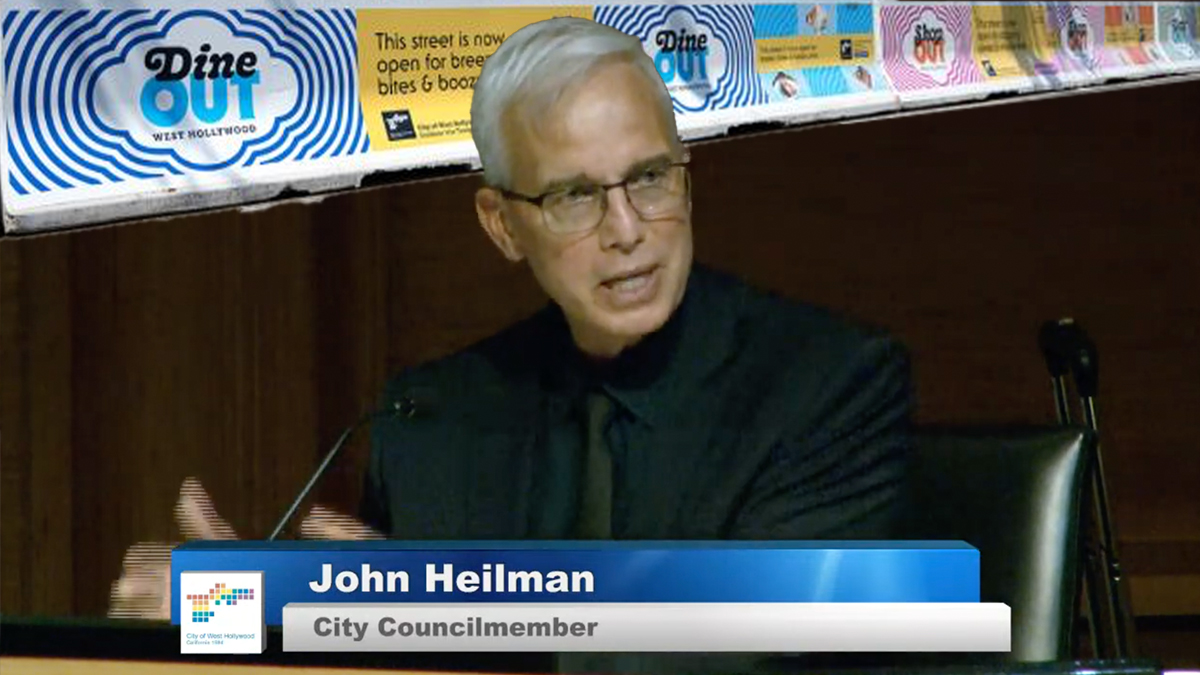 West Hollywood City Council voted to amend the existing outdoor dining policies to allow for additional outdoor dining spaces that are currently not allowed under city policy. The measure comes as the city's OUTzone program, which let restaurants hampered by COVID restrictions use public right-of-way spaces to seat diners, nears its end.
"We are here to address the end of the temporary outdoor dining program, which we have been calling the OUTzone program for the last two to three years," said John Keho, director of Planning and Development Services.
The program was created quickly to address the needs of restaurants during the pandemic, when they could not serve patrons inside their establishments. To help these businesses, the city waived numerous rules, such as parking requirements, parking application fees, and public hearings for new or expanded outdoor alcohol service. Additionally, the city allowed outdoor dining to take place in front of other businesses and on sidewalks, with only a minimum width of four feet for ADA requirements. The city also paid for K rails to be placed in the street, allowing private and public parking spaces to be used for outdoor dining.
On Monday night, Council reviewed the new rules for outdoor dining located on public sidewalks and public parking spaces. For outdoor dining on private property, those rules are already in place, and the owners can apply to convert their temporary out zones to permanent outdoor dining. However, for public space, a compliance period ends this year, during which all temporary OUTzones will have to be removed. The city will pay for the K rails through 2023, and then the new rules will take effect, and the city will no longer be paying for them.
Rick Abramson from the city's Urban Design and Architecture Studio explained the proposed policy changes.
"The proposed changes are twofold," Abramson said. "Firstly, they will update the current standards which are largely located directly in front of business frontages. Secondly, they will allow for new outdoor dining in limited circumstances between tree wells and on-street parking spaces."
"There are several challenges associated with outdoor dining on sidewalks, including ensuring that sidewalks remain accessible for pedestrians, avoiding any obstructions or diversions, and maintaining mobility. Additionally, when outdoor dining is located on the curb of a pedestrian way, servers must cross the path of pedestrians, which is less than ideal. Our recommendations aim to address these challenges by avoiding this type of setup, except when there is no other alternative.
"In narrow sidewalk conditions, it may be advisable to consider using parking spaces for outdoor dining, but this is not currently our recommendation. In moderate and wide sidewalk conditions, there is enough room for sidewalk dining without using parking spaces. Our recommendations include a minimum 6-foot clearance in narrow and moderate sidewalk conditions and a minimum 8-foot clearance in high intensity, wide sidewalk conditions.
"In a narrow sidewalk condition, the 6-foot zone would likely be in front of the business frontage, with the space between the tree wells and potentially parking spaces used for outdoor dining."
Councilmember John Heilman expressed some reservations about the proposal but was in general supportive of it.
"My reaction to allowing parking spaces for outdoor dining is a negative one," he said. "I know that we have allowed it for some but I don't really like the idea of expanding that because I feel that that's dangerous. I don't like the idea. Even with the barriers, I still think it is potentially dangerous for the people who are out there dining, and it's not really that enjoyable."
Councilmember Lauren Meister held some of the same of doubts.
"I'm not OK with having the OUTzones in the roadway. First of all, in addition to eliminating needed parking spaces, it eliminates spaces for drop off. It eliminates potential for alternate mobility. It impacts public right of way including access to utilities and other infrastructure. It creates opportunities for crowds to block the walkway in between. It creates public safety issues," Meister said. "So that's that's where I land. I cannot support taking over the roadway with these outdoors, with these OUTzones."
"I just want to clarify from the start, the idea that our city would not want to interfere with private property agreements between neighbors seems to be a missed spatial opportunity," said Councilmember Chelsea Byers. "So I'm indicating my openness to this idea, especially since it could provide new opportunities for some businesses. I think the case-by-case approach makes a lot of sense."
The motion passed 4-1, with Councilmember Lauren Meister voting no.