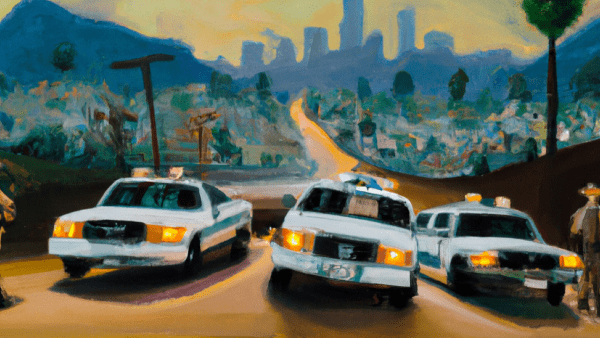 How much will it cost to answer the (already-once answered) question: Should WeHo create its own police force instead of contracting the Sheriff's Department?
About $200,000, according to the consultants City Hall wants to hire.
After a tumultuous year in which City Council and the Public Safety Commission waded into the "defund-the-police" waters, cutting back on Sheriff's deputies in favor of social workers and unarmed security guards as crime skyrocketed, their efforts are beginning to bear fruit.
City staff on Monday will present the Public Safety Commission with a presentation from Matrix Consulting Group, whom they are recommending to handle the task of studying the feasibility of a West Hollywood Police Department, a project City Council budgeted for last summer.
WeHoans of a certain age might feel a sense of deja-vu, as this is not the first time City Hall has attempted to push a municipal police department on its citizens.
The presentation by Matrix sounds curiously similar in tone to last year's unsolicited audit of the Sheriff's Department by anti-police activist Nika Soon-Shiong, the billionaire heiress and former Public Safety Commissioner who led the crusade against the Sheriff before resigning in the middle of her term and leaving the country.
Their report reads:
"In recent years, law enforcement has been increasingly asked to function as social services staff in responding to issues of homelessness, intervene in situations involving persons experiencing mental health crisis, and serve numerous other roles beyond what was expected in the past. The spectrum of alternative response reframes this trajectory, examining opportunities to divert calls from sworn response to other providers. "
In layman's terms, more unarmed security guards and social workers, less law enforcement.
SPEAK UP DURING THE MEETING!
TO PARTICIPATE BY PROVIDING PUBLIC COMMENT BY TELEPHONE:

You are strongly encouraged to email Jessica Anukam at janukam@weho.org no later than 3:00 P.M. on the meeting day (February 13, 2023) to be added to the Public Speaker List for the meeting. To speak during public comment, please email your name, the phone number from which you will be calling if applicable, and which item you would like to speak on. Your comments and information will become part of the official public record. Please call in and remember to place your phone on mute (*6).

Dial-in 10 minutes prior to the start of the meeting. You will be placed on HOLD in the Virtual Meeting Room until it is your turn to speak.

• Step 1 – Dial-in phone number: (669) 900-6833

• Step 2 – Meeting ID: 814 4884 1956; then press #

• Step 3 – Dial in Code: *6 = unmute

TO PARTICIPATE BY PROVIDING AN E-COMMENT (WRITTEN COMMENT):

You are strongly encouraged to email Jessica Anukam at janukam@weho.org no later than 3:00 P.M. on the meeting day (February 13, 2023). Written correspondence will not be read during the meeting; however, correspondence received by 3:00 P.M. will be forwarded to the Public Safety Commission and posted on the City's website as part of the official meeting record. If you do not want your personal information included in the official record, please do not include your address and/or phone number.