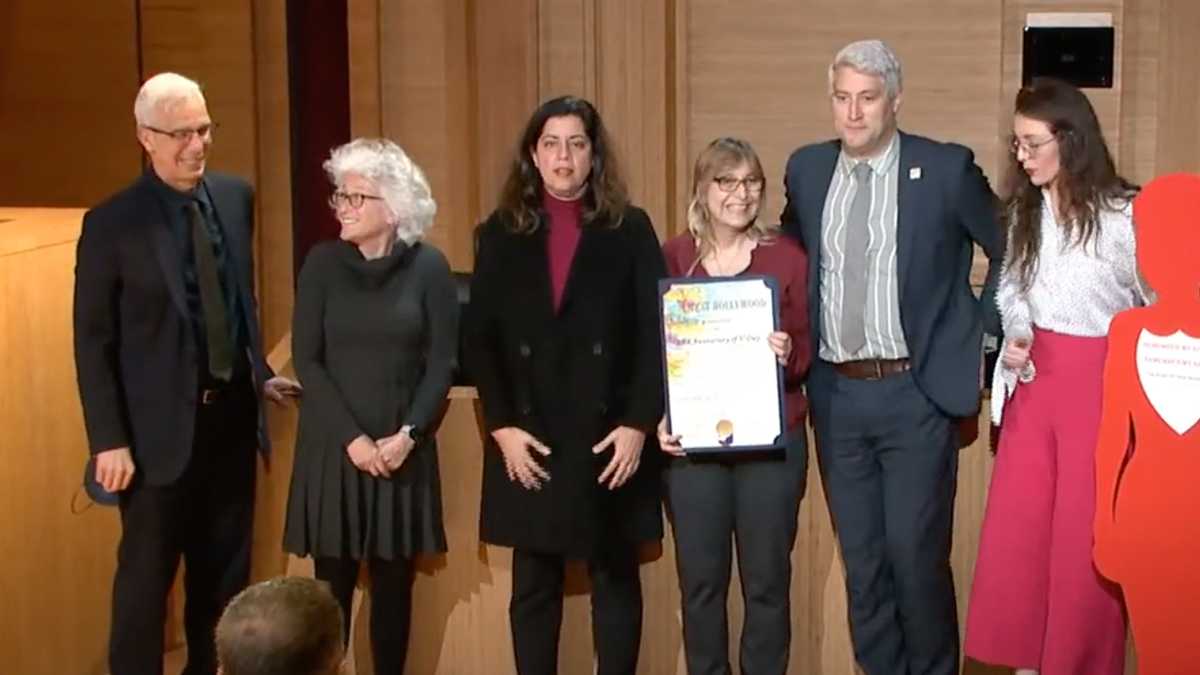 It was an awkward moment at last week's City Council meeting. Mayor Shyne, an avowed feminist, was to present a proclamation for Domestic Violence Month to three members of the Women's Advisory Board and one member of the Lesbian and Gay Advisory Board.
Mayor Shyne spoke: "We have one presentation this evening, to the V-Day Silent Witness Display Planning Committee, whose members include Keely Field, Angela DeSilva, Nicole Peyton, and Renee Sotile."
Quoting from the proclamation, Shyne read, "V-Day is a global activist movement to end all violence against women and girls, bringing widespread attention to the issues of harassment, rape, and domestic and partner violence. This year, the City of West Hollywood will commemorate the 25th anniversary of V-Day with an activist and survivor-led gathering and call to action, to feature the launch of a silent witness display about domestic violence on February 25th, and to continue to promote an anti-violence message by highlighting the city's sexual assault awareness campaign."
"Now, will my colleagues join me in giving the proclamation over to the representatives of the Women's Advisory Board."
However, as Mayor Shyne and other council members stepped off the dais, no members of the Women's Advisory Board were present to accept the proclamation.
A cold silence was in the chamber. Some council members knew.
Notably absent was Keely Field, current Chair of the Women's Advisory Board, and Shyne's direct appointee.
Renee Sotile, a member of the Lesbian and Gay Advisory Board who worked on creating the silent witness assault awareness campaign, took the stage alone. Neither Keely Field, Nicole Peyton, or Angela de Silva were present and not a single member of the Women's Advisory Board phoned in to make a public comment.
Sotile accepted the proclamation graciously and thanked the council for approving the item, hoping that this event would be the beginning of an annual event for the silent witness program.
She then added, "I also want to bring up verbal abuse. Verbal abuse is a pattern of speaking with the intent to demean, humiliate, and blame. When this behavior is directed toward people in a professional setting, a hostile work environment is created. As a creative city, let's continue to encourage effective and passionate discussions, but not enable bullying. There is a difference. I'm requesting, advocating, and encouraging the council to update bylaws and such to allow city staff the authority and dignity to work and thrive in a zero-tolerance environment."
Sotile was gentle. Please look at what is happening under your noses and develop policies that allow city commissioners and staff the ability to not work under veils of threats or termination.
There is something terrible going on and we are giving the person who needs to fix the problem a little room to get the job done before going public.