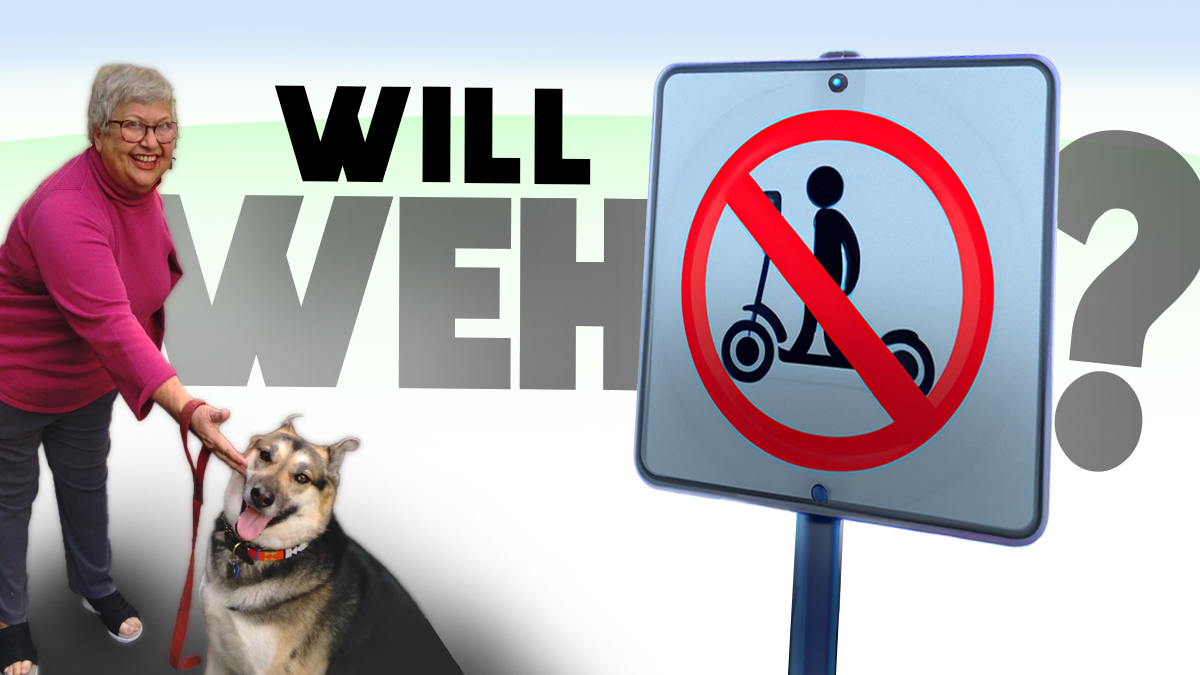 One-armed senior citizen resigned from WeHo's Disability Advisory Board after a row with Sepi Shyne over the polarizing mobility devices.
UPDATE: Mikie Friedman spoke before City Council on Monday:
A few weeks ago, I met with Mayor Shine for coffee to discuss the issue of problematic scooters and other topics. Sepi agreed to conduct a poll to gauge the opinions of residents on keeping the scooters. Although I am unsure what this means, I left the meeting with hope. However, setting up the poll, obtaining funds, and waiting for the results takes time, so I started a petition through Change.org to ban scooters in West Hollywood. As of now, the petition has received 235 signatures. People with disabilities, seniors, and able-bodied individuals have the right to feel safe while walking on West Hollywood sidewalks, but according to the response, many do not feel safe. Some cities have successfully implemented scooters, such as Melbourne, while others, like Paris, have banned them. 87% of Parisians voted to ban scooters. If scooters are to be kept despite the enforcement and infrastructure challenges, it is important to research successful cities and not rely solely on the biased opinions of scooter companies. When I asked Kobe Wegman if West Hollywood was making money from the scooters, he replied that they are not currently making money, but it is expected to change. The quote "The world is too much with us; late and soon, getting and spending, we lay waste our powers" was written by Wordsworth, talking about the Industrial Revolution and money-driven individuals who were greedy and disregarded nature. 220 years later, we are facing a similar revolution, and the question remains: will safety or money win this time?
Mikie Friedman lives on Clark Street just above Sunset Blvd. She is a 76-year old-straight woman who lives with a disability: she has one arm. Mikie also has a best friend: "Stormy" Friedman.
When scooters litter the sidewalk outside of their apartment, it is hard for Stormy and Mikie to walk down the street. They are not alone. Scooters have disrupted the public's right-of-way on many sidewalks throughout West Hollywood. Between OUTzones, scooters, delivery robots, bicycles, and dogs on leashes, it is often hard for those of us who are visually impaired or mobility-impaired to navigate the "most walkable city. "
Mikie tried to have a discussion with Mayor Sepi Shyne about the issues she was facing as a person with disabilities, but Shyne, then Mayor Pro Tem, was dismissive of the problem. Shyne's answer to Mikie, "neither side is wrong" invited Mikie to respond "that sounds like Trump."
Shyne was not pleased with Mikie's comparison to Trump and escalated the situation by demanding that disabled Mikie "treat her with respect." Shyne then forwarded the email to Yola Dore, Mikie's fellow member of the Disability Advisory Board (DAB), with a kinder message. This led Mikie to resign from the DAB.
After over three weeks, Shyne finally met with Friedman at her apartment last Tuesday to discuss various issues, including scooters. By the end of the meeting, Shyne had, according to Friedman, agreed to ban scooters if a poll of residents showed they wanted them banned.
Mikie let others know about the "deal" through a text message that read, "I asked Sepi to authorize a poll of WeHoans on whether or not they agreed or wanted scooters here. She agreed, and also agreed to abide by the result of the poll."
My response to Mikie was, "Thanks, but you can't govern public safety by a poll. The poll will have to be conducted by a research firm and the funds allocated by a vote of the city council. That's six to nine months of nothing, and Sepi knows that." I continued, "She needs to bring forward an item to enforce sidewalk safety or find scooter riders or ban them until the technology is available. But will Sepi also agree to hire the Sheriff's back by a poll?"
Mikie is not staying passive. As a former member of the Disability Advisory Board, she is now leading the effort to ban scooters in West Hollywood, starting with a change.org petition:
Pedestrians, particularly people living with disabilities and seniors are now facing constant danger when they try to walk on the sidewalks of West Hollywood. E-Scooter riders are illegally riding their rented scooters on the sidewalks, and then abandoning them wherever it is easiest. As a result, the inconsiderate scooter riders are both forcing people to get out of their way, and are leaving the scooters blocking the sidewalks. There have already been several accidents and injuries. If they are allowed to continue to operate in our little city, sadly, more accidents will occur and more people will get hurt! The companies which own the scooters, are taking no responsibility, and neither is the city. We need to let the West Hollywood city council know that we do not want to be put in danger every time we try to walk. this is an ADA access issue. We need to let our leaders know how we feel before they vote on whether or not to make this program permanent!