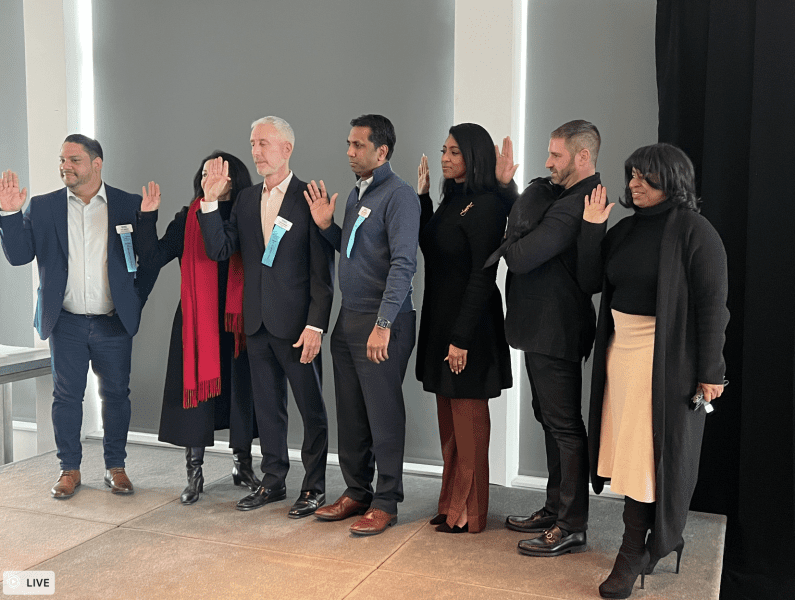 This year's AMMBI, the Annual Member Meeting and Board Installation took place at the Andaz Hotel. The packed ballroom welcomed West Hollywood stakeholders, business associates, and city staff. All five members of the City Council were in attendance along with West Hollywood Sheriff Captain Bill Moulder and the City's top brass.
Ric Abramson, the city's chief architect, made a special tribute to the late Ed Levin. "We remember Ed for his wit – yes, sometimes sarcastic – his incredible knowledge, as he was so learned in a diverse range of topics, and his passion for the law. How many of us can say as a hobby that we enjoyed reading State and Federal Court decisions? For those of us who knew Ed well, of course, it was always superfluous to ask him about how he is doing…..the answer was always the same, 'the usual insanity.'
Abrramson formerly announced "The Chamber of Commerce will be moving forward with a new award to honor Ed Levin at this year's State of the City event." (the crowd went wild)
Genevieve Morrill, President and CEO of the Chamber, gave everybody an overview. "We did 145 meetings, events, and programs in 2022." Morrill received a 'heroes' welcome for her efforts over these past years during the most challenging times. The chamber is independently funded with membership dues along with three fundraisers per year.
The event included the 'passing of the gavel' from former Chair Nick Rimedio to new Chair David Wood. Rimedio had served as Chair for the past four years while employed as General Manager of the Kimpton LaPeer Hotel. Rimedio accepted a position at the W Hotel in Hollywood at the end of 2022 and no longer works in West Hollywood.
David Wood, known to many as Woody, joined President and CEO Genevieve Morrill in thanking Rimedio for his service during the challenging times. Woody presented Rimedio with the golden gavel, "Nick, you can add this to your collection of things that will eventually find its way to your attic." Spontaneous laughter filled the ballroom.
Woody then presented the Ray Reynolds award to long-time resident and business champion Mark Lehman. "Each year the Ray Reynolds award goes to the person who exemplifies Ray's drive and vision for West Hollywood and its business community. This year, the Ray Reynolds award goes to Mark Lehman."
"I have known Mark since he was my gay divorce attorney in 1987 when he was a partner in one of the first LGBT law firms just about anywhere. Mark was representing both my husband and me, although in the '80s when we were referred to as lovers, not husbands. Mark represented us so well that we got a very fair settlement that was done by Mark because we both felt we had been screwed. (brought the house down laughter) We each got half a house, which was great.
"Fortunately, Mark's career moved forward from representing bitchy queens (laughter) to business that defined the West Hollywood experience: The Abbey, La Boheme, Soho House, Cecconi's, Catch, EPLP, Soulmate, Gym Bar, Pump, and so many more. And boards – did you ever meet a board you wouldn't join? (laughter) It's unbelievable. The West Hollywood Chamber of Commerce, the Foundation for the AIDS Monument, Labor Day LA, the Gay and Lesbian Elder Housing, West Hollywood Travel and Tourism, and I'm sure I've forgotten a lot more. And don't forget Mark is a partner in the newish West Hollywood fixture Gracias Madre. After that, I'm tired, I want to go home. Ladies and Gentlemen, Mark Lehman."
On receiving the award, Lehman was humble in his acceptance speech. He thanked Labor Day LA for beginning his fundraising journey. "I moved to West Hollywood in 1983, 'those were kind of the wild and willy days'. West Hollywood gave me direction. The key turning point for me was after Cityhood when John Heilman asked me to serve the city on the General Plan Advisory Committee". Lehman served on the Planning Commission in the early years of Cityhood. "We didn't know what we were doing, we had ideas of what we wanted this place to be. "We forged a vision of what we thought West Hollywood could be." "We came up with this hacky term, urban village. It was a joint collective community vision." "Now we sit here 30 plus years later and the vision has been realized".