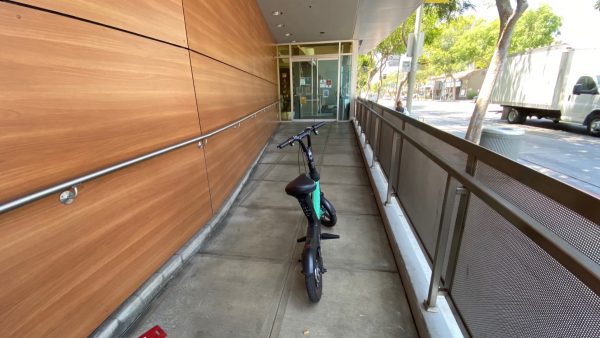 While West Hollywood residents who oppose electric scooters and bikes are expecting to voice their objections in an upcoming citywide poll promised by the mayor, City Hall is already maneuvering to make the dockless micromobility program permanent.
A proposal headed to City Council next week earmarks $160,000 to hire the Toole Design Group to "research multiple dimensions for a successful permanent (dockless micromobility) program, conduct community outreach, and develop recommendations and permitting requirements for the program."
Also on City Council's agenda next week is an item that budgets $75,000 for a consultant to study the city's "disability access." According to the staff report, the disability study will "comprehensively look at access and inclusion and provide recommendations on how to help any barriers that may exist," while the consultant will "provide recommendations as it relates to best practices and policies to improve accessibility at City facilities, meetings and events, infrastructure and building design options, and platforms to increase inclusion and engagement with the disabilities community." The item was authored by Mayor Sepi Shyne and Councilmember Chelsea Byers.
Both proposals come on the heels of a row between Shyne and former Disabilities Advisory Boardmember Myra Mikie Friedman over the dangers posed to disabled people by the city's dockless mobility pilot program, which permits e-scooters on WeHo's streets.
Friedman recently resigned from the board after a heated e-mail exchange between her and the mayor. Shyne later met with Friedman one-on-one and apparently agreed to her request that a citywide poll be conducted to gauge residents' desire to keep or do away with the scooter program. Shyne referenced the conversation at the most recent City Council meeting.
"As a response to Mikie Friedman and her requests for us to have a poll of this scooter program, I did reach out to staff and was told that we actually are going to be doing a poll before making any decisions on making the pilot program permanent, so if staff can or the city manager at our next meeting can provide that update on the record of timing and who is doing the poll and such that would be great," Shyne said.
The dockless micro-mobility pilot program was launched on July 1, 2021, and currently has three operators providing 300 devices, including e-scooters and e-bikes. The program was set to expire on December 31, 2022, but City Council agreed to extend it through June 30, 2023.
The proposed agreement also requests an extension of the micro-mobility pilot through October 31, 2023, to allow Toole Design Group to perform the required analysis and community outreach and create an additional survey tool to develop the permanent program requirements.
City Council will also consider starting the permanent program on September 1, 2023, after the conclusion of the extended pilot program.
The city created the Disabilities Advisory Board (DAB) in May 1995, which addresses issues affecting people with disabilities, including ADA compliance, transportation, housing, access to city government and services for people with disabilities, and makes recommendations to Council relative to the adoption of programs, policies, or ordinances of benefit to the constituency.