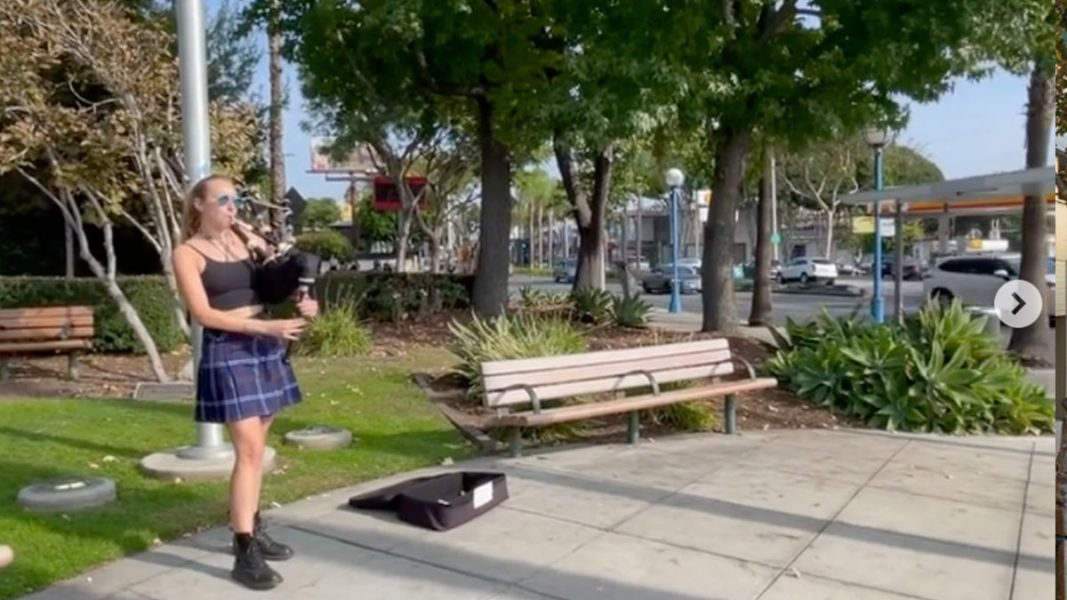 If you live in West Hollywood, you've probably seen the woman playing bagpipes most evenings on the corner of Crescent Heights and Santa Monica Blvd.
She's Madeline Hamilton, perhaps WeHo's most visible street performer.
"Thanks to my corner, I've been able to develop a one-woman show about the bagpipes I'm taking to a French festival in August," Hamilton said, calling in to City Council's meeting Monday night to protest a slew of new rules targeting performances on West Hollywood's sidewalks and streets. "I've been able to connect with neighbors. I've been able to raise money for charities, like Black Lives Matter and the Wounded Warrior Project. I've been able to do all of this because of West Hollywood's support for the arts. I believe that the current proposal's (restrictions) —10 feet from the bus stops and 15 feet from street corners — essentially terminates any chances that street performers have of performing."
City Council agreed, largely rejecting the proposal and siding with those who felt it was "a solution in search of problem," as commenter Rick Watts said.
"It's really the last true form of artistic expression. You're not expanding anything, you're eliminating it," said commenter Annie Jump Vicente. "To say that they're not allowed to make money on the street is ridiculous in a city, in a county, based on art. You're literally legislating poor people out for the bourgeois white asshole liberals."
"I don't really see the logic in these restrictions," Mayor Pro Tem John Erickson said. "I don't see the necessity for this ordinance. I think it's big government. I just I don't think we need it."
"I agree with the idea that we should bring this back and we should have a clearer understanding of where this kind of street performance would be permitted and where it wouldn't be permitted, but I do understand why staff brought this," Councilmember John Heilman said. "And I do think we need to have tools for our code enforcement officers. Because right now they don't really have the tools to say, 'Hey, you're blocking the entrance of this restaurant and it's creating a crowd control issue and the restaurant is complaining.' So we need to give our code enforcement officers some tools to address this."
Council ultimately sent the item back to staff, asking them to craft a more focused, less restrictive set of rules and produce a map visualizing where performances would and wouldn't be allowed.
"Knowing how deep the implications are for the values that we have as a community who celebrates the arts and creativity and individuals freedoms to speech, I want to make sure that we get this right," Councilmember Chelsea Byers said.