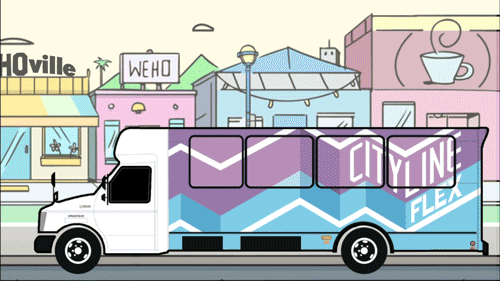 A new program in West Hollywood will soon let anyone book a ride anywhere in the city during business hours for $1.
City Council on Monday will receive an update on the city's transition from Dial-A-Ride, a traditional demand-response program, to Cityline Flex, an on-demand ride-share MicroTransit pilot program that prioritizes older adults and people living with disabilities while serving the general public.
MicroTransit is a relatively new concept that falls between individual private transportation like Uber and public transit, using algorithms to route and schedule trips in real-time.
Who
West Hollywood residents over 62 or
living with a disability of any age
Anyone in the service area
Cost
Free
$1.00 per trip
Hours
Monday-Friday, 8:00 am-5:00 pm
Saturday, 9:00 am-5:00 pm
Monday-Friday, 8:00 am-5:00 pm
Saturday, 9:00 am-5:00 pm
Where
West Hollywood and Beverly Hills
a 2-mile buffer. Shuttle service to
medical facilities within 5 miles of
the City's border is available to
residents over the age of 62 or
with a disability.
West Hollywood + a 1-mile
buffer. Trips must start or end in
West Hollywood.
Type of Ride
Curb-to-Curb service where user is
picked up and dropped off at the
exact address they provide.
Corner-to-Corner service where
the user walks no more than a 1/4
mile to be picked up at a nearby
bus stop or intersection.
How To Request
Phone, Computer, and
Smartphone App
Computer and Smartphone App
Passengers will be able to book a trip through a smartphone application, a web portal, or by calling the program's call center. Riders can request trips on-demand for travel within minutes of requesting a ride or in advance for travel at a future date or time, and riders can sign up for subscription rides. Passengers who use a smartphone or web portal to book a ride can track their vehicle in real-time, similar to what individuals experience when using a rideshare service like Uber or Lyft.
Once fully implemented, this pilot program will transform the city's underperforming Dial-A-Ride program into a MicroTransit service that continues to provide curb-to-curb transportation to West Hollywood's older adults or community members living with a disability and offers corner-to-corner service for the public. This means that an older adult or community member living with a disability would continue to be picked up and dropped off at the exact address they provide as long as the address is in the program's service area. The public would need to walk no more than a quarter mile to be picked up at a nearby bus stop or intersection.
Efficiency achieved through Cityline Flex's dynamic routing and scheduling would allow the City to offer the new program using resources that were allocated to Dial-A-Ride. Dial-A-Ride provided 60 trips per day at its peak, translating to about one trip per vehicle service hour. Staff projects that Cityline Flex could increase the program's capacity to 170 trips per day, or three trips per vehicle service hour. This capacity could be achieved using the fleet that was used to run the Dial-A-Ride program, which consists of four minivans and one cutaway bus. Should demand exceed 170 trips per day, replacing the minivans with larger 12-passenger transit vans could increase the program's capacity to 340 trips per day, or six trips per vehicle hour of service.
Staff is implementing the Cityline Flex pilot program in two phases. Phase one of the transition is complete, and staff anticipates completing the program's second phase by the start of the new fiscal year in July. In the first phase of the program's implementation, staff worked with MV Transportation, a transit services contractor, to acquire MicroTransit scheduling technology from RideCo, an on-demand transit technology and services company. Staff worked with MV Transportation and RideCo to set up the paratransit component of the program, and to train all MV Transportation dispatch and operations staff to use the new scheduling system. As part of the training, RideCo scheduled one-on-one training with drivers assigned to the program to ensure they understood how to use the driver-facing application. This phase of the program's implementation started in August 2022 and ended in November 2022.
As part of phase one of the transition, the City introduced the Cityline Flex app. Cityline Flex is the name of the app and also the name of the new pilot program. Cityline Flex joins Cityline Local and Cityline Commuter as the third program under the "Cityline" umbrella of services to respond to the transportation needs of West Hollywood community members. Staff is now working with a designer to evolve the Cityline brand for Cityline Flex.
In phase two of the Cityline Flex implementation, staff will work with MV Transportation and RideCo to set up the program technology to serve the general public. Staff will also wrap up the Cityline Flex branding process and work with MV Transit to increase the active fleet for the program as demand builds. The program currently operates with two to three vehicles, depending on the number of ride requests, and has the budget to run with a maximum of five.l
The program is expected to serve the general public by July 2023.