At the March 6th West Hollywood City Council meeting, an item was agendized by Councilmember Meister, at our organization's request. This item would have the City screen a special documentary film to commemorate Holocaust Remembrance Day, similar to requests made by many organizations to recognize significant occasions.
To be clear, this wasn't just any Holocaust film.
The documentary film that we requested to screen highlights the emerging issue of "state-sponsored Holocaust denial and distortion," a phenomenon where governments in Europe today are denying their role in the murder of Jews during the Holocaust and attempting to rewrite this dark chapter in human history. Given West Hollywood's record as a leader in taking stands and promoting positive change, we felt this would be the perfect venue to highlight this issue to educate and inspire residents to get involved to help combat Holocaust denial.
Unfortunately, we were informed by City staff that the item would be tabled due to objections from certain city council members due to the appearance of Grant Gochin in the documentary. Gochin is an internationally renowned Holocaust education advocate who participated in last year's combating antisemitism summit in West Hollywood and asked tough questions regarding a candidate's past policy positions on Jewish issues.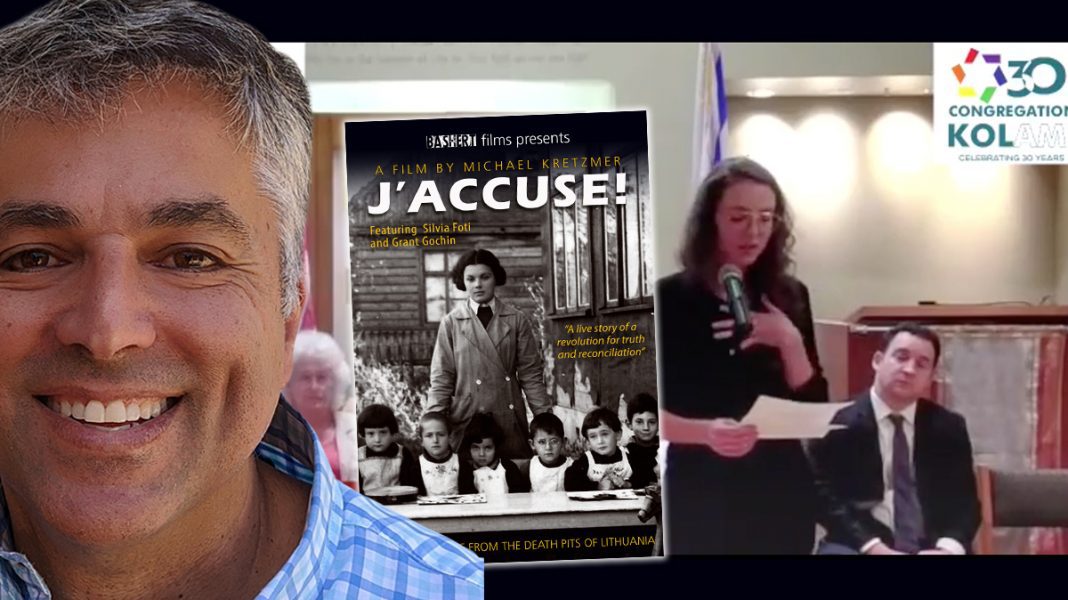 After conferring with Councilmember Meister, she wisely suggested we table the item, and we fully agreed with and support this decision. The negative attention sought by those who opposed this specific screening would distract from the important underlying message we are working to promote.
In the end, given the highly corrosive nature of the emerging issue of government-sponsored Holocaust denial and distortion, our organization felt that agreeing to the demands of the opposition and showing another film would actually perpetuate denial and distortion. I alone made the difficult decision to choose another venue rather than choose another film.
Over the past several days, many in the community have unfairly blamed Councilmember Meister for tabling this item.
We want to set the record straight.

First and foremost, Councilmember Meister has been a good friend to the Israeli-American and Jewish communities in West Hollywood.

Specifically, Councilmember Meister:
Sponsored last year's combating antisemitism summit, which led to the City's adoption of the antisemitism definition, which Meister also strongly supported,
Helped lead a celebration of the second anniversary of the Abraham Accords promoting Middle East peace that took place in West Hollywood last October,
Is leading now on issues related to Jewish community safety and security in the City of West Hollywood.
As an organization, we value our relationship with Councilmember Meister. She continues to demonstrate respect and awareness of the Israeli-American and Jewish communities and the range of issues we face. Those issues are serious, and the care and attention she demonstrates are more important to us than the venue where a documentary will be shown.
West Hollywood is important to us. Many might say that West Hollywood is a place where you are free to be who you are and where differences are tolerated. But that's understating the value of this city. West Hollywood is important because differences are respected and celebrated, not simply tolerated.
And second, in that spirit, we would like to share some specific background as to specifically what happened leading up to the March 6th council meeting:

Last August 2022, we hosted the city's first-ever combating antisemitism summit following months of elected leaders and commissioners in West Hollywood using dismissive and disrespectful language about Jewish people, perpetuating negative stereotypes about Jewish people, and the spread of intentional disinformation about Israel, thereby marginalizing the city's Jewish and Israeli immigrant communities. Emotions were high, and during the summit and several people spoke up about a candidate who had refused to publicly address their past positions on issues important to members of West Hollywood's Jewish community.
After the election and into the new year, we sought to continue raising awareness about the contemporary issues facing the Jewish community. We engaged with Councilmember Meister and asked if she would support screening a documentary about state-sponsored Holocaust distortion and denial, and she generously agreed.
State-sponsored Holocaust denial and distortion is an emerging issue, and while there are many documentaries about the Holocaust generally, there are only two that specifically discuss this contemporary issue, both were just released last year, and both feature two high-profile Holocaust history and education advocates, Grant Gochin and Silvia Foti.
Gochin is the descendant of Holocaust victims, and Foti is the descendant of the Lithuanian military leader who ordered the death of Gochin's family.
Given their unique histories, both Gochin and Foti are recognized around the world as one of the leading examples of the threat that Holocaust denial and distortion poses: specifically if the wholesale murder of six million Jews can be covered up and that history is rewritten, there is nothing to discourage future dictators and despots from committing another genocide if their crimes against humanity can simply be erased and forgotten.
Given his international stature and global work, we were lucky to have Gochin attend last year's combating antisemitism summit. As one may imagine, given his personal history, Gochin was particularly concerned about the antisemitic rhetoric surging in West Hollywood, the role some candidates and councilmembers played in perpetuating that antisemitism, and asked tough questions during the event.
Minutes before the March 6th council meeting, city staff informed us that some council members referenced the summit and the perceived "hostile" questions asked of a candidate as the reason for not being supportive of Meister's item to screen the documentary.
In subsequent conversations regarding the summit, there was a false claim that some extraordinary hostility took place at this public event – a tactic often used during the height of the City Council campaign in West Hollywood to silence critics. To be very clear, Los Angeles County Sheriffs, Los Angeles Police Department officers, and the City's Block by Block security ambassadors were present for the entirety of the proceedings. There is no report of any activity that would demand the attention of law enforcement. The exchanges during the campaign and specifically during the summit may have been inartful from all involved and at the time I took it upon myself to apologize to some attendees for the environment. Still, despite false claims to the contrary, unfriendly speech does not rise to any level beyond that protected by the First Amendment.
It never occurred to our community that any City official would boycott Gochin, a Jewish member of the LGBTQIA+ community and the descendant of Holocaust victims.
Where no illegality occurred, this incident sets a dangerous precedent by some on the Council: specifically, if they don't agree with or face criticism from a member of the public, then they will take action to silence those critics. This is a clear example of viewpoint discrimination, an obvious violation of the First Amendment, and their oaths of office.
It is clear that significant work still needs to be done in West Hollywood to raise awareness about the issues facing the Israeli-American Jewish communities.
We will continue that work with tenacity and unwavering dedication.

Dillon L. Hosier
Chairman and Chief Executive Officer