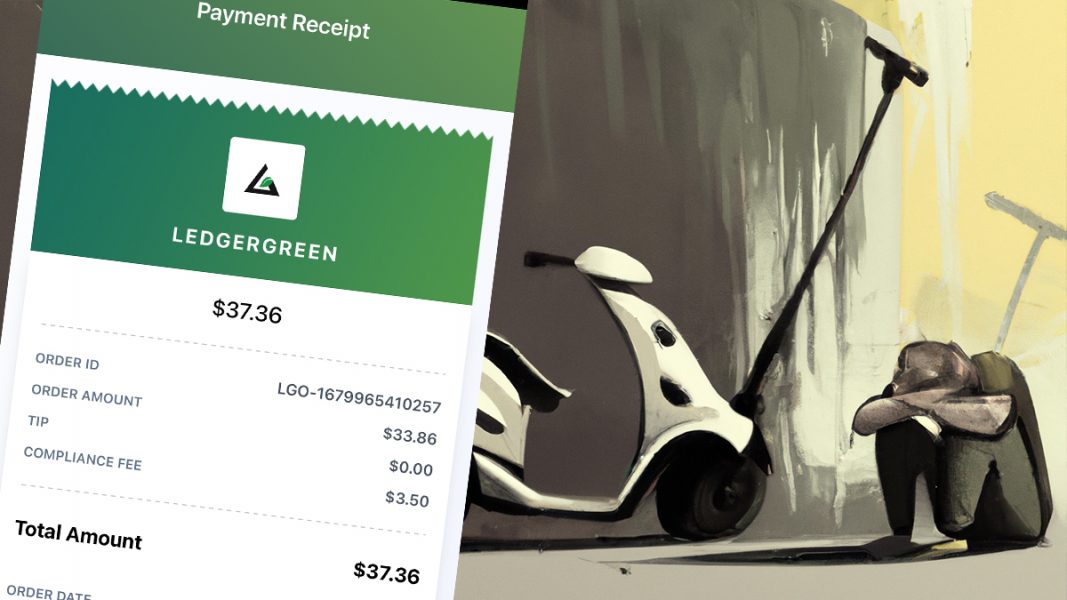 Well, I won't be riding scooters on the sidewalks ever again, or at least until I get paid.
My trip to Whole Foods yesterday cost me $37 more than it should have* thanks, I guess, to that sidewalk detection technology we all thought they were joking about.
It's fine, I broke the law, I deserve a penalty. I guess.
Anti-scooterati folks, please take pleasure in my humiliation and punishment. You've earned it. Your valiant outspokenness has forced City Hall to take the scooter situation seriously, a reminder that relentless bitching is truly our best weapon against stubborn government.
So how did my tragic tale play out?
I was riding a nice new Bird scooter with good brakes on the sidewalk on Fairfax south of Santa Monica Blvd. (Lyme scooters have a little robot voice that yells at you to get off the sidewalks). There's a bike lane I think but it was rush hour and it was giving death vibes. I couldn't have been on the sidewalk for longer than five minutes.
Even though pedestrians roll their eyes when they see me coming, I do my best to put them first. Nobody should have to worry about being run over.
What I do is get off the scooter and walk it past people, and then get back on when the coast is clear. It's incredibly easy to do.
I feel like a little common courtesy is the simple solution to all our scooter problems. But how do you teach scooter etiquette to the general public when there's no consensus on the rules, no cohesive vision for how they will share the roads? Even if WeHo decides to discontinue the pilot program, scooters will still exist, and we'll still have to deal with them sometime, somehow.
You're gonna hate me for saying this, but I think cities would be better off widening the sidewalks and letting everyone use them, rather than trying to force bikes and scooters to share the asphalt with the automobiles. As a driver, I fear every bicycle and scooter on the road as a potential collision and lawsuit waiting to happen; they are like bloodclots in the flow of traffic. As a bicyclist and scooter rider, I don't feel remotely safe on the roads, and would choose a sidewalk any day.
But that's just me.
And luckily for you, Mykie Freedman and the concerned citizens of WeHo are fighting the good fight to keep WeHo's feet on the ground and its focus on reality, not on the musings of the village idiot. Guess I'll shut up now.
* The actual penalty fee was only $3.50, but apparently my criminal behavior voided the discount I usually get. Bird has an amazing program for very low-income earners which gives us five free rides up to 30 minutes long per day (God bless you Bird). But not if we ride on the sidewalks! Bottom dwellers like me need a stronger deterrent, and taking away the freebies sure did the trick for me.