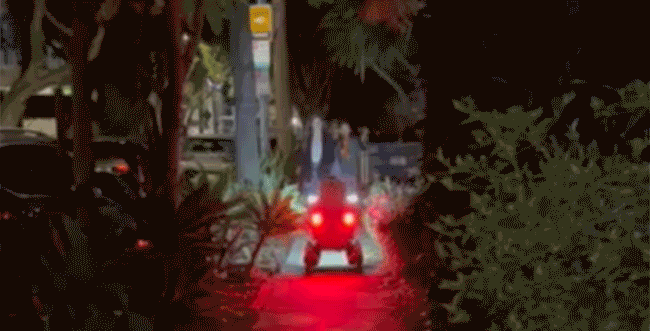 Have a letter for City Council or City Hall you want us to publish? E-mail it to brandon@wehoville.com. 
Dear Weho Leaders,
Explain to us again why these robots are allowed on our sidewalks?
These are a nuisance and NOT ADA compliant.  They should be banned from the public right-of-way.  In addition to a hazard on the sidewalks, I saw one stalled out in a lane in front of an oncoming motor vehicle.
Respectfully, GET RID OF THEM!
Thank you,
Stephanie Harker
Pedestrian & Resident
West Hollywood
---
I agree 100 percent.  I mybneighborhood I see a lot of these robots stopped here and there.  I have thought to myself how do folks on crutches and in wheelchairs get around these?  I imagine the creators never thought about that.  Thanks to the folks who thought of this problem and are bringing it up.  And thanks in advance to our City Council for resolving this.
Virginia Gillick
WEHO RESIDENT
---
Greetings Everyone:
I don't mean to be a NIMBY, but does anyone else feel like a guinea pig in an incubator?
Crime problem? Try these! Security Ambassadors
Transportation Problem? Try these! Scooters
Need a delivery? Try these! Robots
There are some pretty half-baked Libertarian ideas afoot. They are not all where you'd expect to find them either.
Mike
---
When is this pilot program for the delivery robots supposed to be over?  when do you decide whether or not to (hopefully) dump them or (tragically) keep them?
Mayor Shyne sat at my dining area table, drinking my coffee, telling me that she didn't think they were all that great and that she wasn't impressed by them because she got a delivery and had to walk all the way out to the street to get her item!
She told me a lot more things that I promised her I wouldn't share, but she never told me I couldn't share that!
So, Sepi, , when is this pilot program going to be over? When are we no longer going to have to suffer with delivery robots, outzones, e-scooters, E, bikes, and other hazards?  I write this on behalf of all pedestrians, both able bodied, but mostly the disabled who  want to regain ACCESS to our sideWALKS!!!
Mikie Friedman