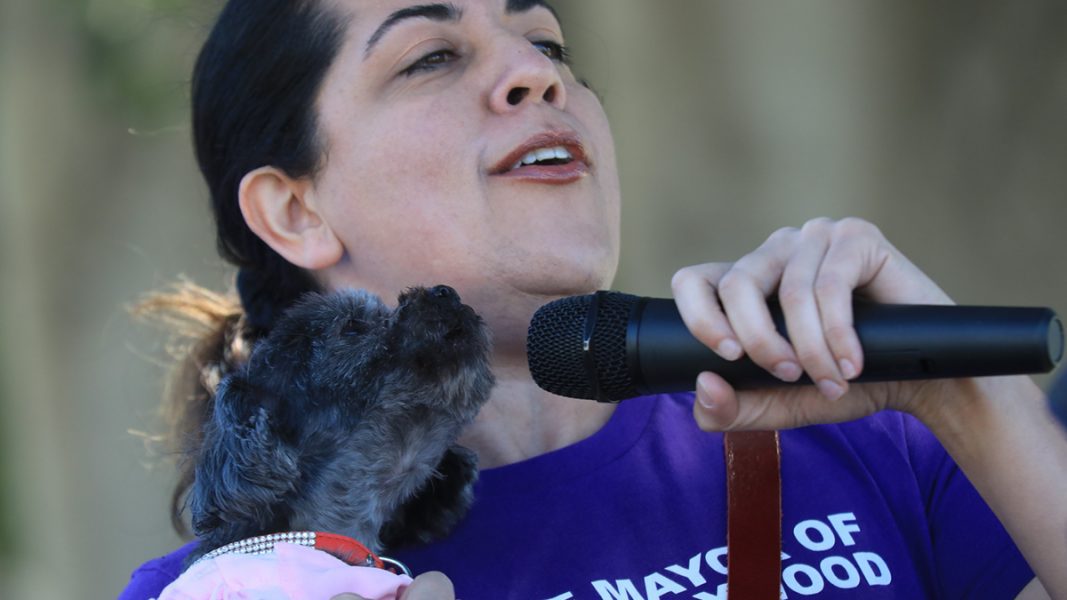 Chloe Shyne, you were born to be WeHo's first Pet Mayor. 
Sure, Spike (Lauren Meister) and Winston of WeHo (Lindsey Horvath) might have cracked the glass doggie door, but you shattered it. If there had been an election, you would have crushed the competition.
You are fierce, fabulous and already famous, a true grand dame of the Southland dog world. Your Instagram handle is @ChloeQueenofWeHo for God's sake. But you are first and foremost (furmost?) Mama's girl —  the eldest furdaughter of our mayor, Sepi Shyne. 
You rose into the public's consciousness back in 2020 when you joined Mom on the campaign trail. You turned heads all over town when she put your picture on the yard signs.
Your off-the-charts cute factor endowed the campaign with some much-needed sweetness, and you helped Mom sail into her Council seat.
You looked so chic at your howling-in ceremony. And the way you worked the crowd was phenomenal.
But being mayor may end up being a little rougher (ruffer?) on you than you think .
It's a tough time to be in politics, especially in WeHo. Your leash is going to be pulled in many different directions. UNITE HERE wants you to get rid of cops. Renters want affordable housing. Twitter wants gender neutral bathrooms. The cat community wants more visibility. Pedestrians want the scooterati annihalated. 
You can't please everyone. Just ask Mom.
Honestly, I wasn't sure why Mom thought now was the best moment to name you mayor. Humorless people are scratching their heads, asking why is everything they do in WeHo so frivolous? Why is the mayor giving her daughter a high-profile job and running for Congress? Is she grooming Chloe to run in 2024? What if there's a recall?
You're going to hear the word "Nepawtism" a lot but the fact is you're no nepo baby. 
Sure, you spend a lot of time at Dogue Spa, but you're as tough as the industrial grade acrylic resin they put on your nails. You keep your cool, stay in control and rise above the bullshit.
You're a rescue dog. A mixed breed. You grew up in the streets and made it out of a kill shelter alive!
Life is good these days, but it's not perfect. Your moms are split up now, and you've had to do some growing up. You've got two little sisters who look up to you and depend on you more than ever before. You've got real responsibilities now, and you're not the kind of diva who lets her fans down.
You're a leader, just like your mom. You know what you've got to do, and you're gonna do it, haters be damned.
It's a royal bitch of a job. And who better than a queen to do it?