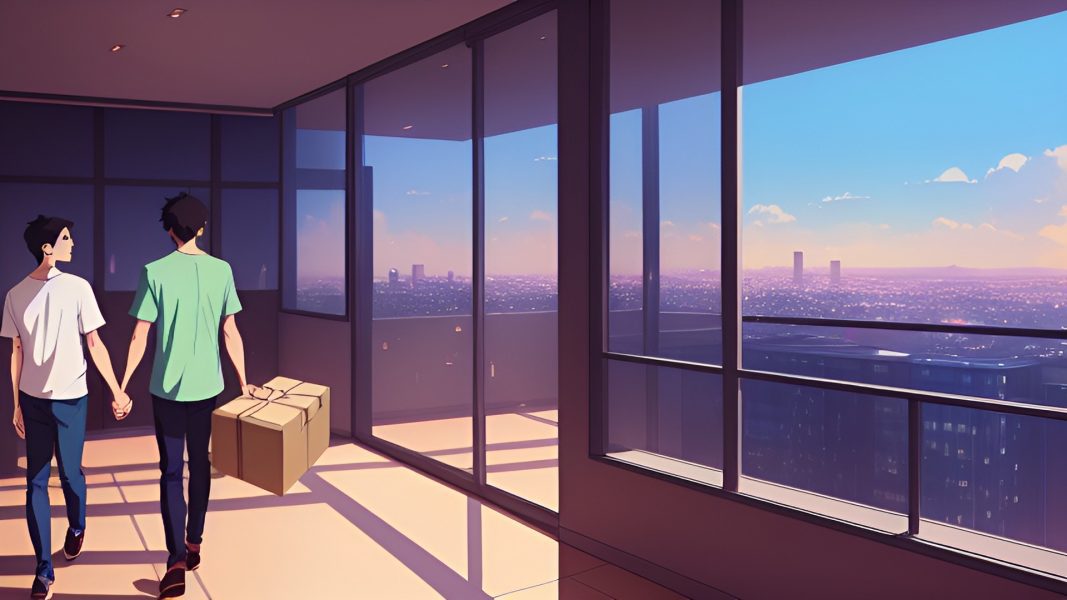 "Home is where the heart is." If you're reading this, then your heart may be in West Hollywood. However, you may not be able to afford to live here. Compared to our neighboring cities housing prices in West Hollywood are among the most expensive in the region. Despite the fact that we are located 8 miles inland from the ocean in Santa Monica, our rents are almost as high as those near the beach.
The majority of West Hollywood residents live in rental apartment units. There are over 15,000 rent-controlled apartments in WeHo, all of which were built prior to 1979. After rent-control was enacted developers found there riches in condominiums and luxury apartment buildings.
West Hollywood's housing policy requires the construction of affordable housing in 20% of all new developments. This 20% set-aside is valid for the life of the development. WeHo City and LA County-owned properties remain 'affordable housing units for the life of the development, but non-profit units typically sunset after 30 years. In some cases, development agreements allow an affordable housing unit for up to 99 years. However, many of the early "affordable housing" units for low-income or aging residents built by non-profits will begin to sunset in the coming years.
Despite being a city for almost 40 years, West Hollywood's housing stock has hardly changed. The number of residents living in West Hollywood is approximately the same as it was in 1984 when the city was incorporated, which is around 36,000-39,000 total residents. However, the demand for housing in West Hollywood continues to rise, while our supply is not keeping up.
Most of the changes and growth in our city have taken place on commercial corridors. Real Estate 101 teaches that property values increase when they are surrounded by active commercial corridors with community-serving businesses. . West Hollywood's new developments in its commercial corridors have far surpassed its construction of new housing within our borders.
At the last City Council meeting, Anthony Vulin, owner of the Collective Realty and Business License Commissioner, challenged the council to think about developments differently. Vulin spoke about the missed opportunities of homeownership and wealth creation for those who rent. He said, "Our city is 80% renters. That means that 80% of our residents are building somebody else's wealth and not their own. Micro units that are 'for sale' could be a big step in lowering the homeownership gap. The city should make it a priority to build micro units 'for sale' rather than 'for rent.'"
What if our housing policy allowed for a pathway to homeownership for some affordable housing units? What if residents could turn small rental buildings into cooperatives with help from the city? What if a new type of housing emerged, "rent-to-own," where a tenant could build equity over time? Instead of subsidizing affordable housing for low or middle-income residents, our thinking could evolve to support a tenant's down payment, which would be paid back upon the sale of that unit. This would benefit everyone.
The City of West Hollywood is also contributing to our problems. It is the largest property owner in WeHo, owning large parcels of land from City Hall and most of the entire block across the street from Flores to Sweetzer, the large corner lot on the corner of Crescent Heights and Santa Monica Blvd, Laurel House, the Holloway Motel, and multiple parking structures and empty lots throughout the city. Most of these properties owned by the City of West Hollywood remain in limbo for years. If the city were not competing with developers for this land, it could be developed into mixed-use or other creative ideas.
However, the competition with private developers has driven up prices for remaining parcels of land and the cost of the final development, exacerbating the affordability issue.
Other factors contributing to the housing problem in West Hollywood include limited land mass, government competition with the private sector, slow pace of development, restrictions on building size, rent control, aging housing stock, housing attrition, and the tremendous growth of the business community where many hope to live close to where they work. Unfortunately, the chemistry of these policies does not work well with each other to create enough affordable housing for low and medium-income residents, or housing that is affordable for those who hope to become property owners in West Hollywood.
---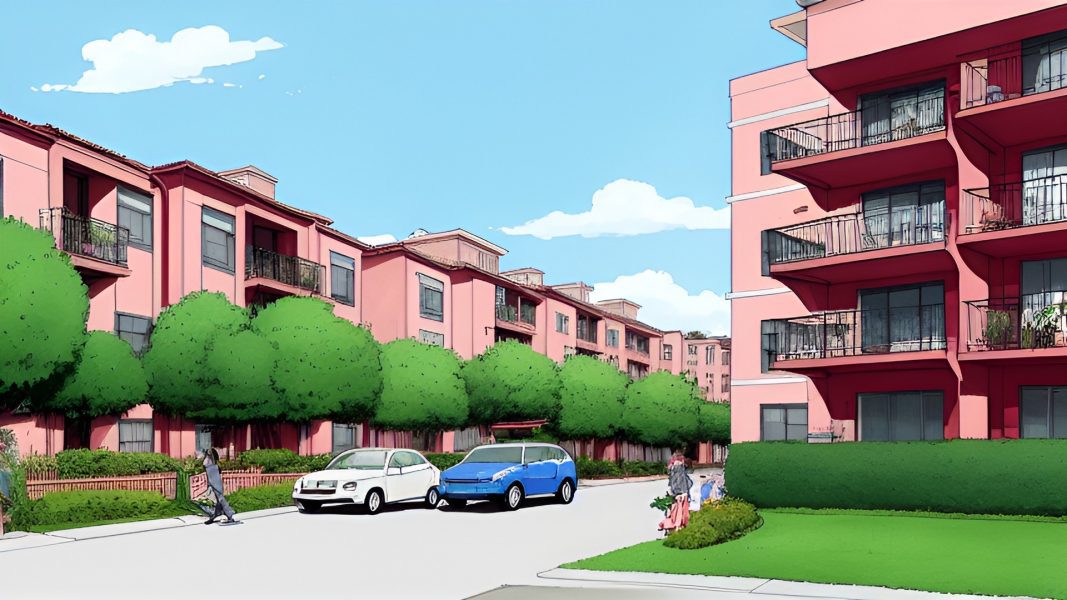 We tried to get more information on the 'sunset' of units from the West Hollywood Housing Corporation but multiple calls to its President and CEO and Director of External Affairs went unanswered. A former elected official with knowledge of WHHC answered the question this way "I don't know the exact answer about what happens with every West Hollywood Housing Corp. development but after 30 years the units belong to the development corporation. And its possible that they might turn them into market rate units as they vacate but its unlikely because its not the mission of the organization. However, the once proposed )TARA) Laurel house project development agreement did have an expiration clause in which the property and all of the rights to the units would have gone to the development corp.
The following are questions that were posed to the Rent Stabilization Division. Answers were provided by Joshua Schare, Director of Communications for the City of West Hollywood. These questions and answers do not apply to buildings operated by the WHHC.
What qualifies as a rent-stabilized unit?
Rental units in multifamily residential rental properties with a certificate of occupancy issued on or before July 1, 1979.
Inclusionary housing – how many units does the city have? How many are available?
The Housing Element provides an excellent summary of all the city's affordable housing units (Table 29). The Housing Element can be found here: www.weho.org/housingelement.
Additionally, each year the City sends an annual update report to HCD. This year's update went to Council on March 20, 2023.
Are the city inclusionary housing done by the same or separate lotto than WHCHC?
Separate.
How many rent-stabilized units are in the city?
Total Rent Stabilized Units: 15,334 (found on page 52 of HE).
What qualifies as a rent-stabilized unit? Used to think it was a building built prior to 1979—has that changed? For instance, the Domain, is that rent-stabilized?
Broadly speaking, rent stabilization applies to properties completed on or before July 1, 1979. The Domain, as "new construction," is not rent-stabilized.
However, there are some nuanced instances that could trigger rent stabilization in new construction buildings. For example, if you demolish a rent-stabilized building and rebuild within 5 years, rent stabilization would apply to the new building (WHMC 17.52.010). Additionally, per SB330/SB8, if rent-stabilized units that are occupied by above-moderate income tenants are demolished, they must be replaced by deed-restricted affordable and/or rent-stabilized units in the new project.
How many affordable housing units does the city manage as part of the inclusionary housing program?
The city does not manage any properties. Rather, the Rent Stabilization Division, in partnership with HouseKeys Inc., oversees the leasing up of inclusionary units to ensure compliance with relevant laws, regulations, and covenants.
The inclusionary housing program is for people who qualify: very low income, low income, medium income. Is that correct? How many of each are in the city inventory not including WHHC?
WHCHC has its inventory of affordable units. Each inclusionary unit is either designated very low-, low-, or moderate-income.
Does the inclusionary program include a lotto? Or how are those openings selected?
The inclusionary program works off of a list that is opened depending on the size of the list. The last time the list was opened was in November 2019 and currently has approximately 4,728 people on it. The list is set randomly assigning a placement, which remains throughout the life of the list. Participants are contacted as the list is worked from lowest number to highest number as units become available. Once waitlist applicants apply, they are sorted by priorities identified by Council's Resolution 08-3711.
Are there disclosures necessary if a person in an affordable unit is serving on a commission or board as an appointed or elected official?
No.
On the income qualification… a) so if somebody has a million dollars and they are 60 years old and retired do they qualify? Or b) somebody is 30 years old with a moderate income — are they able to stay in the same spot for the rest of their lives?
Assets and monthly income information are collected and reviewed when the waitlist applicant is invited to apply. Income and assets are not reviewed while on the waitlist.
How many units are currently slated to come on line in the affordable housing area over the next year, or 5 years, and how many applicants are there on the list at this point?
The Housing Element provides an excellent summary of the City's commitment through 2029 towards our housing goals. Below is the summary of qualified objectives.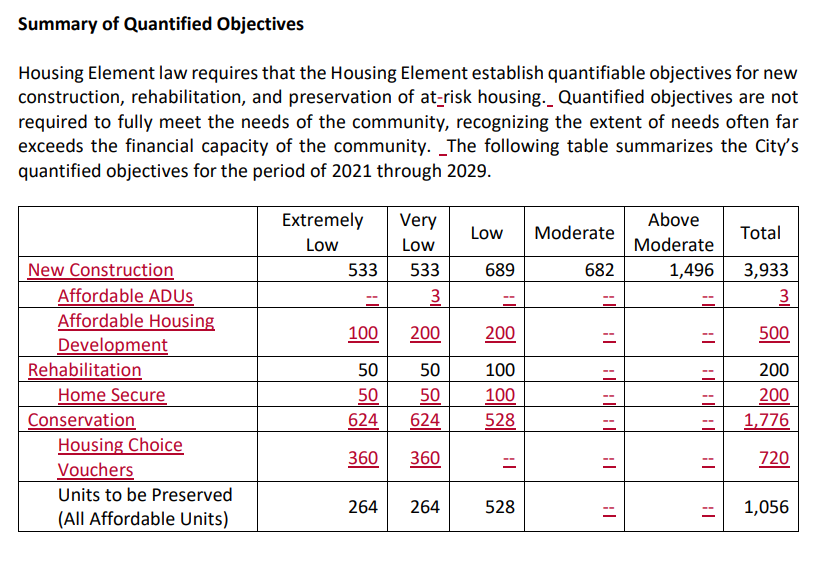 So the criteria for availability, is a) next on list, b) low income or age or disability, or c) Ellis?…
Normally, a unit is offered to the next income-qualified applicant on the list, although applicants may be drawn from those individuals displaced by a no-fault eviction, such as an Ellis Act eviction, if they are also income qualified.
In case you missed Part 1. https://wehoville.com/2023/04/04/oped-wehos-un-affordable-housing-initiative/