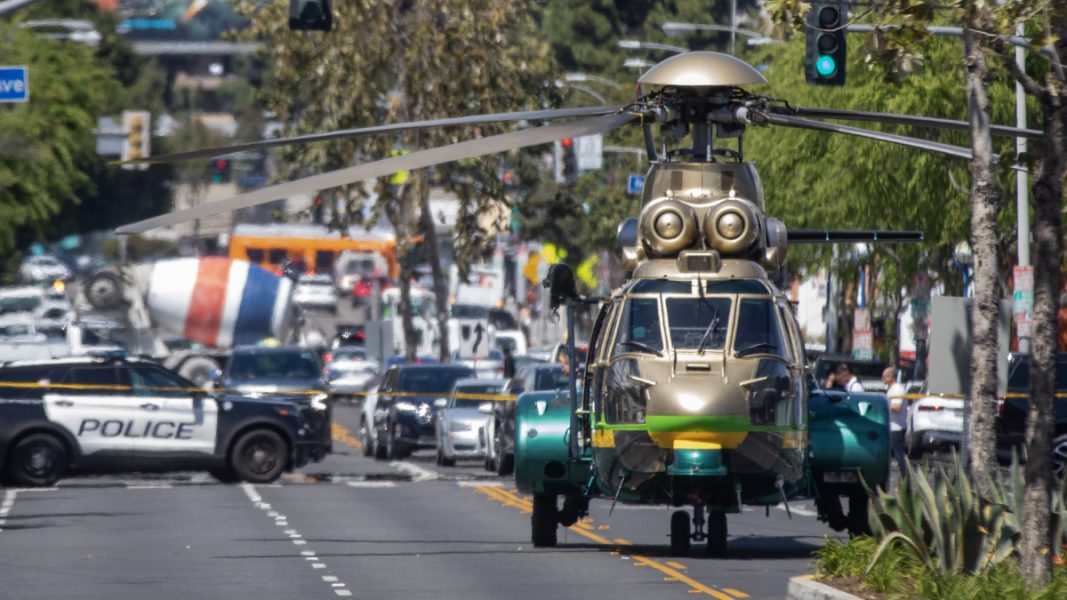 The sound and fury of the sheriff's department signified nothing today as a showy, 10-hour-long standoff across the street from the West Hollywood Gateway ended when deputies discovered the suspect was not, as they thought, barricaded in his apartment.
Deputies are now combing the night streets for the suspect, whose identity is known by authorities but has not been released. He allegedly fired multiple shots inside The Dylan apartment complex Friday, injuring a woman in an adjacent unit and sparking the standoff..
The shooting was reported about 8:15 a.m. at the building at Santa Monica Boulevard and La Brea Avenue, according to the sheriff's department. A sheriff's spokesman told KNX News at the scene that the woman — in her 50s — was shot twice, once in the upper body and once in the lower extremities by bullets that passed through the wall of her apartment.
Her injuries were not believed to be life-threatening, sheriff's officials said.
Sheriff's deputies unsuccessfully attempted to make contact with the suspect in a third-floor apartment, prompting a standoff and evacuations of some building residents.
Santa Monica Boulevard and La Brea Avenue were both closed in the area, snarling traffic. At least 15 sheriff's department vehicles were on the scene, plus two Bear Cat SWAT vehicles, LAPD, Beverly Hills PD, the Fire Department and two EMS vehicles. Dozens of agents, officers and deputies could be seen outside, and there were likely more inside the complex.
Members of the sheriff's Special Enforcement Bureau were brought to the scene via a large military-style helicopter, which landed on La Brea just north of Santa Monica.
Shoppers at the Gateway had front-row seats to the action all day long. Many were blown away by the spectacle; others were not impressed by the sheriff's show of force.
Nine hours into the standoff, sheriff's deputies stormed the suspect's apartment at about 5:15 p.m. but found it empty, according to reports from the scene.
There were no immediate reports of any other injuries.
City News Service contributed to this report.