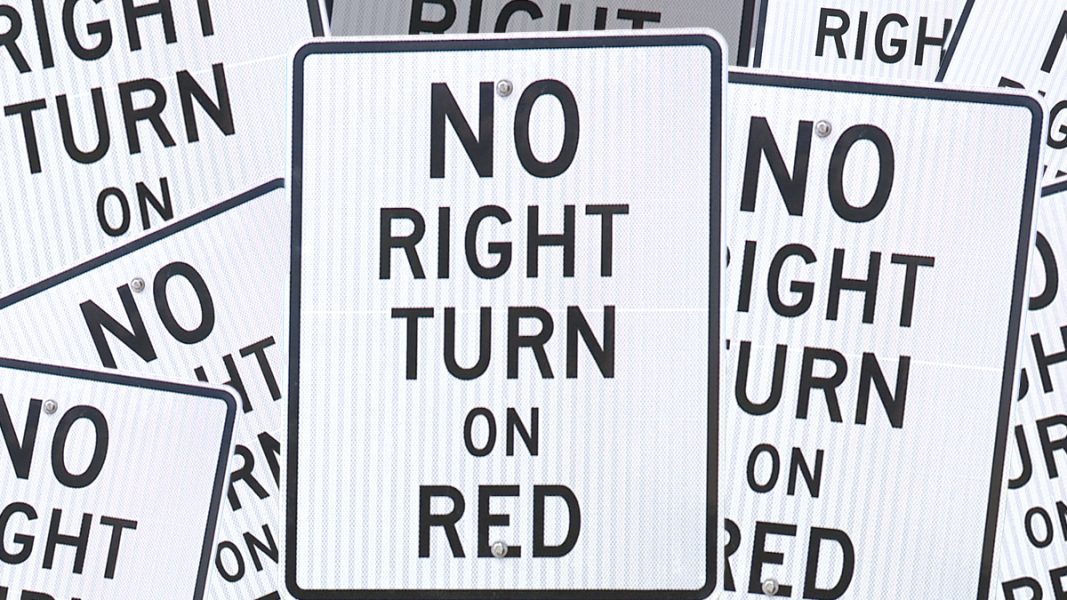 Drivers, do you like "NO RIGHT TURN ON RED" signs? Because you're probably going to be seeing a lot more of them in West Hollywood soon.
Mayor Pro Tem John Erickson and Councilmember Chelsea Byers are pitching a pilot program that would ban right turns when stoplights are red at various intersections throughout the city in an effort to reduce transportation-related serious injuries and deaths.
The proposed pilot program would direct staff to work with the city's on-call traffic consultant to evaluate intersections that would benefit from a right turn on red ban. Based on the results, staff and the consultant will establish criteria for considering future intersections in a permanent program. City Council will also receive recommendations of proposed intersections to implement the ban permanently.
Cities across the United States have adopted similar measures to improve pedestrian safety. New York City only permits right turns on red where signage indicates, while Washington, D.C. has banned the maneuver at 100 intersections, resulting in significant improvements in driver behavior. San Francisco has implemented a right turn ban at 50 intersections in the Tenderloin district, and Berkeley, CA introduced a city-wide ban in 2022.
But according to the National Highway Traffic Safety Administration (NHTSA), turning right on red is a factor in less than 1 percent of all crashes.
And legal right turns on red offer many tangible benefits as well:
Improved traffic flow: Allowing right turns on red helps keep traffic moving and reduces congestion at intersections. Drivers do not have to wait for a green light to make a right turn, which can reduce delays and improve overall traffic flow.
Fuel savings and reduced emissions: When vehicles are not idling at red lights waiting to turn right, they consume less fuel and pollute the air less. This can contribute to improved air quality and help reduce greenhouse gas emissions.
Reduced driver frustration: Allowing right turns on red can help reduce driver frustration by preventing unnecessary waiting time at intersections. This may lead to fewer instances of aggressive driving and a more positive driving experience.
Increased intersection capacity: Permitting right turns on red effectively increases the capacity of an intersection, as more vehicles can move through during each signal cycle. This can help reduce traffic congestion and improve overall travel times.
Energy savings for traffic signals: With more vehicles moving through intersections during each signal cycle, there may be fewer instances of long lines at red lights. This can lead to energy savings for traffic signals, as the length of green lights may be reduced.

Loading ...
Some studies do suggest that preventing right turns on red has made traveling safer for pedestrians and bicyclists.
A study published in the Journal of Transportation Safety and Security in 2019 looked at the effects of NRTOR regulations on pedestrian safety in New York City. The study found that NRTOR was associated with a 45% reduction in pedestrian fatalities and a 40% reduction in pedestrian injuries at intersections.
A study published in the Journal of Transportation Engineering in 2008 examined the impact of NRTOR regulations on crashes in the state of Florida. The study found that the implementation of NRTOR was associated with a 12% reduction in crashes at signalized intersections.
A study published in the Journal of Safety Research in 2004 looked at the impact of NRTOR on bicycle safety in the United States. The study found that NRTOR was associated with a 25% reduction in bicycle-motor vehicle crashes at intersections.
Councilmember Byers has said she doesn't have a car, and both she and Mayor Pro Tem Erickson are users and advocates of rental electric scooters.
West Hollywood has prioritized traffic safety in recent years, implementing short-term safety improvements to Fountain Avenue and expanding bike lanes. Crosswalk signalization has been added at key mid-block locations on Santa Monica Boulevard. In February 2021, City Council set a goal of eliminating fatalities and severe injuries from traffic collisions on city roadways.
The city is currently working on adopting a Vision Zero Action Plan, which aims to eliminate transportation-related serious injuries and deaths by 2040. The proposed Right Turn on Red pilot program would support the City's Zero Action Plan efforts, focusing on enhancing safety for pedestrians and cyclists.
Council will review the proposal at Monday night's meeting.
NRTOR ORIGINS
The history of "No Right Turn on Red" (NRTOR) can be traced back to the early 20th century when automobiles began to gain widespread popularity in the United States. As the number of cars on the road increased, so did the number of accidents, particularly at intersections.
In the 1920s, traffic signals were introduced to help regulate traffic flow and reduce accidents. At that time, however, there were no standardized rules for when drivers could or could not turn right on a red light. Some cities allowed it, while others did not.
In 1930, the city of New York introduced a ban on right turns on red lights at certain intersections, making it the first city in the United States to do so. The ban was initially introduced as a temporary measure but was made permanent in 1934. Other cities followed suit, and by the 1960s, more than half of the states had some form of NRTOR regulation.
In 1973, the federal government passed the National Maximum Speed Limit law, which included a provision requiring states to adopt NRTOR at certain intersections as a condition of receiving federal highway funds. This law helped to standardize NRTOR regulations across the country.
Over the years, there has been some controversy surrounding NRTOR regulations, with some arguing that they can lead to increased traffic congestion and longer wait times at intersections. However, studies have shown that NRTOR can help reduce the number of accidents at intersections, particularly those involving pedestrians and bicyclists.
Today, NRTOR regulations vary from state to state and even from city to city within the same state. However, most states have adopted some form of NRTOR regulation, either as a statewide law or as a local ordinance.