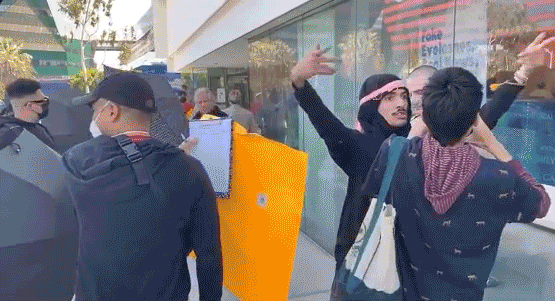 Deputies were hesitant to respond to the attack as the crowd grew rowdy
An L.A. County Sheriff's Department deputy witnessed a physical assault only feet away from his face but made no move to detain the suspect Saturday during a protest of West Hollywood's Drag Story Hour at WeHo Park. The incident was captured on video by local journalist Sam Braslow, which he posted to his Twitter account.
In the video, a crowd of more than two dozen people gathered to counter a small protest against Drag Story Hour is swarming a lone male reported to be an activist with the opposing side. He is attempting to film the event through the library's windows with his cell phone, but he soon finds himself boxed in by about 10 angry people. Then the suspect — clad in gloves and a full-face ski mask that completely obscures his identity —enters the frame, lunges toward the victim and punches him from above, landing a blunt, heavy blow to the videographer's cheekbone.
The activist attempting to film drag story hour shelters behind the library's front desk. A library staffer seems to tell him that he is trespassing. A counter protester vogues on him.

Shortly after this, he leaves. pic.twitter.com/HrrJk9oBWF

— Samuel Braslow (@SamBraslow) April 15, 2023
Broken thread continues here https://t.co/N3CB1KrA49

— Samuel Braslow (@SamBraslow) April 15, 2023
All four deputies visible in the video appear to witness the moment of the attack, and three of them show no hint of a reaction. The deputy closest to the victim offers assistance that is, at best, half-hearted: "Please stop fighting" he tells the belligerent crowd.
The suspect then casually walks away from the chaos, confident he will not be pursued.
Moments later, the victim cries out, "Police, don't leave me!" multiple times as the deputies adjust their standing positions away from him outside the front doors of the library. The activist/videographer eventually takes cover in the library's lobby.
Some time later, a drag queen speaking on behalf of the program approaches the large group of counter-protesters and asks them, as gently as she can, to "de-escalate."
"Even though it's so great and so appreciated, and the love is so felt, ironically, by creating a ruckus, it's actually going to distract from what the program is trying to do, which is to teach kids about their passion for reading and expressing themselves," she said. "But if their core memories of the event are fights breaking out in the lobby, that's what they're going to remember, and they're going to start to be afraid of stuff. So although I really believe all the effort and energy I know it takes to organize, if you could de-escalate this protest. This is actually going to bring a lot of negative media attention to the event, and then we're not going to be able to move forward with the event because organizations are going to be scared to bring them in. They're really trying to keep it community-oriented and not violent, and the priority is the safety of the children. So thank you so much for coming out, we really appreciate the support, but if we could clear this area and make sure that the kids are able to come in peacefully and enjoy the program."
The counter-protesters began chanting mid-way through her speech, and by the end of it, her voice could not be heard over the sounds of the crowd.
A drag queen addresses the counter protesters and thanks them for their support, but requests that they "deescalate," saying that the "ruckus" distracts from "what the program is trying to do, which is teach kids about compassion, about reading, about expressing themselves." pic.twitter.com/TY4oOgNEHE

— Samuel Braslow (@SamBraslow) April 15, 2023
The activist continues trying to pass by the group of counter protesters. A counter protester punches him; the sheriffs deputy only says "stop fighting" before walking away.

The activist then runs into the library instead of leaving, contrary to what he told deputies. pic.twitter.com/lwnjV2lLjM

— Samuel Braslow (@SamBraslow) April 15, 2023
As state legislatures across the country are currently seeking new restrictions on drag performers' freedom of expression and ability to make a living, West Hollywood has taken the opposite stance, re-affirming its support for the Drag and Trans communities with weekly proclamations and by hosting last week's LA Drag March.
The public's support of the Drag Story Hour concept tends to fall neatly along party lines, with progressives in favor and conservatives against. Many who don't like the idea fear that the R-rated ribaldry and sexualized content associated with comedic drag shows for adults will find its way into performances meant for kids. Some conservatives think it amounts to the government pushing a political agenda, while others take issue with government spending on it. A dwindling minority of conservatives carry objections to Drag as a whole.
While law enforcement agencies often have a role in protests that turn violent, there have been many notable incidents of protester-on-protester violence in American history, including the Greensboro Massacre of 1979, the Unite the Right Rally in 2017 and the ongoing civil unrest in Portland.
THE HISTORY OF DRAG QUEEN STORY HOUR
Drag Queen Story Hour started around 2015 in San Francisco and quickly spread to other cities, such as Los Angeles, New York, and London. The popularity of these events led to the establishment of the official Drag Queen Story Hour organization, which helps coordinate and promote these events internationally.
DQSH events typically involve drag queens or kings reading stories to children in libraries, schools, bookstores, and other public spaces. The primary goals of these events are to promote literacy, celebrate diversity, and encourage acceptance of gender variance. Some DQSH events also incorporate activities like singing, dancing, and arts and crafts.
While DQSH events have been well-received by many communities, they have proven to be a lightning-rod topic in the media, with TV stations on both sides of the aisle milking them for ratings and news websites using them as clickbait.