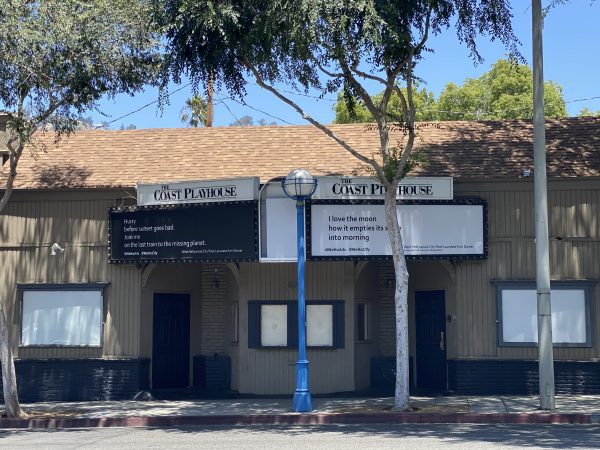 Last month, WEHOville posted an article about city staff coordinating the new city playhouse and seeking input from the Arts and Cultural Affairs Commission to "strike the appropriate balance between community use and city use of the space". WTF? I thought – now how did this get so seriously off track?
Way back in 2015, I became aware that the Coast Playhouse was going to shut down. It was a small and quaint 99 seat black box theater space on Santa Monica Boulevard next to Basix. I knew the space well since I performed there in an arts docudrama called "Lives on the Line" (Yes. I once was a thespian!). This was a play put on by actual AIDS activists from the 1980s. Sadly, a few of my fellow cast members died from AIDS after we finished the production. But I still had fond memories of how we brought life imitating art onto the stage way back in the early 1990s.
When I was on council for those two decades, I often thought about the slogan: "West Hollywood – the Creative City."
What did that mean? It had to be more than the occasional novel ideas that came out of the bureaucracy of City Hall. I did find the structure of local city government to be both stifling and necessary. Bureaucracies tend to drift towards the lowest common denominator. I found that model to be the source of dilution for so many great new concepts and ideas.
But I understood why it was necessary to provide institutionalized structure to a community that prided itself for being "outside the box". But where were the other hot spots of creativity around town?
I saw so many excellent representations of creativity in the fashion industry in WeHo. And the interior design industry in WeHo. And the art galleries. And the sculptures along the Santa Monica Blvd. median. In terms of visual arts, there was plenty of representation in color, fabric, design, texture, clay, marble and canvas. But what about the performing arts?
Well clearly, my neighborhood up on the Sunset Strip was part of the story of music in Southern California at the Whiskey, the Roxy, the Rainbow, the Troubadour and the Viper Room.
I knew the history of the many superstars that had graced WeHo from Jim Morrison and the Doors to Jefferson Airplane to the Byrds to Elton John and Guns N' Roses. And I also knew that 20 years prior, it was the Rat Pack with Dean Martin and Frank Sinatra, Judy Garland, Sammy Davis Jr. and Ella Fitzgerald. WeHo had lots of grand music stories from the speakeasies on the Strip in the 1930s to modern day.
But there wasn't much history around dance or theater.
We had the old Shakespearean Globe Theater on Kings Road. And we had the Coast Playhouse. And we had the notorious Pussy Cat Theater on Santa Monica Boulevard (and the old Playboy Building that used to exist on Sunset and La Cienega). But we had such limited amounts of theater space for any of the performing arts. I thought we could do so much better.
The first thing I did was insist that the funding for the arts in the city budget be doubled. And then we tripled it. Here is the problem with the performing arts.
It is NOT possible to cover the costs of production from space rental to costumes/make up, lighting, sound, rehearsal space, musicians, actors' wages and other production costs just on the price of admission and ticket prices. Most Angelenos were accustomed to paying between $50 and $75 for a theater ticket.
But if you multiply $50 by 99 seats – that means a full house might give you just under $5,000 for one night. And many people balked at even $50 and thought $25 was enough to pay for a ticket at a 99-seat house – which meant only $2,500 maximum income on a night – assuming you could fill the house.
No, the arts could not exist just on ticket prices. It required government subsidy and corporate donations through philanthropy or ad sales to make the arts flourish.
So, I began the conversations with then City Manager Paul Arevalo and "hot shots" Oscar Delgado and Andrew Campbell. These guys were powerhouses at City Hall. I explained to them my vision and what I thought was possible. We soon bought the Coast Playhouse site for $2.5 million dollars.
What was the original vision?
Not just one theater where the Coast Playhouse stood. Of course, I wanted that site.
But I also dreamed we could take over the old Shakespearean Globe Theater around the corner. And buy out the Pussycat Theater site (which later became the Tomkat and Studs Theater). But my dream wasn't just to take over management at these spots. It was to take the real estate and build something new and usable for the new millennium for the performing arts in the city.
The entire block from Sweetzer to Flores on North Santa Monica Boulevard would need to be torn down.
Why? We needed to dig down and build up to a three story height. If we increased height and depth — we could build underground parking. And we could build a theater cavern necessary for backdrops, lighting and give the box plenty of vertical space to adapt to whatever production would come along.
The upper floors of the building could be used for dressing rooms, for rehearsal spaces and for dance practice areas with mirrors and wooden floors (which are easier on the legs than concrete). It could become a space where we could broaden theater, musicals, dance, chorus and all the other arts and performances not yet imagined into existence.
But we would need new parking for all that activity.
Yes, this was part of the impetus to build a multi-level robotic garage behind City Hall. The challenge with parking in WeHo Mid City is there is NO vacant land. So, to build parking, you need to tear down existing structures. It made no sense to me to tear down neighborhood-serving businesses and restaurants on Santa Monica Boulevard to build lots for cars, nor to tear down adjacent apartment buildings to build asphalt parking. So, we experimented with creating the first robotic garage on the West Coast.
It was never intended to be used just for city employees. It was intended to provide overflow parking for a newly imagined theater district on Santa Monica Blvd near Sweetzer. Hamburger Mary's already had its version of theater. And we could build something new on the entire block and truly make Weho – the Creative City – in the performing arts!
But then COVID hit and the ideas stopped cold. Basix and Marixx shut down never to re-open. The Shakespearean Globe/Macha/11:11 theater space did not make it through COVID (and is now set to re-open as a daytime spa. Ugh. Another one?).
COVID finally put the Pussycat/TomKat/Studs Theater out of business. And it is sitting there waiting to be purchased.
City Council! Hello? Grab it now! We don't need another high rise development on that spot when we can take this historic structure, refurbish it and add another community asset to our inventory!
Here's the deal: The arts are a source of great economic activity in any city. People who attend theater usually like to enjoy dinner before the performance and maybe drinks afterwards. Bringing thousands of people into WeHo monthly to enjoy live performances of music, dance, and theater lifts all boats from restaurants/bars to retail to hotels. The city has commissioned numerous studies in the past to prove that the arts vastly improve economic activity.
So, then how did we get to using the new City theater for "strike the appropriate balance between community use and city use of the space?"
Ahhhhh, The bureaucracy has crept into the idea! The city just added numerous meeting spaces at West Hollywood Park not to mention the existing spaces at Plummer Park. If we truly had a robust functioning theater space, there would be absolutely NO room for "city use of space."
The bureaucracy has plenty of available space at West Hollywood Park and City Council chambers. Don't do this. Don't take away the space that should be entirely dedicated to the arts and dilute it with government uses.
I do hope and pray that the current Council returns to the original vision. It's hard to push for one's original idea when I have no traction at City Hall any longer. My dear friend (not sarcasm – he truly is) John Heilman is not a great fan of the arts. He has told me this repeatedly! It appears to me that John Erickson does care about this idea. And I know my pal Lauren Meister is good on the arts and preserving historic spaces. I do not really know Sepi Shyne or Chelsea Byers well enough to project how they would feel or vote on expansion of the arts.
But if I had a wish list it would be:
1. Build the original concept of a multiplex arts facility on Santa Monica Boulevard at Sweetzer
2. Purchase the Pussycat Theater, restore and refurbish it and create another performing arts space.
3. Keep an eye on spots nearby to add additional spaces for the arts in the future. There are only so many spaces that should be used for gyms, spas, pet groomers, retail and restaurants. Give the arts a boost and then watch the economic development blossom from there.
OK, I am done. I will get off my soapbox and stage and let the City return to its continuing strides into its future. I just hope that some of the original ideas don't get cast aside along the way. Cut. Scene. End.