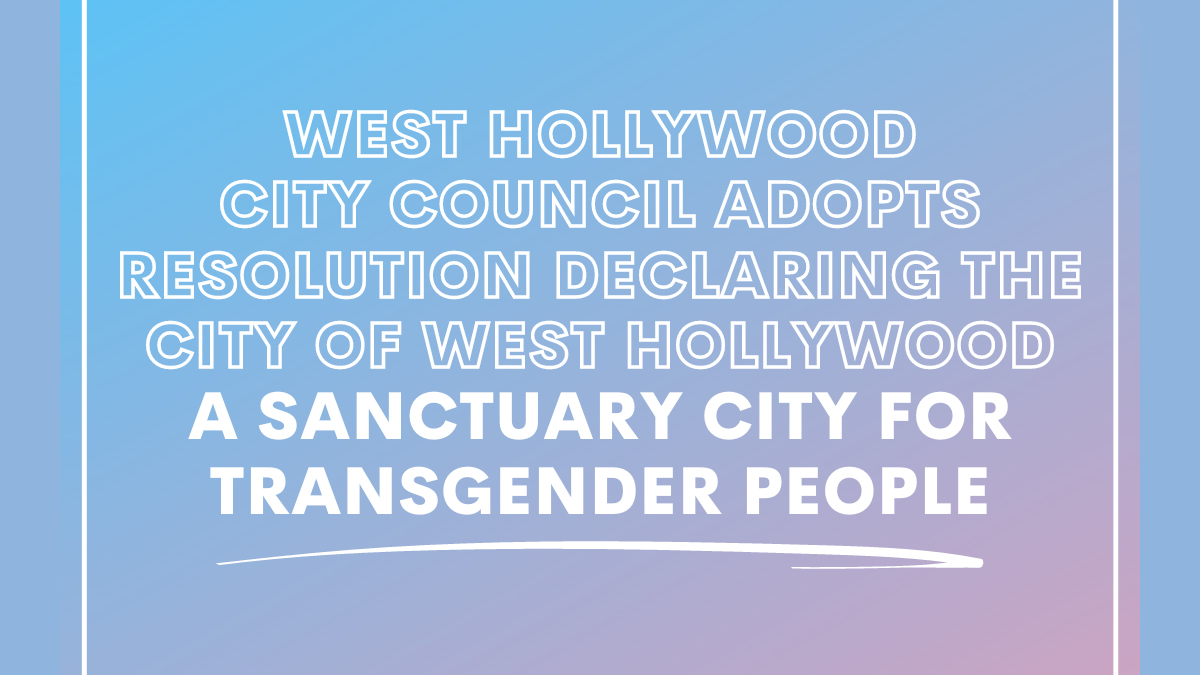 The City Council of the City of West Hollywood has taken a significant step towards protecting the rights of transgender and gender non-conforming people by adopting a Resolution Declaring the City of West Hollywood a Sanctuary City for Transgender People. This move is in response to the increasing number of anti-trans bills being considered across the country, which restrict fundamental rights such as healthcare, housing, education, and freedom of expression for transgender people.
2023 marks the fourth consecutive record-breaking year for anti-trans legislation in the United States, with 492 anti-trans bills introduced so far this year. These bills fuel bigotry and stigma against transgender and non-binary people, who already face stigma, bias, and systemic discrimination from an early age, heightening their vulnerability to violence. According to the Human Rights Campaign, fatal violence disproportionately affects transgender women of color, who face significantly higher rates of harassment, bias, and physical violence.
Against this backdrop, the City of West Hollywood's decision to become a Sanctuary City for Transgender People is significant. Although the specific definition of a "sanctuary city" varies from bill to bill, it generally refers to a state, county, or municipality that has policies or laws in place to protect or grant freedom from persecution of a particular group. The approved Resolution is consistent with the City's core values, which include Respect and Support for People; it aims to support transgender people and foster inclusion, acceptance, and equality.
The City of West Hollywood has been one of the most outspoken cities in the nation in advocating for the legal rights of LGBTQ people. More than 40 percent of residents in the City of West Hollywood identify as lesbian, gay, bisexual, or transgender. The City has a longstanding commitment to respecting and supporting all people, and this is reflected in its various initiatives.
For example, the City of West Hollywood is one of the first municipalities to form a Transgender Advisory Board, which addresses matters of advocacy on behalf of transgender people in the areas of education, community awareness, and empowerment, and makes recommendations to the West Hollywood City Council. Through its Transgender Advisory Board, the City of West Hollywood regularly co-sponsors programming and recognizes Transgender Awareness Month and Transgender Day of Remembrance each November.
The City has consistently opposed initiatives that fail to recognize diversity and tolerance and that discourage safer and more welcoming environments for individuals. In 1985, the City of West Hollywood joined cities around the nation to memorialize the sanctuary movement and recognize the rights of people fleeing persecution and oppression in their homelands on account of race, religion, nationality, or social or policy affiliation. The City reiterated and expanded its sanctuary status in 2001 for the use, cultivation, and distribution of medicinal marijuana and in 2015 to include LGBTQ immigrant workers of color.
The City of West Hollywood applauds legislation aimed at protecting the rights of transgender people, including protections for transgender youth that are currently under attack. In September 2022, the State of California signed into law Senate Bill 107, introduced by Senator Scott Weiner, to protect transgender youth and their parents if they flee conservative states that have restricted access to gender-affirming care. Congressmember Adam Schiff recently introduced the "Privacy in Education Regarding Individuals' Own Data Act," which would ban federal funding to schools that require students to disclose information about their menstrual cycles. The legislation is in response to several Republican-led legislatures who have proposed bills that force students to report menstrual cycle information in an attempt to track pregnancies, abortions, and gender-related therapy.
The adopted Resolution by the City of West Hollywood reiterates its commitment to transgender people and advocating for equal rights and protections for trans community members. The City of West Hollywood has shown that it is possible to be an inclusive, welcoming, and safe community for all its residents, regardless of their gender identity or sexual orientation.