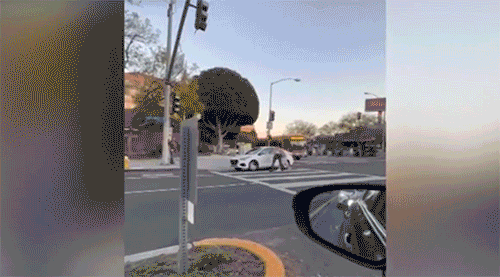 A video circulating on social media shows two of West Hollywood's Block by Block security ambassadors watching, rather than stopping, a brawl between two drivers on San Vicente Boulevard, renewing doubts about their efficacy as a part of West Hollywood's public safety arsenal.
CBS Los Angeles aired the footage and spoke with residents to get their reactions.
"If the Block by Block Ambassadors are not empowered to mitigate situations like this, which do seem to occur often in West Hollywood, truly it does give us a false sense of security and I think that's extremely frustrating as a resident," said Ethan Reynolds, who shot the video.
"You look at it and say Jesus come on do something," said resident Eddie Aguglia. "Whatever policy is in place that made them react the way they reacted has to be changed."
One of the ambassadors appears to operate a Walkie-Talkie during the incident, perhaps to call the sheriff, which Mayor Sepi Shyne told CBS Los Angeles is precisely their function, not to intervene. She directed the station to the city's website to review the policy.
The report notes there are now more than 80 security ambassadors employed by the city. Last year, City Council controversially reduced funding for the Sheriff's Department in favor of an increased presence by the ambassadors, who do not carry weapons, cannot make arrests, conduct investigations or detain suspects.