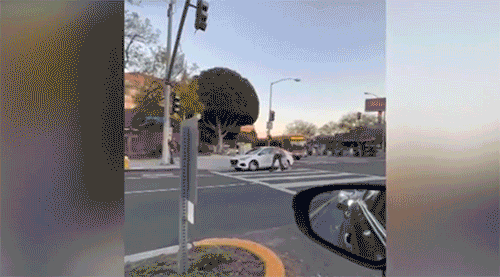 Re-imagining Public Safety… Do you recall those lofty goals? Today, there are more "Block by Block" security ambassadors than deputized Sheriffs, with 85 current Block by Block personnel on staff and approximately 58 total deputies under Captain Bill Moulder's command. The difference is quite alarming.
This past weekend, a local resident witnessed a fight in the street on the corner of Santa Monica Blvd and San Vicente, in the busy intersection were two "Block by Block" security ambassadors. They stood by watching the fight. It was the resident who made the call and filmed the video that grabbed the attention of KCAL news. The ambassadors in charge of protecting the public did nothing.
On this past Saturday afternoon, a homeless man sat on Robertson Blvd., above Santa Monica just outside of Pavilions parking lot. The man's bags were sprawled out on the narrow street and were blocking the public's right of way. He was also blocking a red zone that is used for emergencies. Two Block by Block ambassadors stood by without saying a word. The resident pointed out the situation and was told "we can't do anything about that." A second complaint to code compliance at city hall and the homeless man was quickly moved. It was the resident who made the call. It was the resident who went over Block by Block's head to demand attention to the matter.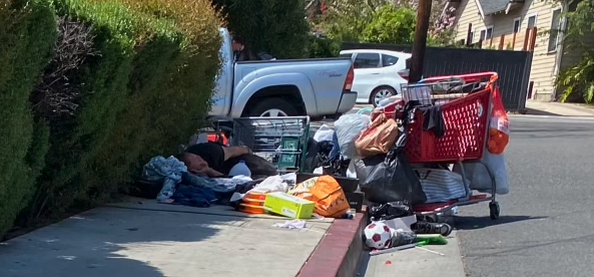 A few weeks ago, we posted a photo of a Block by Block ambassador sleeping at the kiosk. It took the resident and the photo to wake up the security ambassador who was working. Security ambassadors are paid well, with nice benefits, sick pay, and vacation time. The City Council extended a long-term contract for the security ambassadors but nickel-and-dimed the sheriff to remove trained personnel.
Sepi Shyne. John Erickson speak loudly about supporting a woman's right to choose, and both voted to approve the contract for Block by Block, whose parent company SMS Holdings is based in 'no drag' Tennessee, owned by Mydett Services based in Mitch McConnell's home state of Kentucky. A copy of those donations shows almost 100% of the company's donations to Republicans and pro-life initiatives. WEHOville pointed it out, and they did not do their homework. Your tax dollars are going to the parent company of Block by Block, SMS Holdings who do not support 'West Hollywood values'.
We ran a story about Shea Gibson, the Head of Block by Block. Sadly, Shea has had some issues in the past. He was convicted of murder and served time in prison. When we published the story about the man being promoted to be in charge of our 're-imagined policing and serving time for murder, we were called racist. It didn't matter if the person was white or black; the story is the same. But the city required no background checks on those who are protecting us. Just a few months ago, the city council voted for background checks for commissioners and board members. The irony of it all: they vote for background checks for those who advise us, but it's not was fair to have background checks on those who protect us.
If you look at who is staffed at Block by Block, there is no diversity. Great jobs but few to local residents or those who identify as LGBTQ+. Block by Block is not an "equal opportunity employer." Friends tell friends about a great job where you stand around and get 25 bucks an hour, or you get to ride a bike and get paid for a lot of nothing. I'm kind of friendly with a number of these guys. With a sick doggie and daily trips to the laundromat on Edinburgh leaves lots of hanging around time, pseudo undercover. One blue shirt when asked how he liked his job replied..how much he loved "honkeytown." "Me and my bros used to think of this place as honkeytown, but you guys cool, you guys cool." And I just wondered how the city council beats up the Sheriff department about sensitivity training and how "misgendering" a person is an act of violence per Sepi Shyne, and this is what she supports.
The city council does not recognize that having confidence in our Sheriff or in Block by Block helps us to feel safe. Block by Block is not instilling confidence in the residents. The public overwhelmingly supports the Sheriff. In the next budget cycle Capt. Bill Moulder will again ask to restore the two deputies that were cut in January, restore the previous deputy who was cut from the Entertainment Policing Team and more, stay tuned.
It does not appear that the Block by Block ambassadors are well trained. There seems to be little training, little hustle, little hunger, and a lazy attitude, and their hands are tied. More eyes to complain to the sheriff but fewer arms and legs to assist.
It's time our city council accepted the truth that some ideas look good on paper but not in practice. Certainly we can afford to add two or three armed Sheriff to Moulder's command and ask Gibson to train 50 great ambassadors.
With Pride and the peak summer season ahead, we need to restore the Sheriff deputies that are cut immediately. Capt. Bill Moulder explained to me that we will be paying lots of overtime for Pride. Restore the budget and the number of deputies to pre-Covid levels. We also need to establish a boot camp of training for security ambassadors and make changes where necessary to get more out of this program.
And ask yourself, in the time of this assault on transgender rights, women's rights, drag queens, and freedom, why did Lindsey Horvath, Sepi Shyne, and John Erickson vote to fund the program owned by SMS Holdings based in Kentucky and Tennessee?
I'm not seeing the benefit.
READ MORE: