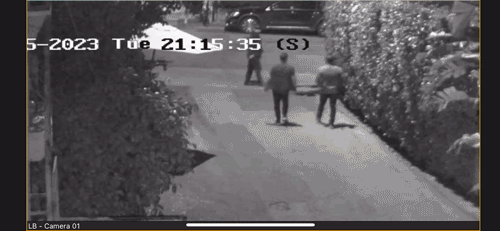 The L.A. County Sheriff's Department is reporting that four individuals arrested April 26 by Beverly Hills PD are the same suspects in an armed robbery involving an AK-47 assault rifle that happened the night before in the alley next to La Boheme in West Hollywood, as shown in security footage from the restaurant.
The suspects have been identified as Keymaurie Clark, 26, and Briana Threets, 18, as well as two unnamed minors, a boy and a girl.
LASD's bulletin states the following:
While armed with an assault rifle and handgun, Clark, Threets, and a female juvenile approached two men as they were walking in an alley and demanded their property.
One of the victims was struck in the face with a handgun by the suspects. A third victim walking on the sidewalk was also robbed at gunpoint. The suspects fled the area in a stolen, silver Dodge Charger, which was being driven by a male juvenile.
During the subsequent investigation, it was discovered the suspects were arrested by Beverly Hills PD on 04/26/2023 for Armed Routery. West Hollywood detectives believe there may be additional robbery victims in the Los Angeles area and they are working with surrounding agencies to identify victims.
Please contact Det. Zeff with any information or similar incidents.
If you prefer to provide information anonymously, you may call "Crime Stoppers" by dialing (800) 222-TIPS (8477).