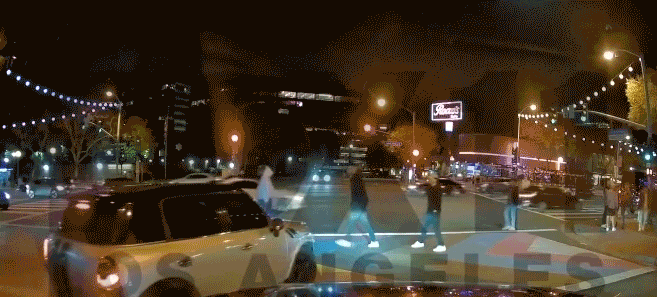 The L.A. Sheriff's Department is on the lookout for the driver of a Mini Cooper involved in a shocking hit-and-run incident Sunday morning in West Hollywood. Captured on a dashcam by driver Anton Strubchevskyi, the vehicle was seen striking multiple pedestrians in a crosswalk and even continuing to drive with one person on the hood of the car.
The event occurred at around 2 a.m. on Sunday at the intersection of Santa Monica Boulevard and N. San Vicente Boulevard.
The footage, delivered to the Sheriff's Department and broadcast by FOX 11, shows the Mini Cooper moving right from the left turn lane in front of Strubchevskyi's car and into the crosswalk where several individuals were crossing the street. One pedestrian ran up to the Mini Cooper and hit the back window, causing it to shatter. Subsequently, the driver proceeded through the intersection, swerved left, and collided with three people in the crosswalk before driving away with one person still clinging to the hood.
"I was in shock," Strubchevskyi told the station.  "I didn't have time to think what's happening. It's like two, three seconds, boom. Something happening on the street. Wild driving, people flying around, one person on top of another car driving away. It's just like a movie, you know? It's crazy."
Three individuals were taken to the hospital following the incident. The department is requesting anyone with information about the collision or the driver to contact them at 310-855-8850.