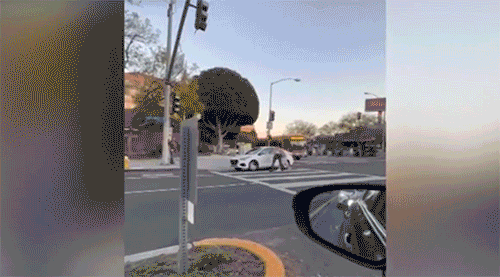 The cane-wielding pedestrian involved in a recent street fight on San Vicente and Santa Monica Boulevard was arrested after attacking sheriff's deputies, according to the Block by Block security ambassadors who were seen standing and watching the incident in dashcam footage shared with the media.
As detailed in the report Block by Block will present to the Public Safety Commission at tonight's meeting, the pedestrian apparently instigated the fight when he struck a white Hyundai with his walking stick. The driver honked at him, and the pedestrian repeated to hit the hood of the car with his stick. The driver then exited the vehicle and began arguing with the pedestrian before the two started to assault one another. That's when the ambassadors say they radioed for the sheriff to be called.
The pedestrian then jumped on the hood the vehicle. The driver drove a ways with the man still on his hood. Meanwhile, the ambassadors were using "verbal commands to attempt to de-escalate the situation." Seven minutes after they were called, the Sheriff's and Fire departments arrived.
When deputies made contact with the pedestrian, he began to assault them and was then arrested, according to the ambassadors. The driver was allowed to leave the scene.
Controversy arose when the dashcam footage was released, as it appeared to show the ambassadors doing very little to de-escalate the situation. City officials including Mayor Sepi Shyne defended the ambassadors' response.