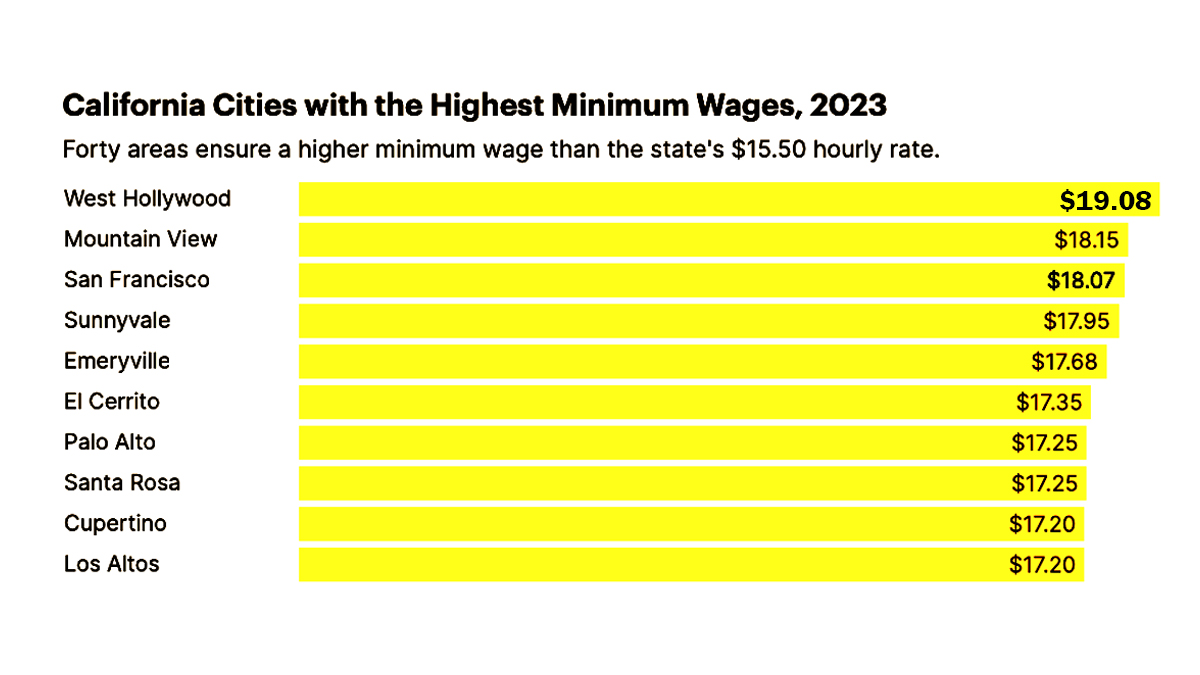 West Hollywood's minimum wage ordinance, adopted on November 15, 2021, applied the minimum wage that was adopted for hotel workers to all employees within the City of West Hollywood. However, it has led to many business closures, including one outspoken business owner of the Chop Stop ETVUD.
When the ordinance became effective on January 1st, 2022, the base rate was $17.54 per hour. On July 1st, 2022, the rate adjusted to $18.35. Effective July 1st, 2023, the minimum wage will increase further to $19.08, making it the highest rate in the state and even in the nation.
The passed resolution has resulted in price increases at all local businesses and mandates a minimum 1% raise each year. It can go up to 4% each year as established by the consumer price index.
Last year, businesses that were able to show hardship were allowed to apply for a one-year waiver. However, beginning in July 2023, all waivers will expire, and the full implementation of the ordinance will be in effect.
In addition, all employees would receive up to a maximum of 80 hours of vacation pay for workers who work 40 hours per week, and up to 96 hours of sick leave for full-time workers. The base pay does not include tips or other forms of compensation.
The federal minimum wage is $7.25 per hour. As of January 2023, the State of California minimum wage is $15.50 per hour, making it the highest in the nation. Beverly Hills follows state law and does not create a separate minimum wage for businesses operating within its borders; their minimum wage is $15.50. New York City's minimum wage is currently $15.00 but is set to increase to $15.50 per hour.
State law requires salaried workers to make twice the hourly worker rate. Under the new minimum wage implementation, the new base salary for any worker in the City of West Hollywood could go as high as $75,000. The current base rate for a salaried employee in West Hollywood is $65,400 per worker.
There are no exemptions for small businesses or at-home employees. If you employ a housekeeper or caretaker, you are required to pay a minimum hourly wage of $19.08 per hour and provide provisions for both vacation and sick pay.
There are no exemptions for non-profits, which was noted when the Saban Free Clinic decided not to request funds from the City of West Hollywood. They cited the high cost of doing business in West Hollywood as the reason.
Many local bars and restaurants have passed the increased costs directly to the local consumers by adding a surcharge to receipts.
The cost to the employer for each dollar paid to an employee is much greater than the minimum wage. Employers must match FICA withholding of 6.2%. In addition, Unemployment Insurance can range from 3.4% for new businesses to 6.0% of the wage. Medicare and SSI contributions are 1.5%. This equals $19.08 plus $1.19 (FICA) plus $1.15 (UI) plus $0.28, totaling $21.70.
Adding the cost to the employer for vacation and sick pay is approximately 1 hour for each 20 hours worked or an additional 5% of the wage which brings the cost per hour to employer to $22.78.
Employers must provide workers' compensation insurance for all employees as mandated by the state. California has the 4th highest workers' compensation rates in the nation. Using a 2.2% rate to the $22.78, the total cost to the employer per hour, excluding health benefits, for any entry worker in West Hollywood is roughly $23.30.
Genevieve Morrill, President and CEO of the West Hollywood Chamber of Commerce, has discussed the ramifications of these policies on local businesses. Currently, there are approximately 400 business licenses issued by the City of West Hollywood. In 2018, there were over 750 business licenses issued to businesses operating within West Hollywood.
Here is a list of some of the shuttered businesses: Chop Stop, Cousin's Maine Lobster, Coffee Bean Hancock, Coffee Bean Beverly, Hedley's, Subway Fairfax, Subway Santa Monica Blvd, Sprouts, Starbucks Fairfax, Starbucks Westbourne, Taste, Tortilla Republic, Lucques, Ago, Gelatofest, Pacifique, Conservatory, NoStat, The French Apartment Gallery, Marinate, OWN-Oprah Winfrey Network, Il Piccolina, Tabarka Studio, By the Way Burger, The Chad Allen, Five Guys, Flower Burger, On this day by John Varvatos, Warrior Restaurant, Cabo Cantina, Beauty Collection, Halal Guys, H&M, Optometrix, Poke, Flaming Saddles, Rage, Gold Coast, Unity, Hamburger Haven, The Wing, 24 Hour Fitness, Cockdog, Leo's Flowers, Raffi Jewelers, Bank of America at Crescent, Standard Hotel, Terners Liquor, Birdies Bakery, Rock and Rover, US Bank, Union Bank.
West Hollywood was founded on the principles of affordable housing, rent control, freedom of expression, and equality for all. Today, there is an unequal cost to doing business in West Hollywood, and it is the residents who are paying the price.
WEHOville highlighted the many shuttered business corners in West Hollywood in this article.