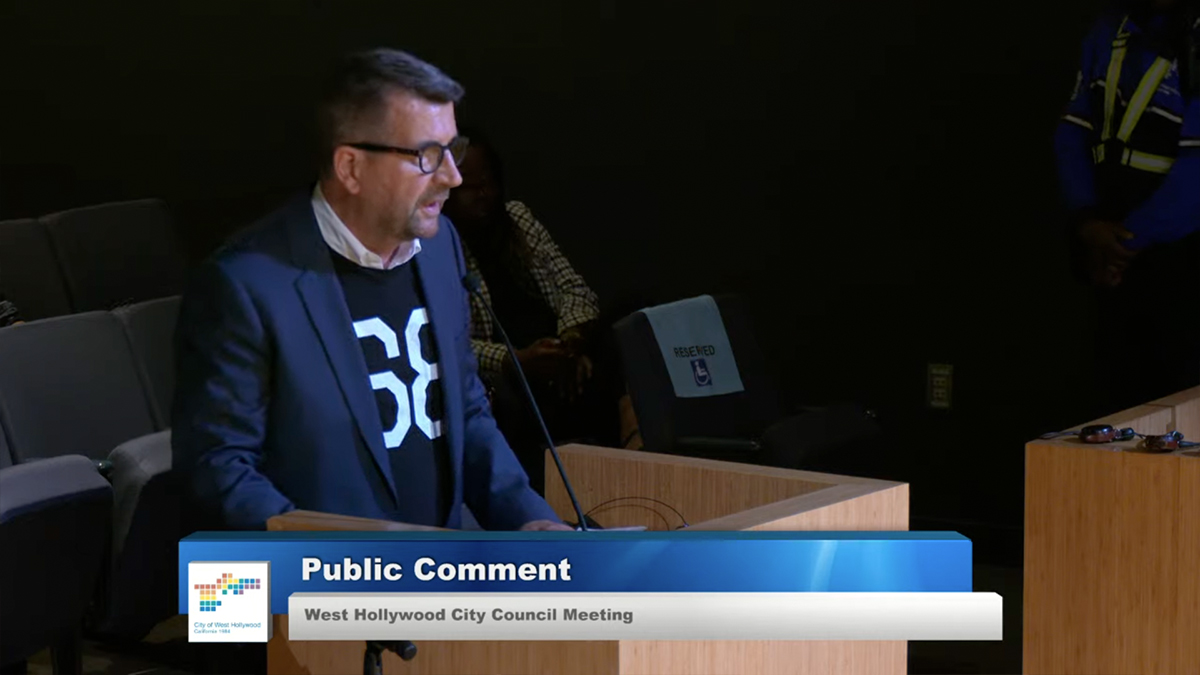 At Monday night's City Council meeting, about 20 residents attended the public comment period wearing '68' shirts, as part of the campaign led by Alan Strassburg to restore the Sheriff's Office to pre-Covid staffing levels. Strasburg purchased 68 shirts featuring a prominent '68' emblem.
Leslie Karliss, President of the West Hollywood West residents association, also participated in the meeting while wearing a '68' tee shirts, along with scotter activist Mikie Friedman, disability advocate Rick Watts and others.
During the first public comment period, Mayor Shyne strictly enforced the 20-minute time limit, cutting off the public comment period. The discussion continued past 11 pm at the time of this posting.
Those residents remaining on the comment list had an opportunity to speak later in the evening during Item 5b; discussion of the public safety budget or the second public comment period at the end of the session.
Strasburg, who spearheads the '68' campaign to restore Sheriff's Office staffing, is also the lead petitioner in the 'Decline Shyne' recall campaign. Information about the recall campaign can be found at www.declineshyne.com. Sufficient signatures have been gathered for submission to the city clerk, but the recall campaign is being held until the July budget cycle. If the City Council does not reinstate the Sheriff deputies that were cut, the recall campaign will proceed.
As of now, this story is still developing, with ongoing discussions and deliberations taking place.