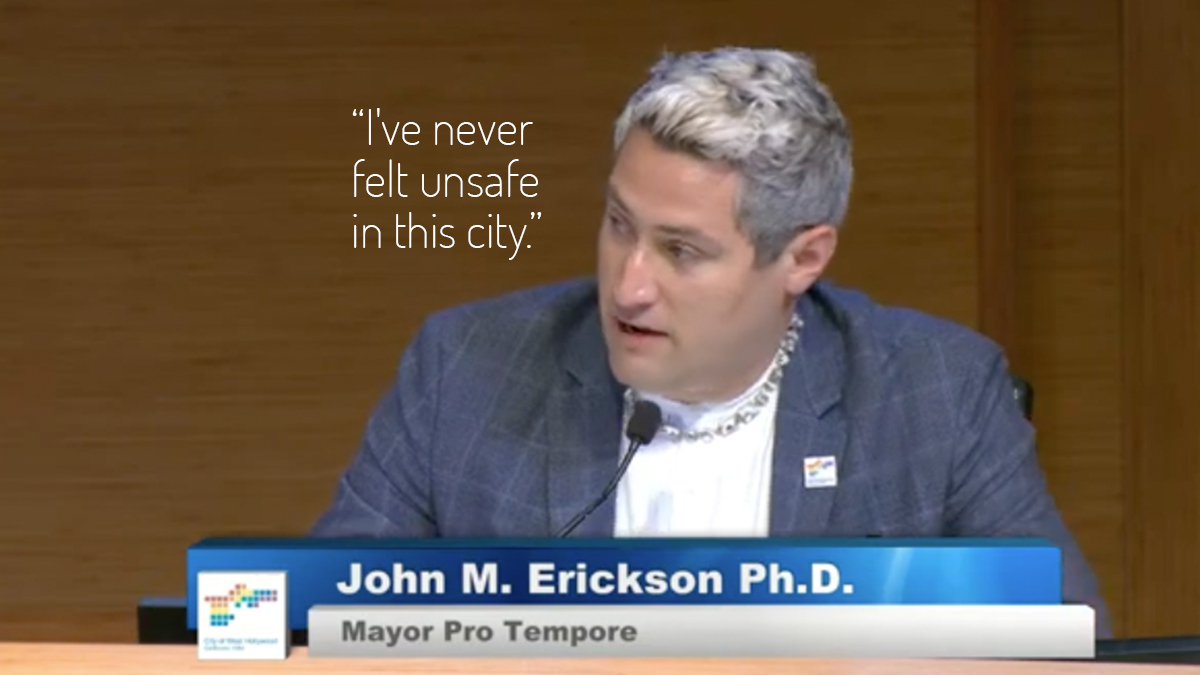 Surrounded by residents who were dressed to protest, West Hollywood City Council finally adjusted their course on public safety at their meeting Monday night, opting to restore some of the L.A. County Sheriff's Department personnel that were lost when the city tightened LASD's budget last summer.
In a 4-1 vote, Council chose to bring back the Entertainment Policing Team's sergeant position and add a deputy to the West Hollywood Station; one more deputy might also be added in December at the next community safety update. They also asked for two unsworn positions, a public information officer and a community liaison.
The decision marks a turning point for Council after a year where the majority faction on the dais stood in diametric opposition to a majority of residents, including neighborhood leaders and business owners, who decried the defunding of the sheriff.
The motion, made by Mayor Pro Tem John Erickson after much deliberation by his colleagues, also directs staff to hold future public hearings about public safety at the beginning of the meetings, allowing greater access and signaling the gravitas of the subject.
Councilmember Chelsea Byers was the lone no vote. Erickson and Mayor Sepi Shyne defended their original positions even as they voted yes.
"I've never felt unsafe in this city," Erickson said. 
Councilmembers John Heilman and Lauren Meister disagreed.
"When I go out walking, theres's a whole series of behaviors that indicate to people that things can go on here that are not acceptable in other communities," Heilman said. "There are vehicles racing up and down the street without exhaust. There are scooters on the sidewalk that contribute to people's sense that no one cares and that anything goes, and that's part of why people don't feel safe. The other problem is the number of homeless people we have in the community.  You can walk in large stretches of the city where there is no legitimate business activity. There are no lights. There's no activity that contributes to a sense of a lack of safety."
---
NOTABLE QUOTES
"As a volunteer, we are the first point of contact between law enforcement and members of the West Hollywood community. I've seen the impact of the reduction of deputies at our department, the negative impact it's had on those deputies, as well as our residents, and our businesses. I've seen how overworked our deputies are. They're required levels of overtime just to be able to operate at the most basic level required to protect West Hollywood. One of the biggest complaints with our station is how long people have to wait at the desk to have a report taken. It's because we don't have the required number of deputies to both patrol the streets and be at the station to write reports. We have to pull somebody off the streets in order to do that. I've seen confusion between the residents and the West Hollywood sheriff. It's because we don't have a public information officer who specializes in communicating between law enforcement, and our community. I've laughed with our deputies. I've cried with our deputies. I've celebrated and mourned with our deputies. I've seen our deputies run into fires. I've seen them perform CPR on infants more than I want to."
— Dimitri Kermani, the first volunteer to ever receive the ADL's prestigious Sherwood prize for individuals in law enforcement who have gone above and beyond to combat hate
---
"You need to stop thinking about political correctness. I'm an immigrant, and I barely speak English, but it's easy to understand. When there is crime, you need to enforce the law and deploy more police officers to solve the crime, not hospitality ambassadors. People used to come to La Boheme two to three times a week. However, they are no longer safe. They don't feel safe anymore."
— Lucien Tudor, CEO of Global Dining, which runs La Boheme, near the site of a recent robbery involving an assault rifle
---
"This is the first time I've ever been to a council meeting where I've heard a council member blame the public for bad crime stats. It's not appropriate to say, "Maybe you shouldn't have left your door open, maybe you shouldn't walk down the street after going to a bar, maybe you shouldn't wear a watch, maybe you shouldn't bring your phone to a club, maybe you shouldn't wear that bag, maybe you shouldn't go to a restaurant, maybe you shouldn't walk in the alley behind La Boheme." So, where do we stop blaming victims and start taking responsibility for making this community safe?"
— Steve Martin, former WeHo councilmember
---
"You can send a sign that West Hollywood supports the sheriff before it's too late. You can send a message that West Hollywood is prepared, strong, and in full force. Or you can send a sign that we are weak, inviting crime into our neighborhoods. It is really time for the City Council to stand arm in arm with the sheriff, support the request he just spoke of, and invest yourself, your time, and your efforts in restoring the confidence that we can walk our dogs at night, our employees are safe at work, and West Hollywood is a safe place to visit or open a business."
— Larry Block
---
"Cutting (the Sheriff's) budget was irresponsible and unintelligent. Now is not the time to be dabbling in alternatives and a wishy-washy agenda that lacks serious action. Individuals seeking criminal opportunities see a welcome mat in West Hollywood."
— Lynn Russell
---
"I've lived here for over 30 years. I don't feel safe. Nobody feels safe. We're not safe walking our dogs, going to a restaurant, or walking to our cars."
— Susan Markham
---
"Public safety is our number one priority. And I see my colleagues shaking their heads, but I don't think our actions necessarily reflect that because we have not even gotten to council discussion on this item. We're still in the asking questions phase, and it's 11:15 p.m., and I'm not faulting any of us. It's just what it is tonight. But if public safety is going to be our number one priority, then at future agendas, when this comes back, as it does every six months, then it needs to be the number one item on the agenda so that we get the public comment and that we have an opportunity for Council discussion and interaction in a way that members of the public are still awake and can observe."
— Councilmember John Heilman
---
"I feel safer in West Hollywood than I do in a lot of other cities that I drive through, especially Los Angeles. So, you know, I think West Hollywood is safe, and we are creative and incredible. It's the place to come, and Pride is going to be safe and wonderful. I want everyone to come and enjoy our city."
— Mayor Sepi Shyne
---