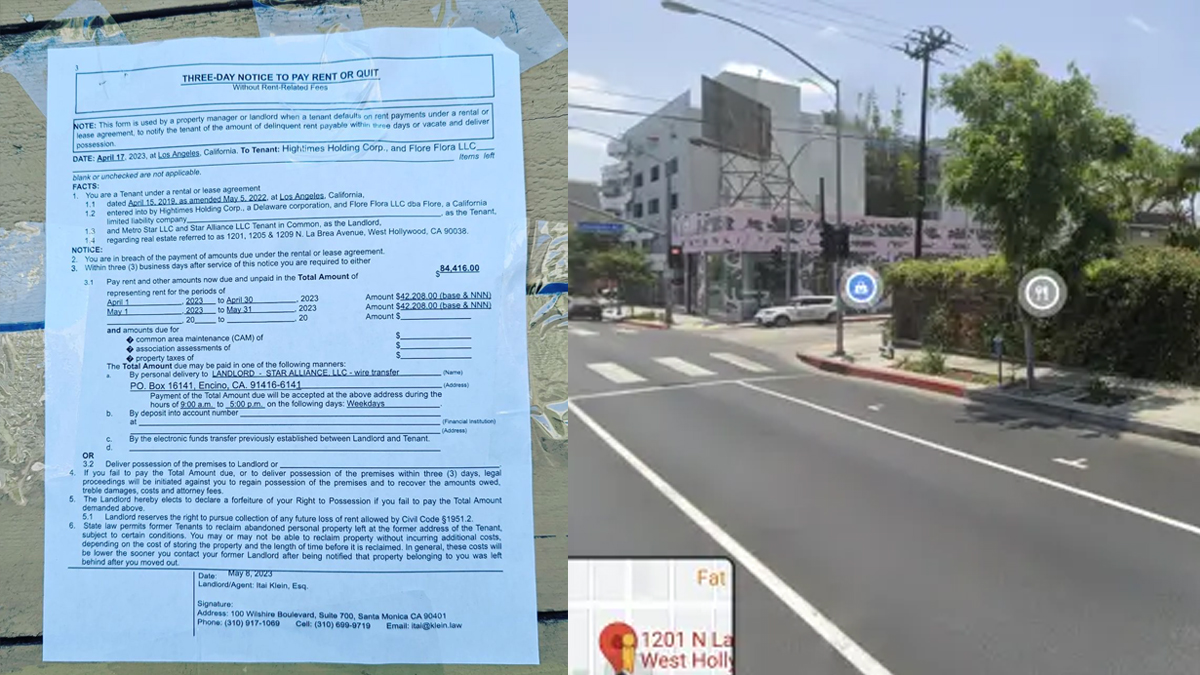 The High Times consumption lounge that was supposed to open on the Shalom Peace Square in West Hollywood has hit a low point, with the property's landlord having served them an eviction notice, @WeHoUnfiltered first reported.
The notice from landlord Star Alliance dated May 8 gave tenants Hightimes Holdings Corp. and Flore Flora LLC three days to pay nearly $85,000 in unpaid rent for the property at 1201 La Brea.
Last August, the Business License Commission greenlit a partial transfer of one of the city's limited cannabis consumption area licenses into Hightimes' ownership.
The license was originally granted in 2019 to Flore Flora, at the time the nation's first full-service cannabis consumption lounge, according to the staff report. Flore Flora closed in March 2020, when all non-essential businesses were shut down at the beginning of the COVID pandemic, and never reopened.
Ownership of Flore Flora changed by 26.27 percent between 2019 and 2020, but the city's labyrinthine rules regarding cannabis businesses forced the company to request a variance from the Business License Commission to transfer an additional ​58.73 percent of the company, the maximum allowed under the variance process for a business that has not been in continual operation for two years.
The new and current owners intended to re-open the establishment as it was at the time of closure, except for changes in furniture and lighting.
"This is our backyard,"  CEO Paul Henderson told the Commission about his company's first foray into cannabis sales. "Historically, we explain that we connect consumers with brands, right? So it was on the pages of the magazines. Then it was at events where people actually explore and understand new movements in cannabis and strains and growing and vape pens and everything. And so now we do that in a retail format. And we're very excited about this because this is the first move into consumption lounges. And so it's a little bit of a different form. But it's really sales of cannabis. It's what we know best. Our brand I think is going to do the city proud."
Hightimes will re-open shuttered WeHo cannabis consumption lounge