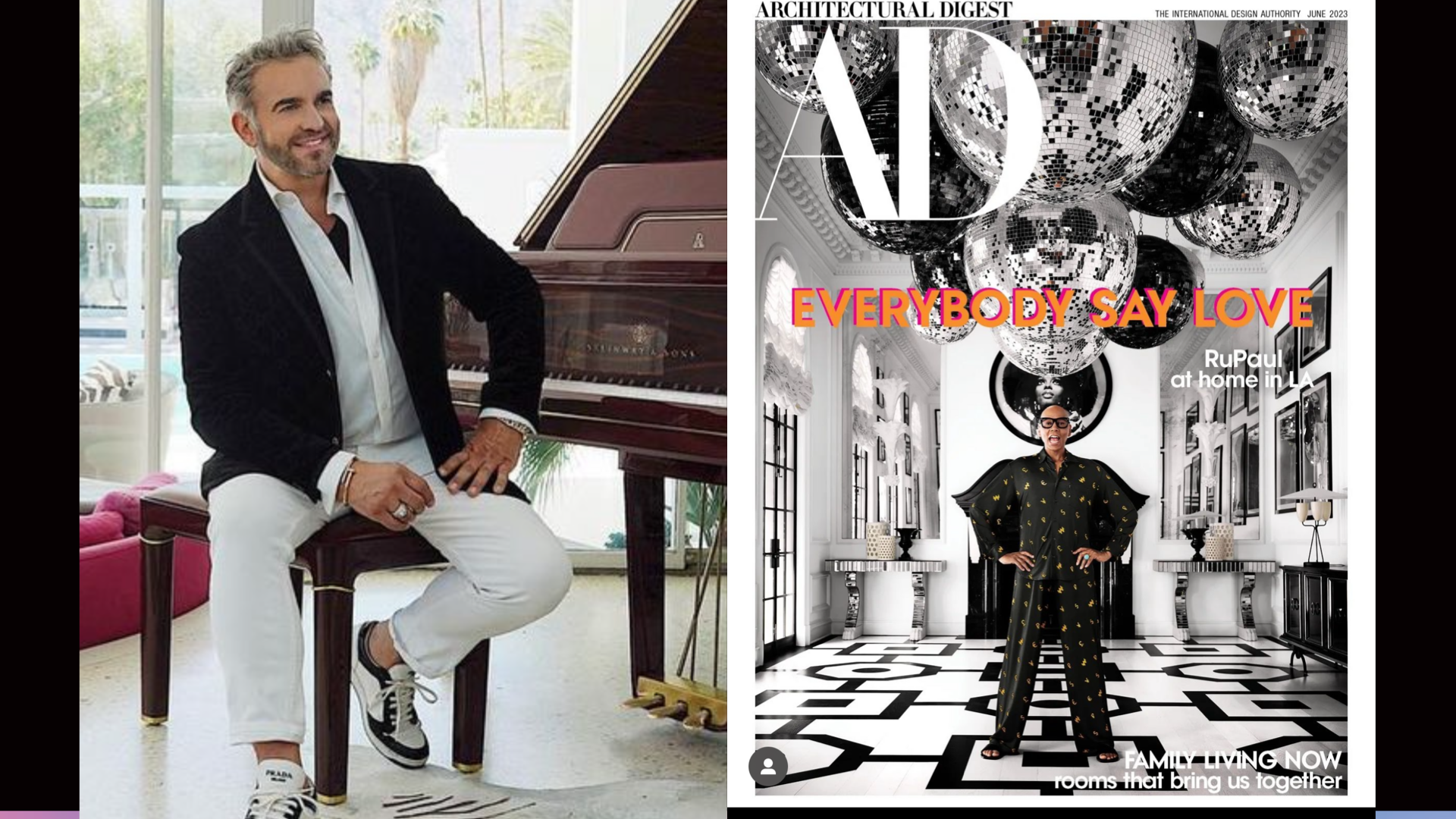 West Hollywood designer Martyn Bullard's renovation for RuPaul's Beverly Hills mansion is featured on the cover of Architectural Digest this month.
The design concept was revealed on Instagram by Bullard, who is known for his bold aesthetic and attention to detail. The post quickly gained over 4,000 likes, solidifying the hype around the unveiling.
"It's not often in a career you get to cover a ceiling in disco balls… but that's exactly what I did for my longtime beloved friend RuPaul in the ballroom of his astounding new home," Bullard wrote on Instagram.
"I had so much fun decorating for Ru, paying homage to his groundbreaking, world changing career and the Hollywood Regency design directive that inspired so many of the interiors. High glamour rules in these dramatic rooms creating the perfect backdrop for the house of Ru!"
Bullard and Charles' concept for the home office is nothing short of opulent. Featuring seven layers of Benjamin Moore lacquer paint, inlaid tooled leather ceilings, and arched cabinetry displaying Charles' collection of 12 Emmys, the space is a testament to their shared vision for high glamour and luxury.
Notable pieces in the office include a 19th-century fauteuil, an antique French desk discovered in Dallas, and a silk rug from The Rug Company, blending history and comfort in the work environment.
This collaboration emphasizes the continued influence of the West Hollywood Design District (WHDD). Bullard, a revered member of the #AD100, has long been a fixture in the WHDD, captivating audiences worldwide with his unapologetic beauty and aesthetic.
Charles' choice of Bullard as a trusted friend and designer for this project highlights the significance of the WHDD in shaping design narratives. The Design District lauded the collaboration as a testament to the vibrant spirit and design excellence that their community embodies.
James Hyatt Studio contributed to the overall aesthetic with their landscape architecture, further enhancing the opulence of the mansion.
The design community is invited to join in celebrating the remarkable collaboration between Bullard and Charles, recognizing the resounding success of the project and the profound influence it holds over the world of design.
https://www.instagram.com/p/CsTxuVMrCgA/?igshid=MmJiY2I4NDBkZg==