The LGBTQIA+ community and their allies celebrated a win Tuesday as the LA Dodgers reversed course and re-invited the Sisters of Perpetual Indulgence to the team's annual LGBTQ+ Pride Night.
Following criticism from various Catholic groups and even a U.S. senator, the Dodgers last week withdrew an invitation the team had extended to The Sisters of Perpetual Indulgence — described on its website as an "order of queer and trans nuns" — to participate in the team's annual LGBTQ+ Pride Night.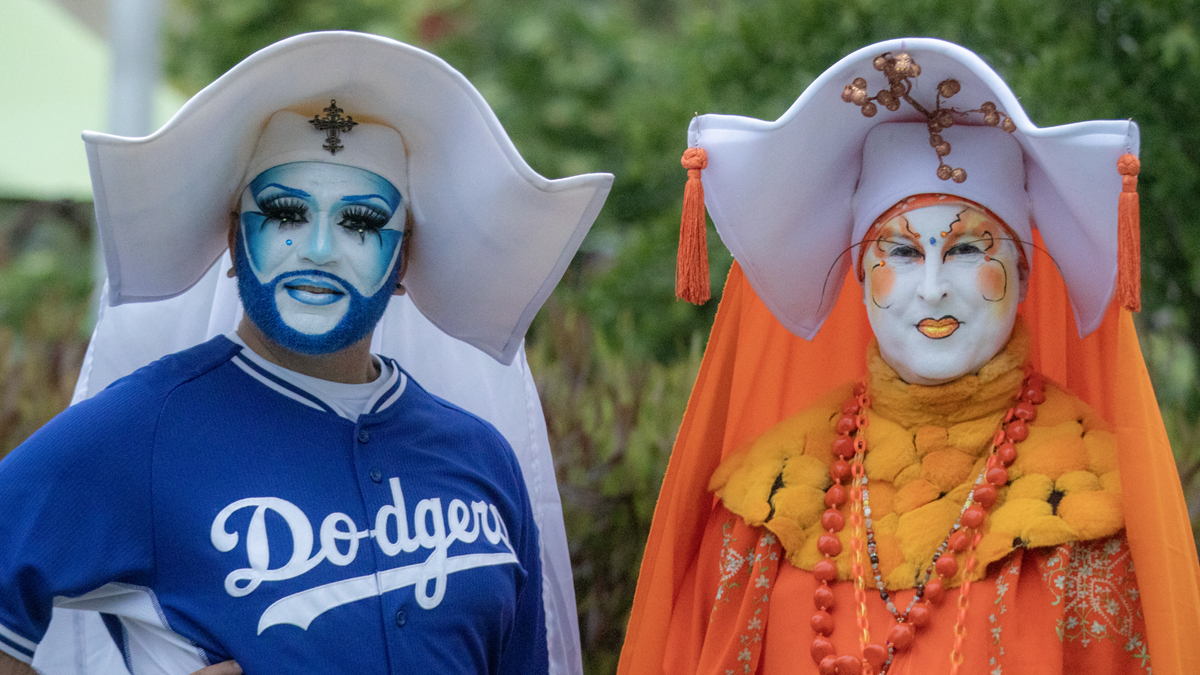 But after some "thoughtful feedback" and a huge backlash from the public, the Dodgers again extended the invitation to the Sisters of Perpetual Indulgence to join the event, where the group will receive an award on June 16.
The Sisters accepted the invitation and the Dodgers' apology.
"This affair has been an opportunity for learning with a silver lining," the group said in a news release. :Our group has been strengthened, protected and uplifted to a position where we may now offer our message of hope and joy to far more people than before. With great love and respect, we thank each person and each organization that have spoken up for us. Thank you, and may your hearts be blessed with pure joy."
The string of events began last Wednesday when the Dodgers issued this statement.
"This year, as part of a full night of programming, we invited a number of groups to join us," according to a statement issued by the team Wednesday. "We are now aware that our inclusion of one group in particular — The Sisters of Perpetual Indulgence — in this year's Pride Night has been the source of some controversy.
"Given the strong feelings of people who have been offended by the sisters' inclusion in our evening, and in an effort not to distract from the great benefits that we have seen over the years of Pride Night, we are deciding to remove them from this year's group of honorees."
The Sisters' website describes the organization as "a leading-edge order of queer and trans nuns."
"We believe all people have a right to express their unique joy and beauty. Since our first appearance in San Francisco on Easter Sunday 1979, the Sisters have devoted ourselves to community service, ministry and outreach to those on the edges, and to promoting human rights, respect for diversity and spiritual enlightenment. We use humor and irreverent wit to expose the forces of bigotry, complacency and guilt that chain the human spirit," the group says.
This is so shameful @Dodgers -we DO NOT cave to homophobia and transphobia in LA. I will not be attending this event since we're not all welcome. I stand with the Sisters, who have done incredible advocacy work for decades. https://t.co/2TDdsUmdOa

— Maebe for Congress (she/they) 🏳️‍⚧️ (@Maebe_A_Girl) May 17, 2023
Responding to the Dodgers' announcement, one of the Sisters of Perpetual Indulgence's most veteran and visible members, known as Sister Roma, said the team was giving in to "right-wing pseudo-Christian media."
"So disappointing to see the Dodgers cave to the conservative pseudo- Christian homophobes," Sister Roma wrote on Twitter. "This weaponizing of religion is exactly what the (Sisters) have been protesting for decades."
The Dodgers' original decision to honor the group drew criticism from various Catholic organizations. Bill Donohue, president of the Catholic League, accused the team of "rewarding anti-Catholicism" by honoring the group.
"The Catholic League has been the leading critic of this bigoted organization for many decades," Donohue wrote on the organization's website. "… These homosexual bigots are known for simulating sodomy while dressed as nuns."
He added, "Just last month, they held an event mocking our Blessed Mother and Jesus on Easter Sunday."
Donohue said he wrote to Major League Baseball Commissioner Rob Manfred to protest the Dodgers' decision to honor the group.
Sen. Marco Rubio, R-Florida, also sent a complaint to Manfred, saying the group "mocks Christians through diabolical parodies of our faith."
"Do you believe that the Los Angeles Dodgers are being `inclusive and welcoming to everyone' by giving an award to a group of gay and transgender drag performers that intentionally mocks and degrades Christians — and not only Christians, but nuns, who devote their lives to serving others?" Rubio wrote in his letter.
The organization Catholic Vote also condemned the move. Its president, Brian Burch, issued a statement Wednesday hailing the team's decision to exclude the group, which he called "an anti-Catholic hate group known for their gross mockery of Catholic nuns."
"While we continue to wonder how such a group was selected in the first place, this incident should serve as a wake-up call for all religious believers: unchecked woke corporations have no qualms about exploiting people of faith," Burch said.
But the team's decision to dis-invite the group also generated criticism.
"If they're not invited, I'm not going," Los Angeles County Supervisor Lindsey Horvath wrote on her Twitter page. "Celebrating Pride is about inclusion. Do better."
Assemblyman Rick Chavez Zbur, D-Santa Monica and a longtime LGBTQ+ civil rights advocate, also condemned the exclusion of the Sisters.
"I'm deeply saddened by the hate & ignorance perpetuated by leaders of other states for cheap political points, & I am truly disappointed that our beloved LA Dodgers have given into their manufactured outrage," Zbur wrote on Twitter. "LGBTQ+ lives, families, love & existence have long been characterized as offensive & controversial, but we do not give in to those calls. I urge the Dodgers to reverse this decision & ensure our home team reflects the true Los Angeles values of inclusion & acceptance."
Should the LA Dodgers have disinvited the Sisters of Perpetual Indulgence from their Pride event?
No (69%, 31 Votes)
Yes (31%, 14 Votes)
Total Voters: 45

 Loading ...
PHOTOS: Sisters Indulge in 'Queer Fabulousness' with 'Project Nunway' Fashion Show