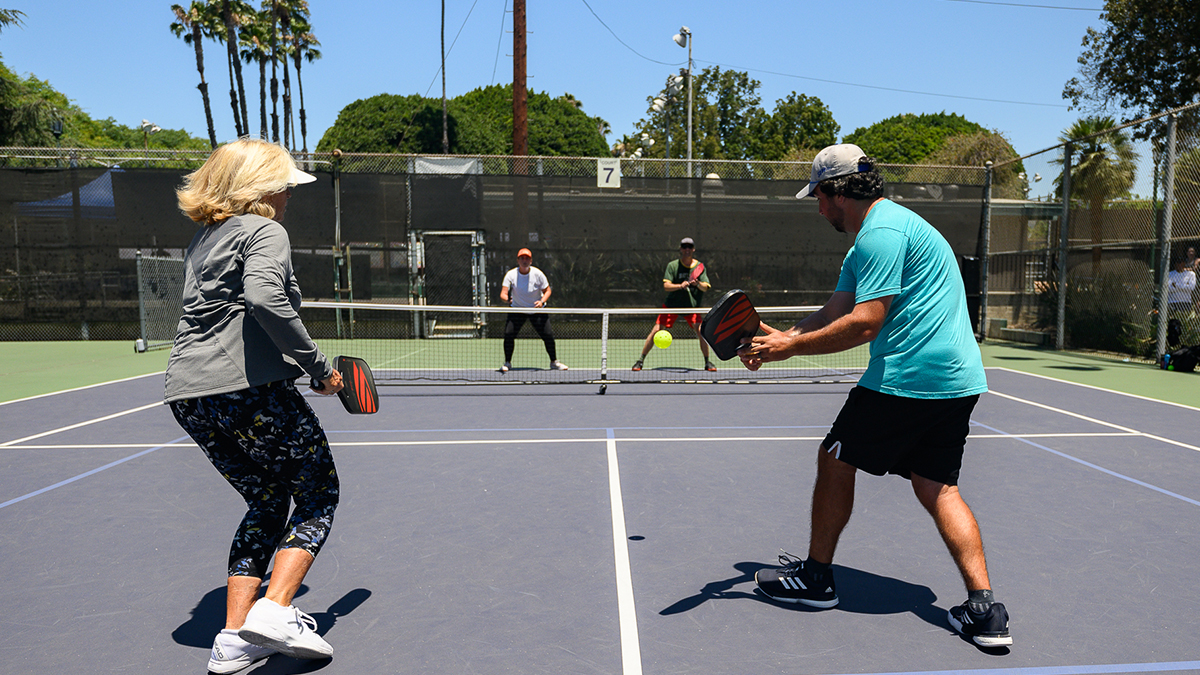 The City of West Hollywood, in collaboration with Tennacity, will host its second annual Pride Pickleball Tournament on Saturday, June 24, 2023 and Sunday, June 25, 2023 at both Plummer Park, located at 7377 Santa Monica Boulevard and West Hollywood Park, located at 647 N. San Vicente Boulevard, with tournament times varying between 8 a.m. and 5 p.m.
The pickleball courts at Plummer Park are located at the north end of the park, closest to Fountain Avenue. The pickleball courts at West Hollywood Park are located on the rooftop of the West Hollywood five-story parking structure, which is located at 625 N. San Vicente Boulevard.
Players of all skill levels are welcome to register for the Pride Pickleball Tournament. Men's and Women's Novice doubles events will take place on Saturday, June 24, 2023 at West Hollywood Park. All other events will take place at Plummer Park. The events will include special guests, speakers, music, and vendor booths. All players will receive a Pride-inspired goodie bag and the top three finishers in each division will receive a unique Pride Pickleball Tournament medal. Registration spots are expected to fill quickly, to register for the Tournament and for more information, visit www.tennacity.com/pickleball. Entry deadline is Wednesday, June 7, 2023 at 11:59 p.m.
For more information about the City's pickleball and tennis courts, please visit www.weho.org/community/recreation-services/pickleball and www.weho.org/community/recreation-services/tennis.
For additional information, please contact Dana AlHaddad, City of West Hollywood Recreation Coordinator, at (323) 848-6511 or at recreation@weho.org. For more information about Tennacity and pickleball/tennis programming, please visit www.tennacity.com or email weho@tennacity.com. For people who are Deaf or hard of hearing, please call TTY (323) 848-6496.
For up-to-date information about City of West Hollywood news and events, follow @wehocity on social media, sign-up for news updates at www.weho.org/email and visit the City's calendar of meetings and events at www.weho.org/calendar. West Hollywood City Hall is open for walk-in services at public counters or by appointment by visiting www.weho.org/appointments. City Hall services are accessible by phone at (323) 848-6400 and via website at www.weho.org.