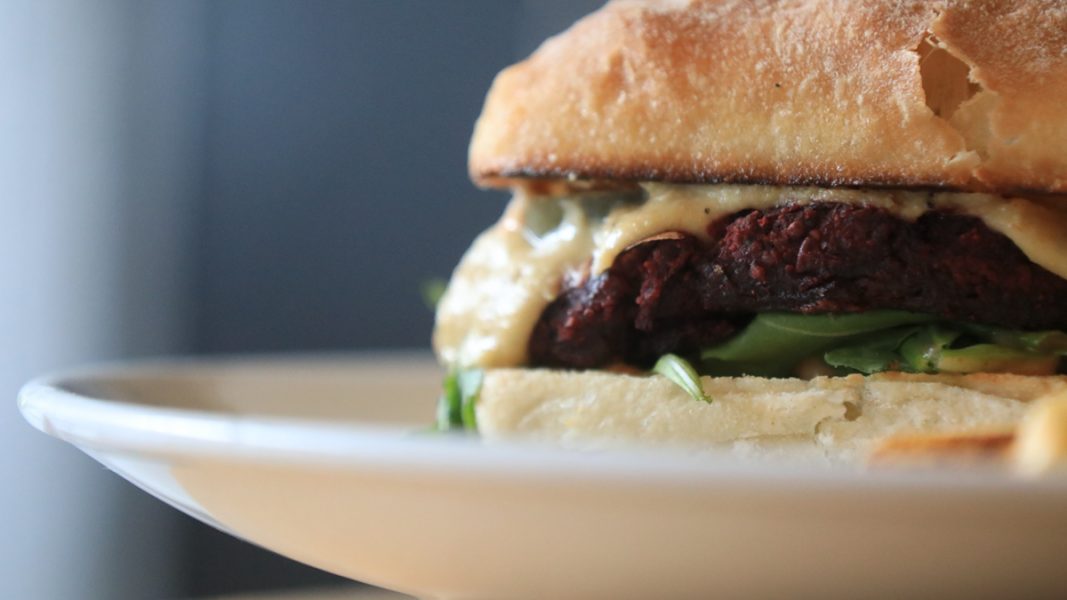 The original hamburger served by West Hollywood vegan eatery Real Food Daily (RFD) has been named 26th best in the country by Yelp.
So what does it taste like?
WEHOville stopped into RFD over at 414 N. La Cienega Blvd. on Wednesday to give it a try.
RFD's signature patty — made of lentil, crisp tempeh bacon and a solid kick of jalapenos — reminded us of smoky, spicy chopped brisket. The patty's blood red color and ground texture also could've fooled anyone. 
It's served on a Ciabatta bun and topped with melted cashew cheese, caramelized onions, arugula and a chipotle aioli.
At $17, it's no bargain burger, but there's no reason to pinch pennies on the most prized patty in WeHo, and as of this week, one of the best burgers in the free world.
"The GOAT of PLANT-BASED dining!!! I've been going to RFD for years and once again, nothing has changed in terms of how much I love it here. From their milkshakes to the onion rings," said reviewer Sascha J.
"We started off with the cheeseburger egg rolls which were phenomenal. I then ordered the weekender where I got the butterscotch pancakes, the chipotle sausage, eggs and had browned. Everything was amazing and such a big portion where I couldn't find it," reviewer Lorraine A. wrote.
"They're nailing their burger game," wrote reviewer Nina P.

 Loading ...