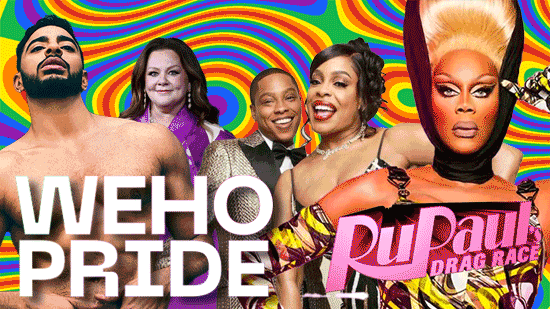 RuPaul's Drag Race, Laith Ashley, actress Niecy Nash-Betts and her spouse, musician Jessica Betts, and actress Melissa McCarthy were announced Thursday as the honorees at next month's WeHo Pride Parade.
The WeHo Pride Parade will start at noon Sunday, June 4, beginning at N. Crescent Heights Boulevard and Santa Monica Boulevard and heading westbound along Santa Monica Boulevard until reaching N. Robertson Boulevard.
KTLA will be the official broadcast partner for the 2023 WeHo Pride Parade. Those unable to attend in person can watch the coverage on KTLA 5, KTLA+, and KTLA.com. The broadcast will feature Cher Calvin, Pedro Rivera, the KTLA Family, and other special guests.
RuPaul's Drag Race will be celebrated as the Drag Icon, with a float featuring fan favorites from the show. Michelle Visage, a longtime host and judge, will receive the Drag Icon award on behalf of the franchise. RuPaul's Drag Race has gained international acclaim, reshaping global pop culture. Notable Drag Race participants, including Angeria, Gigi Goode, Gottmik, June Jambalaya, Rock M. Sakura, Symone, and more, will be part of this year's parade.
Laith Ashley, a model, actor, and activist, will receive the Breakthrough Icon award. Ashley has advocated for the transgender community and utilized his platform to raise awareness about marginalized groups and social justice.
Actress Niecy Nash-Betts and singer-songwriter Jessica Betts will be honored as Trailblazer Icons. The couple made history by appearing on the cover of Essence magazine. Niecy is an Emmy Award-winning producer and actress, known for her roles in various television shows and movies. Jessica gained recognition as the winner of Road to Stardom with Missy Elliott.
Melissa McCarthy will be recognized as the Ally Icon for her support and celebration of the LGBTQ+ community. McCarthy is an Emmy winner and two-time Oscar nominee known for her notable roles in film and television.
WeHo Pride Weekend will include various events celebrating the LGBTQ community from June 2 to 4. Additional information about WeHo Pride can be found at www.wehopride.com and @wehopride on Instagram and Facebook.