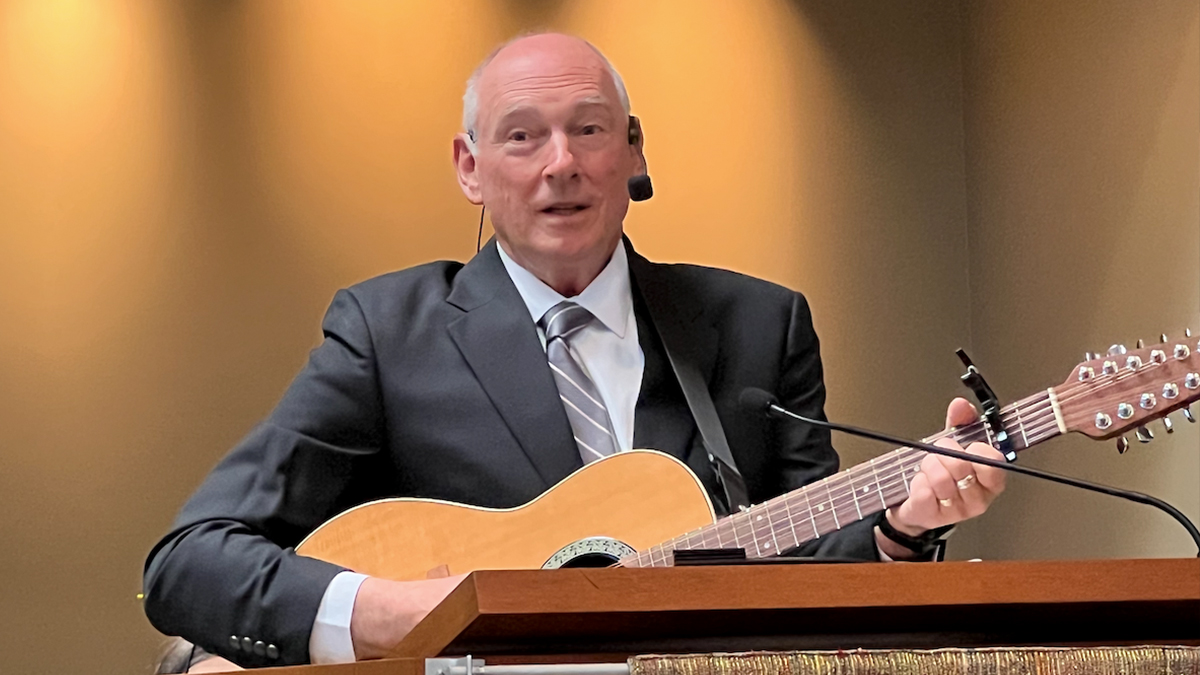 Welcome Rabbi Lutz.
Congregation Kol Ami introduced Rabbi Barry Lutz to the community after the departure of Rabbi Denise Eger and Assistant Rabbi Ross Levy. Rabbi Eger retired from Kol Ami and moved to Austin, Texas, and Assistant Rabbi Levy departed to work at a congregation in Memphis, Tennessee. We met Rabbi Lutz at the memorial service for Esther Baum and sat down with the new Rabbi a few days after.
The 'Taylor Swift' Rabbi smiled when I compared his over-the-shoulder guitar to the world's most popular artist. Lutz admitted that he went online to try to secure tickets to Swift's upcoming shows in the Los Angeles area. But so far the power of prayer has not helped the Rabbi obtain Swift tickets.
Barry grew up in Denver Colorado; later leaving Denver for St. Louis to attend college. He received his Masters in Jewish Education in the early 1980s, where he first met Rabbi Eger.
Lutz lives with his wife Debbie in Porter Ranch and has three children. Adam, the oldest, is an ordained Rabbi, and his wife was a cantor at Steven Wise Synagogue. His middle son is named Jeremy and the youngest, Emily lives in West LA.
So you are the interim Rabbi?
Yes, I am here for a year.
Does the Rabbi at Kol Ami need to be part of the LGBTQ community?
They have not made that determination yet. I don't think it's an absolute determinator. But I'm certain that would be something they would love to have.
Are there any transgender Rabbis?
Yes, I do not have their names, but there absolutely are.
So, I met you at Esther Baum's memorial, guitar in hand, Taylor Swift style. Tell us about your musical endeavors.
As a kid in high school, I got my first guitar with my Bar Mitzvah money. It was my gift to me from my Bar Mitzvah. And then I grew up playing Beatles music and got into the youth group. I was a song leader in the Reform movement. I grew up playing guitar at youth groups and conclaves for our religious school and was the music specialist (smile).
When I went to St. Louis and needed a job the first place I went was the local synagogue and said, 'Hey- I need a job.!' Literally…. The director of education who interviewed me went into the cantor's office – grabbed the guitar – and led me into a room of 35 teenagers and said – "Go for it!" So I said hello, we did a session, and I was hired.
At the time, I was studying to be an architect. But music has always been a really significant part as an educator. I love to play the guitar as you saw and love to be with cantors who let me play the guitar.
Why is it important to you to be part of the Jewish community?
I was a disaffected teenager, had long hair at the time. I just showed my granddaughter a picture of me with this gigantic Jewfro, and she looked at me and said, "Is that you, Papa?" I was in 9th grade, one of those kids who sat in the back row of the religious school classes, was just not that interested. Mom signed me up for a youth group in Kansas City, Kansas. It was the first place I felt a general acceptance, an energy or passion for Judaism that I had never experienced before. They just welcomed me as I was. It was so important to me. I was lucky enough to come home and have a charismatic, warm rabbi who nurtured me, even though I wasn't a professional in the community it would be in my life. It became important to me. I knew that I'd be involved, and when the opportunity came to find a way to get involved, it was a calling. We don't often use those words, but it was a calling, it really was.
So you never did the architecture?
No, I never did. Never got far enough to actually do it.
The first two years of the program, which was what I was in, was design-based, design thinking, the artist's imagination, the way to look at the world, and that impacted the way I think. We haven't talked about it, but eventually, I went back and became a rabbi. But I've always seen myself as a teacher in whatever I do. The music plays a big role, the education plays a big role.
How are you going to bring that here to Kol Ami?
I've known about Kol Ami forever, since its beginnings. I've been a colleague of Denise's in the community forever. And was always very impressed by this place, what they stand for, and the role they play in this community. So it really interested me, and a great challenge to come here and help through the transition. One of the things you do in interim ministry is really help a community through a transitional period, and every time I've taken over for somebody, it's been for somebody who has been there for a really long time. So there is a whole mourning process that goes on.
Are there any accommodations for disabled and poor residents who may want to attend but cannot afford it?
The tickets help us understand the number of people coming and for security measures, but we would not turn somebody away.
Is there a community outreach person?
That would be Devorah, and Adam in membership.
Thank you, Barry. And what about Taylor Swift? Were you going to get tickets to see her in Los Angeles?
Well, we were trying to get tickets and almost did, but then got boxed out.
Well, keep trying. I think God may be on your side.
. (below listen to Lutz speak and perform the Oseh Shalom, during the memorial service in celebration of the life of Esther Baum)