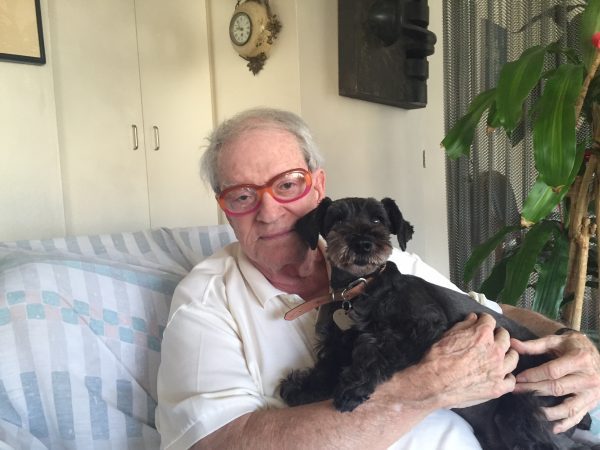 EDITOR'S NOTE: The is another in a series of occasional stories titled "The Grownups" about West Hollywood residents 75 years old or older who are active in civic life.
This article was originally published on August 24th, 2017. Altschul passed away early Monday morning on July 31st.
He's been called the elder statesman of West Hollywood. He possesses the leadership, diplomacy, patience, charm and institutional memory necessary to hold that honorary title. More importantly, he has the ear of city leaders, community activists, business leaders and developers that is required of an effective statesman.
Although he was not involved with the formation of the city, he became a guiding force in shaping West Hollywood. And this week, John Altschul celebrates his 81st birthday.
He reluctantly accepts the idea of being the city's elder statesman, but would prefer he wasn't quite so much on the elder side of it (wouldn't we all!).
"West Hollywood has always been a place where everyone has been so friendly," says Altschul. "I've always felt comfortable here. When I was younger, I liked talking with older people. And now that I'm considered one of the older people, I enjoy friendships with many younger people."
His connection to the city goes back to 1989 when he served on the city's original Public Safety Commission. And for the past 21 years, he has been a member of the city's Planning Commission, which is considered the most powerful of the city's boards and commissions.
But his scope of influence goes far beyond those commissions, due in large part to his wisdom and institutional memory.
"He's the go-to person for things related to the city," says his longtime friend, attorney Joe Guadarrama. "People go to him to ask his opinion on many things, not just on Planning, but the city itself. He understands how things come together."
The two met when Guadarrama joined the Planning Commission in 2003 and quickly hit it off since both approached planning issues from a legal point of view. A mutual love of opera cemented their friendship, and for years the two have regularly attended the opera together.
Altschul's profession as an attorney requires that he listen to many sides of an argument, distill that argument down to its essence and present a compromise. He frequently puts those abilities to good use during Planning Commission meetings when he makes suggestions for how to handle a situation after hearing his fellow commissioners concerns.
"He's intelligent, worldly, diplomatic and a problem solver," says David Aghaei, who currently serves on the Planning Commission with Altschul. "We deal with a lot of complicated things on Planning but he always helps sort through it all. He finds the important points."
Even though there is almost 50 years difference in their ages, Altschul and Aghaei are also close friends outside of Planning Commission meetings.
"Given his involvement in a lot of political matters in the city and his institutional memory, he's an indispensable member of the WeHo community," says Aghaei. "He's taught me so much. I really consider him a mentor."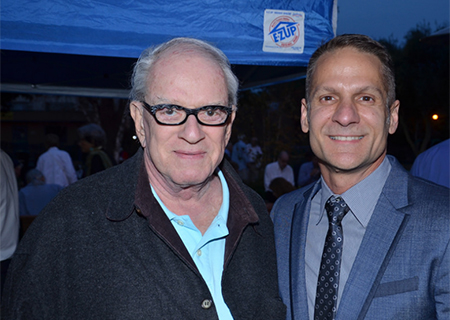 Mentor
Mentor is a description that City Councilmember John D'Amico also uses regarding Altschul. When D'Amico joined the Planning Commission in 2003, he made a point of inviting each his fellow commissioners out for coffee to get to know them. D'Amico and Altschul especially hit it off well and the two have been meeting for coffee every Saturday morning for the past 14 years. Both call the 90 minutes they spend chatting a "highlight" of their week.
"I've always had someone as a mentor since I was 18," says D'Amico. "It's always been my pleasure to spend time with someone who I like and admire on a regular basis. John's wisdom and insights are always prescient. He's successful. He's thoughtful. He works hard. He has been great friend to me."
D'Amico believes one of the things that makes Altschul so perceptive is that he is not hung up on nostalgia. He says Altschul has led a rich life, but does not romanticize the time gone by.
"He loves his past, but he's not nostalgic about it," D'Amico says. "He is not stuck on the idea that there's only one way to do things. He stays current on things and is open to new ideas, but not in an idealist way. He doesn't have an idea that nostalgia is better than the world we live in. I think that's what makes him an ideal person to be involved in city government."
D'Amico said that when he first considered running for City Council, Altschul offered strong encouragement, but didn't whitewash the problems he would face.
"One of the most important things that John did was provide me with an unvarnished sense of the complexities of both running for office and serving in office," says D'Amico. "He was able to explain so much of what I would experience, even though he's never held an elected office himself."
Moving to Los Angeles
An only child, Altschul was raised in Chicago. The family spent the summer of 1952 in Los Angeles and decided to make it permanent. His mother, Theresa, a part-time art instructor, had wintered in Los Angeles as a child and had long dreamed of relocating here. So, the family got an apartment in the Mid-Wilshire section, near the Ambassador Hotel, and his father, Arthur Altschul, worked in real estate.
As a 15-year-old teenager, John Altschul was unhappy with the move. He spent the first two weeks in bed sulking. Even after starting school at nearby Los Angeles High School, he still came home each day depressed.
"I wanted to go back [to Chicago]. I had a lot of friends back there. I had a lot of activities there. I wasn't happy here," he recalls. "My mother said, 'If you're going to be this miserable when you come home, don't go back home after school. Get a job.' So I did. Instead of going home right after school. I took the bus downtown and worked."
That job was working in the credit office of a chain of clothing stores at 6th and Broadway, handling the charge accounts. He ended up loving the job, staying with it all throughout high school, college and law school. More importantly, it taught him about the world of finance.
Destined to Be a Lawyer
There's an old saying that Jewish boys grow up to be doctors or lawyers.
"I was a Jewish boy who can't stand the sight of blood. My mother figured that out pretty early and said 'Ahh, a lawyer,' Altschul says, laughing. "It was drilled into me. At that point, I knew that I was going to go to college and then law school."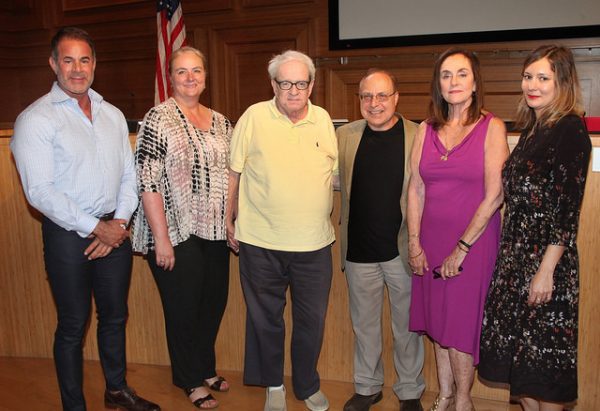 He majored in political science at UCLA and graduated from UCLA Law School in 1961. The cost for his entire college education, including law school, was under $1,000 thanks to in-state tuition.
After serving time in the Air National Guard (not flying planes, just working in the communication division), he passed the bar exam and went on to practice general law. He handled an array of cases for many clients, including some celebrities who he declines to name.
Of the clients he is willing to discuss, the best known was Gucci. He was one of three American lawyers for that Italian design house.
He also worked many years with the Teamsters labor union, doing case work for individual members.
"I did everything from A to Z practically," says Altschul. "The first day when I went there, they handed me a file and said, 'Go to court tomorrow and handle this OSC, it's a divorce case.' I didn't know what an OSC was. They didn't teach that in law school. So I did and that was my introduction to going to court. I did a lot of going to court in those days in those days. Going to court meant going anywhere from San Diego to San Francisco. So I was all over the state and had a lot of wonderful experiences and met a lot of wonderful people."
During those years working with the Teamsters, ironically, he rarely dealt with labor law, but did learn that an OSC is an "order to show cause."
Friendships
These days, Altschul is winding down his law practice and considers himself semi-retired. He doesn't take on new clients and most of his work ends up being estate related. As he devotes less time to work, he fills his days with social activities and the large number of friends he has amassed in his 81 years.
Longtime friend Allegra Allison, who has a standing Saturday lunch date with him, calls Altschul a "delight" and "larger than life."
"His world revolves around the many friends, from all walks of life, he's collected over the years," says Allison.  "Whether it be at the theatre, the opera, the Hollywood Bowl, coffee, breakfast, lunch or dinner, he creates an intimate special space and time for each person. Never snobby, he'd just as well eat at Norms (now that Jan's is gone) as BOA (but don't tell the lobbyists). He sees the lovely side of people and we, his friends, adore him. He is fiercely loyal and protective of those close to him."
West Hollywood City Manager Paul Arevalo notes that because Altschul knows so many people, he is able to connect individuals who might not ever otherwise know each other.
"He has a broad bandwidth of friends. He networks with people, he listens. He may have opinions on things, but he is always receptive to other ideas," says Arevalo who became friends with him in 1999-2000 when Altschul served as the president of the WeHo Chamber of Commerce.
Although their relationship started as a business one, it has evolved into a strong friendship. "At this point, our relationship is 99% social," says Arevalo. "He's very astute, very giving person. John is a dear friend and I am blessed to know him. When you're friends with him, you're friends for life."
Becoming Involved in West Hollywood
Although he is closely associated with West Hollywood today, Altschul was not involved with the creation of the city. He says he was vaguely aware of the cityhood election in 1984, but was focused on his law practice in Beverly Hills and lived in the Hollywood Hills in a house on Doheny Drive, about three-fourths of a mile north Sunset Boulevard.
Fate intervened in 1988 when a man knocked on his door asking to buy his house. His 20-year relationship had recently ended, so Altschul agreed. As part of the deal, the buyer let him live for six months in an apartment he owned in Shoreham Towers, the highrise on Horn Avenue within the West Hollywood city limits. Six months later, Altschul was so happy there, he bought the apartment. He still lives there today.
Then in 1989, his neighbor, Sybil Zaden, encouraged him to get involved in the city and suggested he apply for the new Public Safety Commission the city was forming. Councilmember John Heilman appointed him to that commission, and he served as the chair for the entire six years he was on the commission.
The Public Safety Commission started as a de facto police commission since the city's contract with the Los Angeles County Sheriff's Department prevented creation of a police commission. One of the main issues the new Public Safety Commission contended with was a lack of responsiveness and perceived homophobia by sheriff's deputies. That situation came to a head in 1992 when a referendum to create a West Hollywood Police Department was held. Residents defeated it 53% to 47%.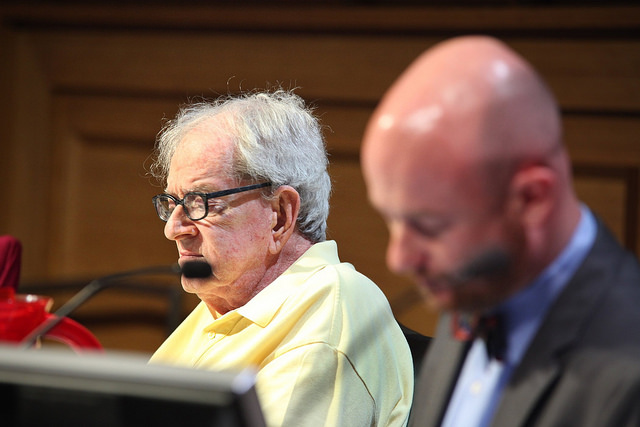 Joining Planning Commission
In 1996, when Heilman appointed him to Planning Commission, Altschul knew little about land use issues. Most of his knowledge came from his longtime friend, Jeanne Dobrin, who had always followed the Planning Commission's meetings and kept him abreast of major issues.
"Jeanne would always tell me, 'the use runs with the land.' I can always hear her saying that," he recalls, referring to the fact that once a parcel of land is zoned a particular way, that zoning stays with the land forever (i.e., if a site is zoned to be a nightclub, even if that initial business fails, another nightclub can open there).
After 21 years on Planning Commission (save for nine months off), he's been accused of being too pro-development. Many of his critics say he approves most of the projects that come before the Commission.
Altschul retorts that he believes in "reasonable development," which he says is development that does not make the city hugely overpopulated. He notes that the city's population has remained constant in the past 33 years – it was around 35,000 in 1984 and is about 35,000 today. "Obviously we're not growing too big despite projects being approved."
He says development is absolutely necessary for a city to continue to grow and evolve.
"If you don't have development, no growth is stagnation," he says. "I'm in favor of redevelopment, especially the infill projects that are approved where you tear down a house or duplex and put up five or six units. It increases the housing stock which is absolutely necessary in today's world situation. It does it responsibly."
When asked if there is any Planning Commission vote he would go back and change, he points to the parking deck on Poinsettia Place for The Lot movie studio. He recalls that when that parking deck was up for approval in 2002, a young John D'Amico (who was not yet on Planning Commission) spoke against it.
"[D'Amico] said that it was unattractive. I just downplayed it and said 'How bad can it be?'" Altschul recalls. "But it turned out it is not a pretty building and they had no sensitivity toward the rest of their surroundings when they built that thing. I regret the fact that I voted yes for that garage, but I did. I'll never forget the look on [D'Amico's] face when we approved it."
Twelve years later when D'Amico was sworn in as mayor, Altschul was leaving the ceremony, which was held in Plummer Park, when he noticed that parking deck. "I was at a red light on Santa Monica [Boulevard] waiting to turn right, staring directly at that garage. All I could do was laugh," he says.
Just because he approves something, doesn't mean a project always turns out the way it was originally presented to the Planning Commission.
He's still scratching his head, wondering how the middle parcel of the huge Sunset-La Cienega project (originally named the Sunset Millennium), at the intersection of Sunset and La Cienega boulevards, ended up looking the way it looks. He is especially puzzled by the fact it does not have the "outdoor private space" (balconies) the zoning code requires new apartments/condominiums to have.
"We certainly didn't approve the middle parcel on the Sunset Millennium the way it ended up being built," he says. "I don't know how it got to be that way."
Seniors and Mentors
In 2003, when Altschul received a Senior of the Year Award, his then 95 year-old mother, who lived in an apartment on Kings Road until her death in 2011, attended the ceremony.
"I was probably the only one honored as Senior of the Year who brought their mother," says Altschul, who attended the 1960 Democratic Convention, held in Los Angeles, as a John F. Kennedy delegate.
While many people claim him as a mentor, Altschul says he has had mentors as well. In regards to the city, he names City Manager Paul Arevalo, retired public safety manger Nancy Greenstein and the late community development director Ray Reynolds as three people who helped him understand the process of community advocacy.
"They were tremendous mentors and teachers in how to be a responsible civic activist," he says. '
As far as his time on Planning Commission goes, he says he has truly enjoyed getting to know his fellow commissioners, the city's planning staff, architects, developers, local activists and residents. Although there can be a lot of opposition to some projects, he feels the differences are fairly minor.
"I think that a lot of the public is not attuned to the idea that we are all on the same page and want the same end goals," he says. "A lot of the disagreement is how to get there, rather than what it should be. I think we should be a lot more focused on allowing everybody to have their opinions and listening to their opinions, but sifting them to show that the differences between us are not very big, if any."
For the future, Altschul doesn't have a bucket list. He's open to new adventures and whatever comes his way. "I don't have any real agenda," he says. "Whatever happens happens, just as long as it doesn't interfere with nap time."